10 SEO Mistakes & How to Avoid Them
SEO is a tricky business. To be successful, you must update with the latest trends and technology and understand how to use them correctly. However, as with anything else, people make specific frequent errors while attempting to optimize their website's SEO. If you are not expert and don't know how to remove these you can also get SEO services from us. Netmatico is a top rated digital marketing agency with professional staff.
What Are The Most Typical SEO Blunders?
It's simple to make SEO mistakes, and it's a complex process, so don't worry! We've prepared a list of the most common SEO blunders, so you can prevent them and improve your results. In this blog, we'll look at 10 SEO Mistakes and how to fix or avoid them.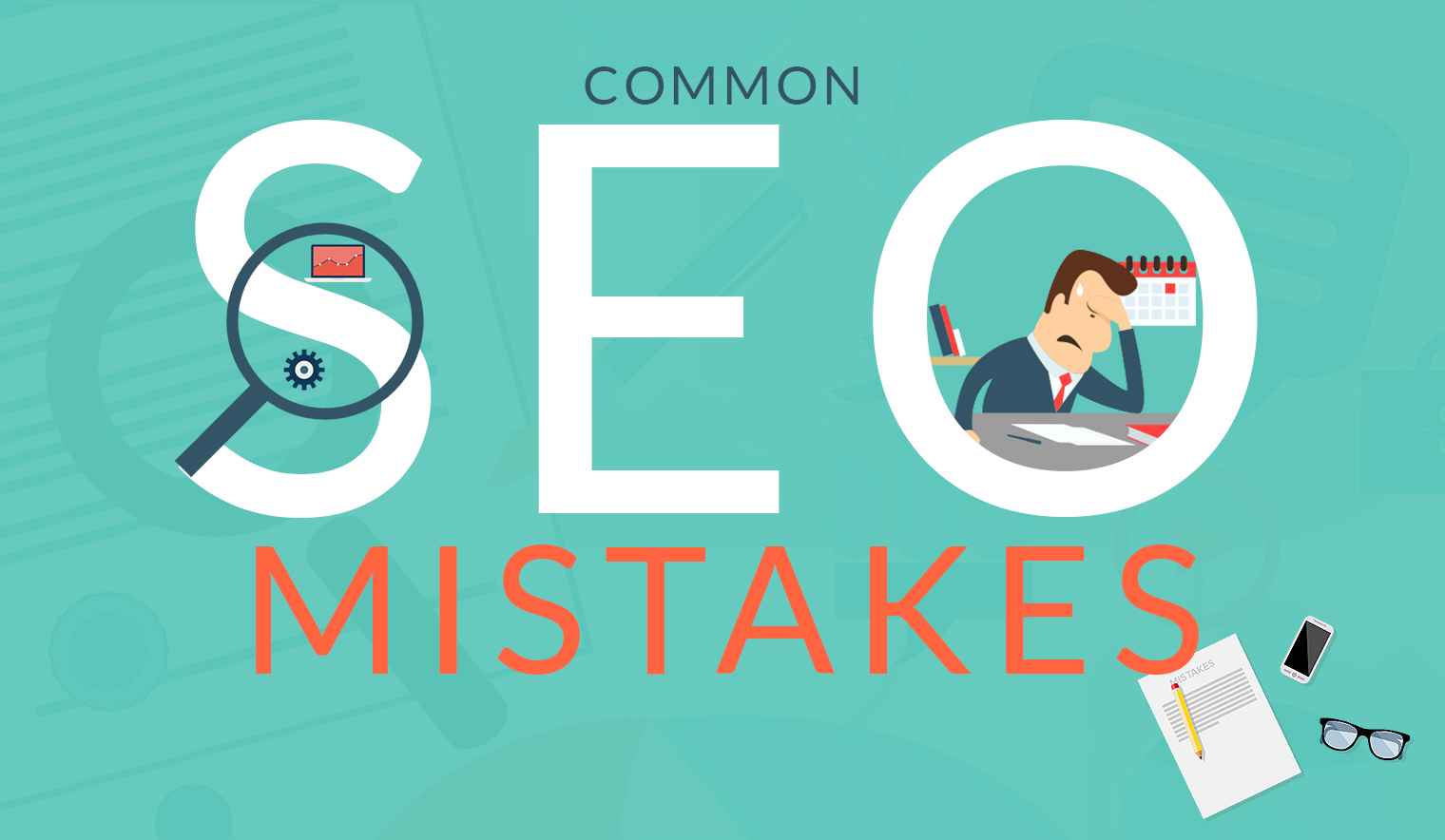 Mistake 1: Fail To Implement An SEO Strategy
Setting goals for your SEO approach is critical from the start. It's tough to gauge SEO performance if you don't know what SEO goals your organization wants to achieve.
Before you can implement or evaluate the effectiveness of a plan, you must first develop one. It involves determining which will use content keywords throughout web pages/posts. An efficient SEO plan will direct all other decisions to align with your SEO objectives. Having an SEO plan in place eliminates the unnecessary complexity and irritation of trying new things without first assessing whether they fit your goals.
Conducting an audit of your website & its present standing in search engines is a great place to start when setting your goals. Before launching any marketing effort, you should determine whether any issues need to address.
Mistake 2: Failure To Develop A Content Strategy
Another typical SEO mistake is failing to develop a content marketing strategy before beginning to write blog posts, articles, or other content for your website. It's straightforward, and you will not reach your target audience if you do not have a plan.
You may avoid this typical SEO blunder by conducting audience research. Proper research allows you to develop the material people desire, resulting in a better experience for them. Remember why you created your content: to bring value to your audience.
Mistake 3: Ignoring Analytics And Using Inappropriate Technology
One of the most basic mistakes people make when SEO fails to use analytics. Analytics monitors the functioning of your website and detects your consumers' behavioral trends. You don't realize if your efforts are paying off unless you use analytics.
The same is true for SEO tools and technologies: if you do not employ the appropriate software for your business objectives, you may trap with devices that do not work for you. Numerous tools are available for your usage, but not all are created equal. It's critical to examine your options and select the most appropriate technology for your SEO objectives.

Mistake 4:

Failure To Remove Duplicate Or Irrelevant Content
It is one of the most common SEO blunders committed by firms that don't grasp the value of optimization. It can have severe consequences for your results. The exact text or images across many sites refers to as duplicate content. Google dislikes this because it makes it more difficult for them to determine what your site is about, which means they will not rank you as highly in search results.
So, how can you avoid making this error? Make sure all of your pages are distinct—and if they aren't, change your site to make them so!
Mistake 5: Buying Backlinks
Purchasing backlinks is an SEO error that might result in a Google ban, and it is a form of Black-Hat SEO and should avoid at all costs. Purchasing backlinks entails paying someone to place links on their website that go back to yours. These links could be in text or disguised in an image, but they're effectively a sponsored advertisement for your site that increases visibility and makes people believe it's more important than it is.
Build your link profile with high-quality links from reputable sources such as well-known magazine industry experts to solve this SEO blunder. It will help to mitigate the effects of the paid links. Instead of employing paid backlinks, concentrate on obtaining one or two high-quality backlinks.
Mistake 6: Failure To Have A Mobile-Friendly Website
Nothing is more frustrating than trying to browse a website on your phone & having it not work. If a user searches on their phone & comes across an unresponsive website, they will never return!
To attract visitors, you must have a mobile-friendly website. SEO is the process of getting your website in front of individuals who are looking for your product & services. If your website isn't mobile-friendly, you miss out on many potential clients who use their phones to search.
Mistake 7: Going Overboard, Including Internal Links
Internal links are your best SEO friend. They provide Google with a clear indicator of what your site is about and assist visitors in navigating your site. There is, however, such a thing as too much of a good thing! You want to make sure that the pages you link are relevant and valuable. If they aren't, Google may consider them spam and penalize you.
Use keyword-targeted anchor text when linking to other pages on your site. Visitors may become disoriented if more than 3-4 links on a single page.

Mistake 8: Using Images Ineffectively
Images are one of the most significant SEO factors to consider, and they are the first thing Google sees when it indexes your page, and they have a substantial impact on how high your page ranks in search results.
The first thing is to make sure that all of your images have ALT text descriptions so that search engines can comprehend what they are about. Make your ALT language clear and concise do not simply use "picture" or "photo." It would help if you also utilized keywords for photos related to each page on your site, as this will help enhance search engine ranks for those keywords.
Mistake 9: Making No Effort To Improve User Experience
It is common for websites to fail to prioritize user experience. It is especially true for organizations that are new to SEO because they prefer to focus on the functionality of their site rather than its usability. People will leave your site if they can't discover what they're looking for quickly, which means lost income and low rankings in search results.
Make sure you have straightforward navigation and visual clues that indicate where visitors should click or browse next. If you have many images, be sure they are of excellent quality. Videos should load quickly and be simple to watch.
Mistake 10: Ignoring Search Intent
What exactly is search intent? When someone uses Google or Bing to search for anything, they usually have a specific need. They want to learn more about a search topic, get an answer to a question, or find a product or service that will assist them. In Google results, relevancy determines by search intent. You will miss out on incredible possibilities if you do not consider them when developing content.
Understand your target audience! Make sure your material is simple if your website is about website construction. Ensure that readers find value in what they read, encouraging them to share your material with others—those shares will boost your Google ranking!
You May Learn More About Your Website SEO Mistakes With A Free Consultation
Finally, keep in mind that SEO is a never-ending effort. It would help if you never thought of it as something you finish and then move on from. It would be good to always look for ways to increase your SEO performance with various modifications and updates. It's essential to stay updated on the latest SEO trends and updates.
Are you committing any of these SEO blunders on your website? If you're not sure, contact NetMaticO for a free consultation! We will work with you to discover any typical SEO blunders you are making that are causing your rankings to suffer. Our SEO pros will perform all of the legwork, so you don't have to. Get a free SEO consultation from us today!