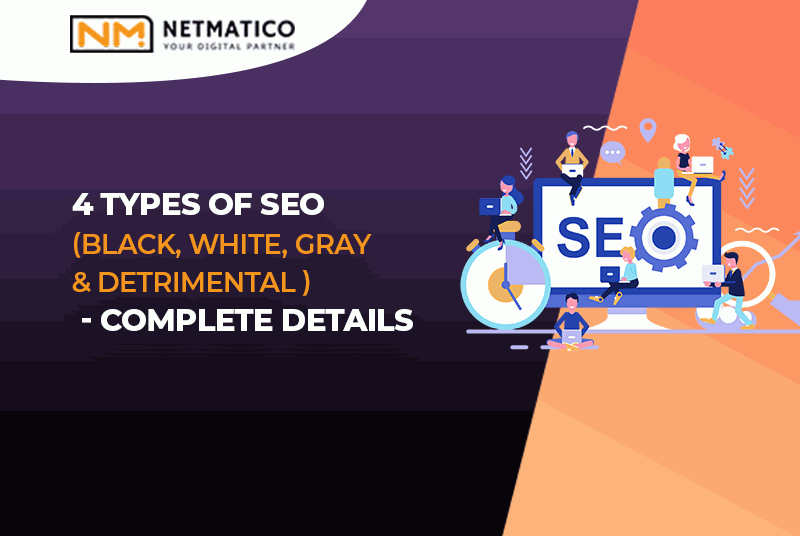 4 Types of SEO (Black, White, Gray & Detrimental) - Complete Details
Did you know 93% of all online interactions begin with a search engine? You must invest in a search engine optimization (SEO) campaign to attract valuable leads interested in your business.

Before you begin optimizing your site, or getting SEO services you should know the various types of SEO available to your company. It includes both effective and ineffective techniques. Understanding these multiple strategies and techniques will assist you in developing a campaign that will drive better organic results for your company.
In this blog, NetMaticO will cover four types of SEO and four SEO techniques. If you need assistance optimizing your website for SEO, please contact us at +1-807-700-9777 to speak with a strategist.
Let's get this started!
There Are Four Types Of SEO.
When developing your SEO campaign, it's critical to understand the various types of SEO your company can employ and to select the type of SEO that will yield the best results for your company.
Here are the four main types of SEO techniques you will encounter:
1.
SEO Using White Hat Techniques

White-hat SEO techniques are the most effective way to improve and optimize your SEO ranking over time. These are the strategies Google recommends for helping your site rank higher in search results, and they follow Google's search engine guidelines and produce positive results for your company.

Among these methods are:

· Creating High-Quality Content: Creating high-quality content attracts valuable leads interested in your business, improves your ranking, and allows you to reach more interested traffic. Examples of industry-related content include blogs, ebooks, videos, and infographics.

· Sharing On Social Media: Using social media to drive traffic to your website. You can increase website engagement and drive traffic to your page, and it assists you in improving your ranking.

· Making your site user-friendly: Your site must be user-friendly if you want to keep leads on it. It includes developing an appealing design, well-structured navigation, and incorporating photos and videos into your site.

Hat in white SEO techniques requires time to yield results. The result, on the other hand, is well worth it. You will see long-term growth and help your site perform better in search results.

If your site's ranking impact every time Google updates its algorithm, you're using white hat SEO techniques correctly. When the algorithm changes, you may see a drop in your rankings if you use white hat SEO techniques correctly. It does not imply that you are employing bad practices, but rather that you are employing white hat techniques correctly and will need to adjust.

It takes some time to adjust, but you can easily get your site back on track. White hat SEO techniques are the most effective way to improve your site's ranking in search results over time.

Related Blog: A Step by Step Guide for SEO 2022(Multiply Traffic)
2.
SEO Black Hat

Black hat SEO techniques employ search algorithms to achieve higher rankings.

Some companies use black hat SEO techniques because they produce quick results, and people want instant gratification without putting in too much effort. The disadvantage is that black hat SEO harms businesses in the long run.

Numerous tactics fall under the category of black hat:
Stuffing keywords
Cloaking
Hidden text and links
Using popular but irrelevant keywords
Overoptimization of HTML headings
Purchasing links Copying content
These are just a few strategies businesses will employ to optimize their website. While these strategies do improve rankings, they do not last. Google is looking for these techniques, and your site will suffer if caught.
Search engines will penalize your company & may even block your website from appearing in relevant search results. Because Google only wants to produce relevant.
3.
Gray Hat SEO

Gray hat SEO is a compromise between white and black hat SEO. This technique isn't ideal for your site, but it's not the worst. As a result, this is a "grey" hat SEO tactic because it is in the grey area.

Google does not prohibit these SEO techniques but does not regard them as an acceptable method of obtaining leads. Gray hat SEO techniques are dangerous but marketed as an "affordable solution." Companies that provide grey SEO techniques save money because they use questionable methods. Search results will ban people who try to cheat their way to the top of the rankings.

Here are a few examples of grey SEO tactics:

· Link exchanges for spun content

· Paid testimonials

These are the strategies that businesses will employ to improve the performance of their website in search results. Google doesn't entirely forbid gray hat SEO techniques, but they aren't the most effective way to help your site grow, and they can hurt your business rather than help it.
4.
Detrimental SEO

Negative SEO or Detrimental SEO is a one-of-a-kind situation for your company, and it is not your company's fault but someone else's. You will come across negative SEO scenarios involving businesses and their competitors.

When a company employs negative SEO, they are attempting to harm the reputations of its competitors. Companies use grey and black hat techniques to disrupt competitors' operations, and they use these techniques to lower a company's ranking so that they can raise their own.

Companies will employ a few negative SEO strategies:

The goal of negative SEO is to cause harm to other websites for personal gain, and it is difficult to control because other companies are causing damage to your site. You must constantly monitor your SEO campaign to ensure that there are no unusual or unexpected spikes or drops in activity or performance.

These are the four most common techniques you'll encounter when optimizing your SEO campaign. Do you want to know more about SEO techniques? Call us at +1-807-700-9777 to find out how we can help you drive results with your SEO campaign!
There Are Four Types Of SEO That Can Help Your Business
SEO is a broad topic in digital marketing, encompassing numerous strategies. Let's take a look at some SEO tactics.
1.
SEO On-Page

On-page SEO is the most common strategy used by businesses to optimize their websites. Simply put, on-page SEO refers to changes you make to your website that improve its performance.

Keyword optimization is one of the most common on-page SEO optimizations. Users use keywords to generate a list of relevant search results when they conduct searches. To assist valuable leads in finding your company, conduct keyword research to discover the keywords and phrases people use to find your products and services online.

Then, you can use those keywords in strategic places on your site, such as page titles, meta descriptions, and headings. You can also create custom content to address the keywords. By targeting keywords relevant to your business and creating valuable content, you can help your company rank higher in search results, resulting in more leads and revenue.

Optimizing URL structures is another on-page SEO strategy. When users visit your page, you want them to remember it. A personalized URL structure will assist you in optimizing your site and making it easier for your leads to remember your site.

Site visitors will not know what to expect on the page if they use the first URL. It's just a collection of numbers and words, and the second URL clearly shows what your audience is looking at. These are just two of the most common strategies used by businesses to optimize for on-page SEO. Internal linking & meta description optimization are two other strategies. The most important thing to remember is that on-page SEO entails optimizing elements on your website.
2.
Off-Page SEO

Off-page SEO refers to optimizations to your site that do not occur on your site. These are external factors that have an impact on the performance of your website.

Social media sharing is a major off-page SEO factor. When you share your site's link on your social media pages, you have no control over how your audience interacts with your links. It is an external ranking factor that can help your site perform better. It's important to remember that social signals have no direct impact on your SEO and do not directly affect your ranking but can lead to behaviors that help you rank higher.

You have the opportunity to earn links for your page when you share your content links on your social profiles. People can share your link on their profiles, increasing your page's traffic. Driving relevant traffic to your page can aid in the ranking of your website.

Reviews and backlinks are two other off-page SEO factors, and these factors drive traffic to your website from other sources. They are not things you can do to optimize your site but rather external factors that influence your ranking.
3.
Technical SEO

Technical SEO entails optimizing your site's backend to help it run smoothly and improve its ranking. These are elements on your website's backend. You can have a visually appealing site, but it will be useless if the technical aspects of your site are not optimized.

Page speed is a critical technical SEO factor, and users do not want to wait forever for your page to load when they visit it. If you want the best results from your page, make sure it loads quickly.

Google Page Speed Insights can help you monitor your page speed. If you use this tool, you must make changes to your site. Businesses that do not have technical knowledge can hire a digital marketing company and use their page speed services.

As a leading digital marketing agency in Canada the team at NetMaticO can assist you in optimizing your page speed to help your site perform better. Check out our page speed services and call us at +1-807-700-9777 if you have any questions.

Mobile friendliness is another important technical SEO factor. With the rise in mobile searches, you must adapt to the mobile user. You want to give your visitors the best possible experience on your website. A responsive design can help people optimize your site for mobile. If your website adapts to the user's device, it gives them a better experience.

These are just two of the most important technical SEO factors influencing your site's performance. If you want your company to rank high in search results, you must optimize the technical side of your website.
4.
SEO For Voice Searches

Voice search is one of the most recent types of SEO optimizations. Voice search SEO has quickly become one of the most popular methods of conducting searches. Voice search will continue to grow due to devices such as Alexa, Google Home, and Siri.

Search by voice SEO necessitates keyword optimization. You must optimize your website for words that your target audience will use verbally. Slang terms included.

When optimizing for voice search SEO, you must optimize to deliver information as quickly as possible. Users use voice searches to get quick answers, so you must structure your content so that Google can easily pull the information.

There are numerous methods to optimize your content so that Google can find it more easily. To make information easier to see, create bulleted lists. To answer a question, but the most important information first. In addition, you should think about slang. Use slang to help direct leads to your page if people search for information about your business in a specific method.

These are four of the most common SEO strategies used by businesses to drive valuable traffic to their website. There are numerous SEO services that you can use for your campaign. All of these factors will help you improve your campaign and attract valuable traffic to your website. NetMaticO has years of experience developing SEO campaigns that produce valuable results.

NetMaticO is a full-service digital marketing firm focused on SEO campaigns. Our team of experts will help you develop a campaign that will generate valuable results for your company. NetMaticO will work with you to develop a tailored campaign that produces results. If you're looking for a results-driven SEO company, look no further than NetMaticO. We understand how to design campaigns that will help you grow your business. Contact now.