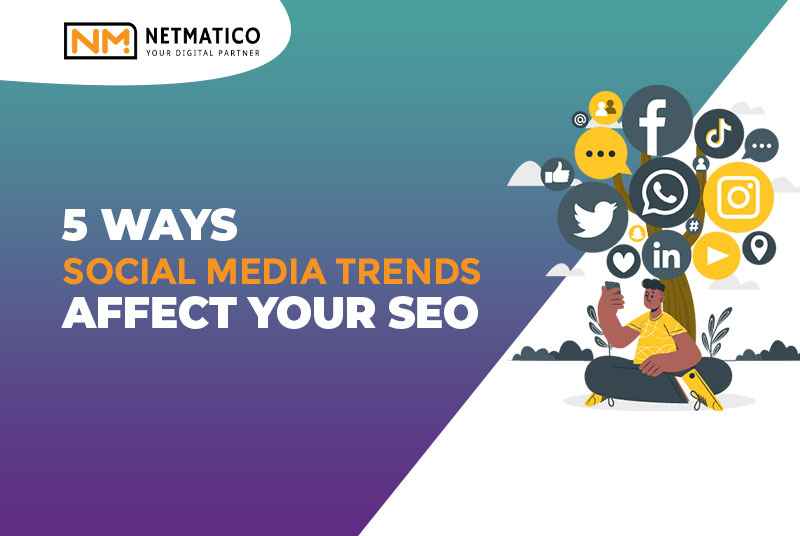 5 Ways Social Media Trends, Affect Your Website's SEO
Social media trends and influencers impact the online marketplace more than any other element. Be guided on how to use it to increase your search engine optimization (SEO) efforts and achieve long-term benefits. Social media marketing trends are recognized to have both positive and harmful effects on SEO. Indeed, businesses have been made and broken in the past as a result of social media trends.
While all business owners understand the potential benefits of increased social media attention to their products, only a handful can convert this fleeting celebrity into long-term gains. It is due, in part, to the fact that trends come and go in the blink of an eye.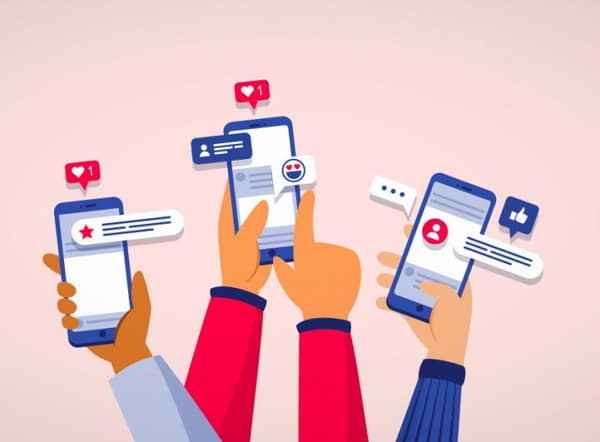 It makes it difficult for brands to determine – let alone put into action – if they should base marketing on these. So, what happens when you discover a social media trend that corresponds to your business objectives? One that, given your knowledge of your company and its customers, you feel obligated to ride? Are there any particular social media management tactics you can use to help enhance your SEO?
Let's get into it below.
What Effect Do Social Media Trends Have On SEO?
Social media trends influence SEO by influencing what people look for. Social media trends can either help or hinder your SEO efforts and standing, depending on what your pages and products currently optimize for. If you are running an SEO agency or providing SEO services than you must aware from Social media trends, in particular, social media marketing can:
1.
Increase Traffic To Specific Keywords

For example, social media trends can direct traffic to specific keywords for optimizing your pages. Assume you have a product for a specific industry niche or trend, such as a particular type of shoes. A TikToker content producer then creates a video promoting that style of a sneaker, quickly becoming viral.

People will now search for keywords related to that style of shoes, which will benefit your business. If your website ranks high for these terms, you will increase visitors and maybe more sales. If the influencer additionally mentions your website, it will increase brand awareness and possibly drive even more visitors to your online store.
2.
The New Search Focuses Revealed

Long-term SEO can also benefit from social media trends. Attention to what people search for allows you to use that information to alter and improve your future search engine optimization initiatives.

Consider the preceding example of a social media influencer declaring that a particular shoe model is fashionable (such as the shoe company Reef, which bet big on influencers last year). Your company examines the search terms that consumers use to find your website. When looking for the types of shoes you sell, you may notice that searchers use somewhat different phrases or terms. Using such data, you can then alter your SEO keywords accordingly.

Any data you'll gain from a short-term social media trend can result in long-term SEO advantages if adequately exploited. In this regard, you can use social listening to find and analyze what is being said about your organization (or your brand or product) on social media by observing or reading conversations about it.
3.
Social Media Has A Trickle Effect

On a similar line, consider how social media trends might trickle down website purchases. We've seen this happen in numerous cases with similar patterns: social media trends surge, search trends follow, and finally, website visitors convert into leads and even consumers.

For example, we anticipate a surge in chess board sales in 2021. It was during the pinnacle of Netflix's blockbuster mini-series 'The Queen's Gambit,' which inspired people to play chess. The same pattern can see: the show airs and captivates social media users, and search follows, resulting in considerably higher sales of chess sets and accessories.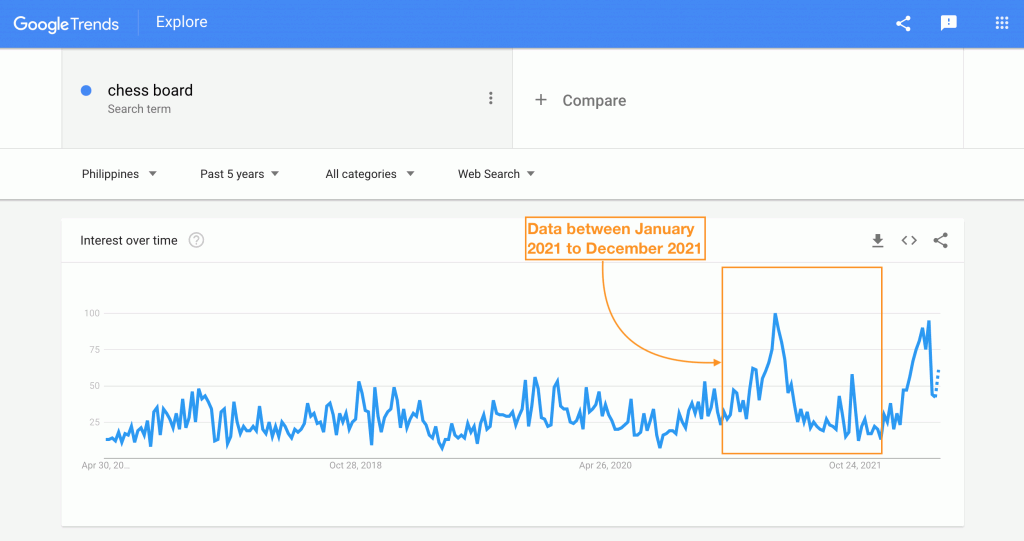 According to Google Trends data from the last five years, searches for the keyword "chessboard" surged in the months following the release of Netflix's "The Queen's Gambit" between November 2020 and June 2021. It suggests that search interest in the phrase persisted for months after the show's final episode aired on October 23, 2020.
This tendency was evident as Google Search Trends for the keyword "chessboard" suddenly saw more attention in the months leading up to the show's peak than in the years preceding.
Granted, you might not have a popular show with a product that you're selling. Pay close attention to what's trending on social media, and then consider how your company may respond appropriately to capitalize on a trending topic.
For example, if a trending hashtag is relevant to your company and what you offer, you may (and should) use it in your next social media posts.
Using Social Media Trends To Improve SEO
The advantages of social media trends for your search engine optimization campaign are palpable, especially for e-commerce companies. However, you must understand how to capitalize on these trends to maximize their benefits for your brand. You can accomplish this in a variety of ways.
1.
Recreate Trends In Brand Content, Often Known As Trend Jacking

First, strive to recreate social media trends that drive traffic to specific keywords or search terms in your brand content. There are several options for accomplishing this:
You can create video material on the social media platform that originated the trend, such as

Instagram or TikTok

. Depending on your audience's mood, create a supporting film about the trend or even mock it. Make sure to include a link back to your website.

Make adverts that use social media trends and link back to your website.

Create new content for your site regularly and market it through social media postings that use trending hashtags. Remember that many people who reach your website for the first time will do so by visiting a blog post first. Blog creation and promotion should be part of your ongoing strategy.
You can also purposefully search for trendy video styles or activities on these social media networks, creating comparable content or getting optimized content from content writing agency before mass exposure. TikTok, for example, features the well-known discovery page, where you can browse many trending videos. Make use of these to get ahead of a vast social media event before it happens. Just be wary about re-creating trends in an "uncool" way.
2.
Create Supplementary, Helpful Content

Simultaneously, you should generate material supporting both the current trend and your company. Assume your company benefits from a sudden social media surge, and your SEO efforts propel your website to the first page of Google.

You might reference the social media trend in your blog entries or focus on what makes your brand unique. Evergreen listicles are excellent content since they are always topical and contain crucial search-engine-optimized keywords that will bring visitors to your online store.
3.
Contact Influencers

Remember to reach out to influencers to optimize the lifetime of a social media trend and its SEO benefits. Specific influencers, particularly the ones (s) who initiated the trend in the first place, can be tremendous assets to your brand and drive traffic to your online store in the most natural way possible.

However, don't try to strike one-time arrangements with influencers. Instead, strive to establish long-term marketing relationships with individuals who appear to fit your brand's image and thematic identity. That is the most effective strategy for building a long-term audience. Most influencers dislike one-time deals because they make their marketing efforts appear unauthentic.
4.
Social Media Marketing On The Fly

When a social media trend boosts your SEO, your social media marketing team should instantly launch a full-force campaign. You may increase your SEO even more by doing the following:
Make regular social media postings with trend-related keywords.

Responding to people on your social media networks and directing them to your online business.

Posting "authentic" stuff. A dentist's office's digital marketing team, for example, can create a video inside the office to appear more

authentic

and personable

to its target demographic.
5.
Update Landing And Product Pages

Finally, try renewing the landing and product pages for popular products or services and incorporating new keywords for SEO phrases into the language. As a result of the social media trend in question, those pages will appear even more prominently for those who search for your business.

Keep in mind that researching main keywords should be an ongoing element of your plan (just like creating and promoting new blog posts on an ongoing basis). Trends can and do fade, implying that specific terms will eventually become obsolete. Aim to conduct keyword research at least once a month.
Important Takeaways
Social media has shown to be a tremendous tool for business growth. It is true not only in terms of how it affects your other digital platforms but also in terms of how it affects your financial line. As a result, it's critical to take the necessary steps to ensure that these trends provide more long-term consequences for your internet organization.
For that purpose, keep in mind:
Be adaptable and inclusive

: Trends come and go faster than you can anticipate and plan for them. To respond to these developments quickly, remember to base your executions on data and explore techniques that synergize, rather than isolate, your online activities.

It is sometimes best to avoid trends

: Especially if it doesn't feel like the correct trend to be riding on for your brand. In online messaging, relevance is critical. If you lose this, you may lose clients rather than gain new ones.

Rather than following, try to set the trends

: Many brands believe that social media trends occur unintentionally. However, huge firms that have invested in experimenting have demonstrated that you can detect patterns and weave these patterns to establish your own.
IF you want to increase your social media presence and want more sales you can contact us. We are a top rated digital marketing agency in Canada.