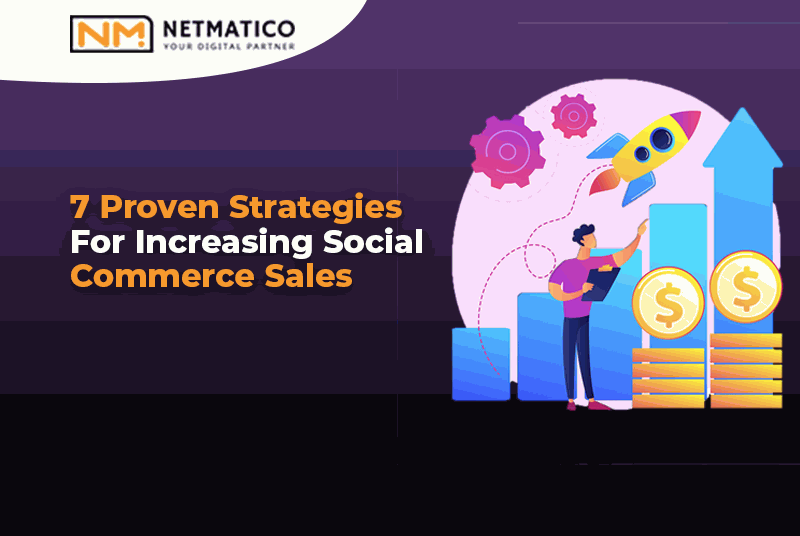 7 Proven Strategies For Increasing Social Commerce Sales
More people than ever before are shopping online. By 2023, online sales will account for 22.3 percent of total retail sales. Using social media to engage customers and establish an authentic brand is essential to e-commerce. However, social media marketing can now exploit its ecommerce market: social commerce.
If you're a frequent social media user, you've seen conventional social media ads with an integrated link to the product page. Unfortunately, the extra seconds of irritation that a buyer encounters when being redirected to an ecommerce site can be enough to turn off captive audiences.
Social commerce creates shopping experiences without ever leaving the app. No, they aren't talking to a landing page or website and are buying something from your post on their preferred social media app.
What Exactly Is Social Commerce (And How Does It Vary From Ecommerce)?
People sometimes confuse ecommerce and social commerce because both are related to social media marketing. In truth, ecommerce and social interaction are two distinct sales methods.
Ecommerce refers to traditional internet shopping, and it is the process of generating leads and converting them via online commerce. Whether your customers buy in an app or on your website, the marketing strategy focuses on getting visitors to your website, landing page, or product page to increase sales and generate conversions.
Social media marketing is all about showcasing your items, engaging customers, and driving traffic to your website or landing page where buyers may buy. While social media use for marketing and engagement, the purchasing process takes place on the retailer's ecommerce website.
Social commerce combines ecommerce and social media marketing by selling things directly on social media. Instead of using company social media accounts only for user engagement, social commerce enables firms to capitalize on their captive audience by incorporating shopping capabilities into their postings. Social commerce is currently worth $89.4 billion and anticipates to increase to $604.5 billion by 2027.
Before social commerce, the ecommerce customer journey looked like this: You were scrolling through social media when you came across a cool t-shirt. You clicked the link to the company's product page and proceeded through a lengthy checkout process that entailed handing over personal information to a business you'd only met.
Your complete shopping experience takes place on social media platforms with social commerce: You see that cool shirt you have to have, so you tap on it and go to the in-app checkout. Your payment information, including your desired payment method, is entered into the appropriate fields. You press the "purchase now" button, and your shirt is on its way!
Here's How To Boost Social Commerce Revenues
Several social apps allow businesses to transact within their app without having to click on any external websites. In-app shopping experiences are available on Instagram, Facebook, and Pinterest. More firms are catching on and providing straightforward social commerce shopping experiences to customers wherever possible.
Want to stand out in the burgeoning world of social commerce? Here are some tried-and-true methods for increasing social commerce sales:
1.
Determine Your Most Popular Social Channels

Marketers should first determine which social media outlets are most popular among their target customers to take advantage of social commerce. While it may appear to be a better idea to play the numbers game and sell your brand across every social media outlet imaginable, you will waste time developing content for individuals who aren't interested in your items.

Concentrate on two or three of your top social media channels to maximize your social commerce efforts. Inquire with your marketing staff about which social networks generate the cash flow and where your postings receive the most excellent attention. Then, poll your audience to find out where they like to see your posts.
2.
Make Your Posts Available For Purchase

To engage in social commerce, you must make your posts shoppable. A shoppable post is a social media post that allows users to tap a featured item and make an in-app purchase. Social commerce enables audiences to purchase from companies straight from their favorite social media platforms. Audiences can become customers in seconds instead of seeing your goods in their feed and traveling to your website to checkout.

You gain access to a captive audience when you make your content shoppable. According to Facebook Insights, 81% of customers conduct product research on Instagram and Facebook before making a purchase. Why not make it easier for them to buy when they're already in the mood to shop?



3.
Don't Underestimate The Persuasive Power Of Social Proof

Customers use social proof to determine whether your marketing messages are genuine by gathering information from your online presence, user reviews, product ratings, and how others talk about your business on social media. The more favorable your brand reviews, the more likely your audience will trust you when you make product promises in your social media postings.

If your products have few evaluations, solicit feedback from your customers. People unfamiliar with your brand anticipate 100 user reviews for each purchase. Reviews represent what the majority of your consumers think about your items and how well you've created your brand with a diverse customer base.
4.
Change Your Approach To Social Customer Service

Customers who visit your ecommerce site and have inquiries about a certain product can go to the "contact us" area or utilize your chatbot to submit an inquiry. What about your social commerce clients? It would be inconvenient for them to ask a question on your website; thus, they will most likely expect some social customer care.

Brands must embrace social media messaging to answer inquiries and solve customer problems to provide a smooth customer support experience. Depending on the organization's size, you may answer these questions manually or have a chatbot do it for you. This way, external links, and needless friction do not disrupt the social commerce trip.
5.
Collaborate With Influencers

Influencers already have a following of committed followers who trust their advice. Collaborate with influencers prominent among your target demographics to broaden your reach and boost the success of your social commerce strategy.

Find similar social profiles to collaborate with and capitalize on your shared expertise. Determine which influencers are most relevant to your target audience and contact them to see if they'd be interested in reviewing your product in exchange for a free sample.

You can also request that your consumers become brand influencers. For example, ask them to share material containing your items using a specific hashtag, set up a rewards program, or solicit video testimonials with the opportunity to be included in one of your articles.



6.
Try To Personalize

According to an Accenture report, 91 percent of customers prefer to buy with brands that offer personalized experiences. Make use of personalization to capture the attention of crucial audiences.

For example, make product recommendations to customers based on what they've previously purchased from your website. Recommendations are an excellent approach to capturing your audience's attention with relevant social media content.

You can use a page-level targeting tool to put up tailored product recommendations at checkout, and it automatically generates precise suggestions depending on what clients have already purchased. With cross-selling recommendations, page-level targeting is an excellent strategy to increase cart sizes.

You can use a page-level targeting tool to put up tailored product recommendations at checkout, and it automatically generates precise suggestions depending on what clients have already purchased. With cross-selling offers, page-level targeting is an excellent strategy to increase cart sizes.
7.
Engage Your Audience

You can't ignore the most vital component of providing your audiences a fantastic social commerce experience: Be social! Engage with your consumers in the comments, solicit feedback, learn what they like and dislike about your products, and provide them with valuable stuff to read.

Allow customers to comment on your shoppable posts so they may ask you questions about your goods in public. You're also creating a user-led FAQ to improve the customer journey with your brand.
Selling More Seashells On Social Media
Social commerce is more than a fad; it's a new way for customers to shop and interact with your company directly from their favorite applications. Because many customers use social networking applications to investigate companies and products, it only makes sense for businesses to employ social commerce to capitalize on this captive audience.
There are numerous approaches for brands to begin strengthening their social commerce strategy. Identifying where your target customers hang out online, implementing social customer service strategies, and boosting purchases through social proof and influencers are some of the finest practices. After this if you feel like you need any type of ecommerce website development or social media marketing help you can directly call NetMaticO. Our experts are ready to help you and increase your business growth and sales.