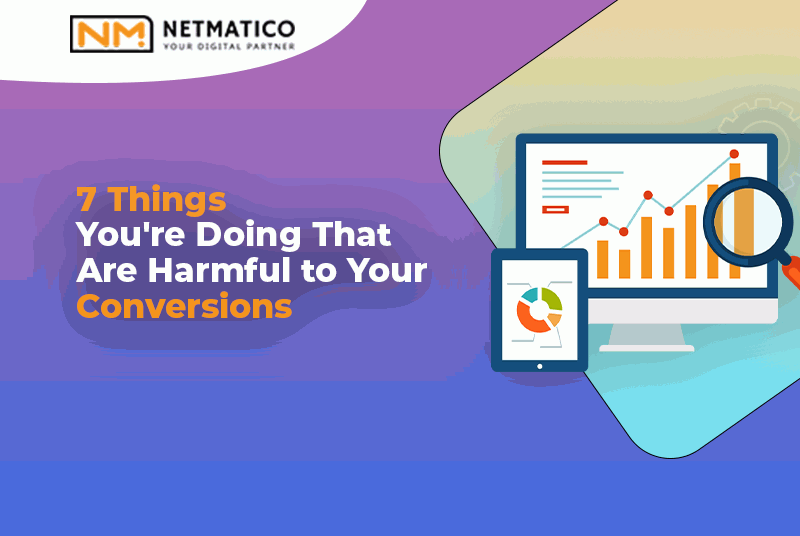 7 Things You're Doing That Are Harmful to Your Conversions
Not sure which aspect of your implementations harmed your conversions? Here are a few points to double-check.
Conversion rate optimization (CRO) is not an easy task. Professionals who have woven their way over, under, and through many testing and optimization initiatives will find it difficult. It is because it necessitates combining all of your expertise in each digital marketing channel to create a logical and efficient online customer experience. It is research-driven and necessitates testing numerous concepts to arrive at one optimal solution that inspires your audiences to convert.
The procedure might be perplexing, as you must consider your channels, clients, and external aspects that may affect your conversions. Mistakes are unavoidable; however, the good news is that there are "common sense" things you can automatically avoid, so you don't harm your conversions.
It is something we've learned the hard way through innumerable concepts tested and experiments that didn't provide the desired outcomes; we've shared them with you below.
Things To Avoid To Increase Conversions
It is beneficial to learn from your mistakes. However, it said that it is better to learn from the mistakes of others. So, a word to the wise: Don't squander time and resources attempting to test these well-known conversion rate optimization traps.
1.
Being Overly Unclear In Your Offer

Nothing turns off your clients faster than ambiguous promises. As a result, your offers on your landing pages and/or websites should be obvious and promptly communicated to your audience. Before they do business with you, your audience needs to know what they can anticipate from you. To put it another way, you must first gain the trust of your target audiences before attempting to convert them into consumers.

There are several strategies to avoid this and increase conversions. Here are a few examples:
Provide exact amounts rather than implying size with terms like "massive" discounts.

Display photographs or other visual representations of your goods or service.

If there is a limited offer, clearly mention the dates of inclusion and any mechanics or terms they must follow to take advantage of it.

Alternatively, employ contextually relevant terms that speak to their goals and/or pain concerns.
2.
Using The Incorrect Call-To-Action (CTA)

Even marketers who are not CRO practitioners will get this. We won't be the last to tell you so. The most common mistake in every CRO endeavor is failing to use the appropriate call to action. What exactly mean by this? Consider a transactional page on your website. This page contains all of the information a customer needs to contact you or locate your stores. If that's the case for you, your next natural step should be to request that they contact and/or visit you or organize an appointment.

Instead, you provide a CTA that reads, "Learn More." Doesn't that seem contradictory? And there are only two possible outcomes from here:
They leave your page because your CTA turned them off, or

they click the CTA and are taken away from your transactional page and to an informational page.
Instead, you provide a CTA that reads, "Learn More." Doesn't that seem contradictory? And there are only two possible outcomes from here: They leave your page because your CTA turned them off, or they click the CTA and are taken away from your transactional page and to an informational page.
3.
Information Overload On Your Landing Pages.

Online audiences scan stuff rather than read it. Put it down to the flow of content your consumers are exposed to daily, which causes tiredness and distracts them. Nobody has time anymore to read long product descriptions. So, a website landing page with far too much content (to put it mildly) will turn away your consumers faster than it took you to convince them to visit. So, is it better to have fewer landing pages in that case? No. Certainly not.

The trick here is to strike a balance between length that meets your consumers' needs and keeping the focus on your copy to underline how your offers answer their problems. Take a step back and examine your product messaging using heuristics or simple questions such as:
What value in your products and/or services are your customers focusing on that I may emphasize in the copy?

How can I eliminate "fluff" or extraneous words that do not convey the substance of my landing page?

What buzzwords do they use while describing or discussing my products/services?
4.
Making Use Of Generic Images And Essential Graphics

Branding has undeniable marketing benefits, and it builds emotional connections with your audience, establishes your company's identity, and promotes growth. As a result, we all emphasize the necessity of avoiding generic images when leveraging branding in the context of CRO. Simply put, stock and generic photographs do not highlight your branding. To gain the attention and, more significantly, conversions of today's online audience, your business must demonstrate its individuality.
5.
Attempting To Do Everything At Once

Have you ever encountered a page requiring you to do too much? Like attempting to get you to join up for a newsletter while simultaneously asking you to complete a survey and possibly schedule a consultation call?

Didn't it merely want you to dismiss the tab? If that's how you feel, it's probable that your website visitors do as well. When building landing pages that convert, it's crucial to maintain their attention on one thing at a time.

Doing the contrary would likely turn them off for good, causing you to lose a potential customer today and for the foreseeable future.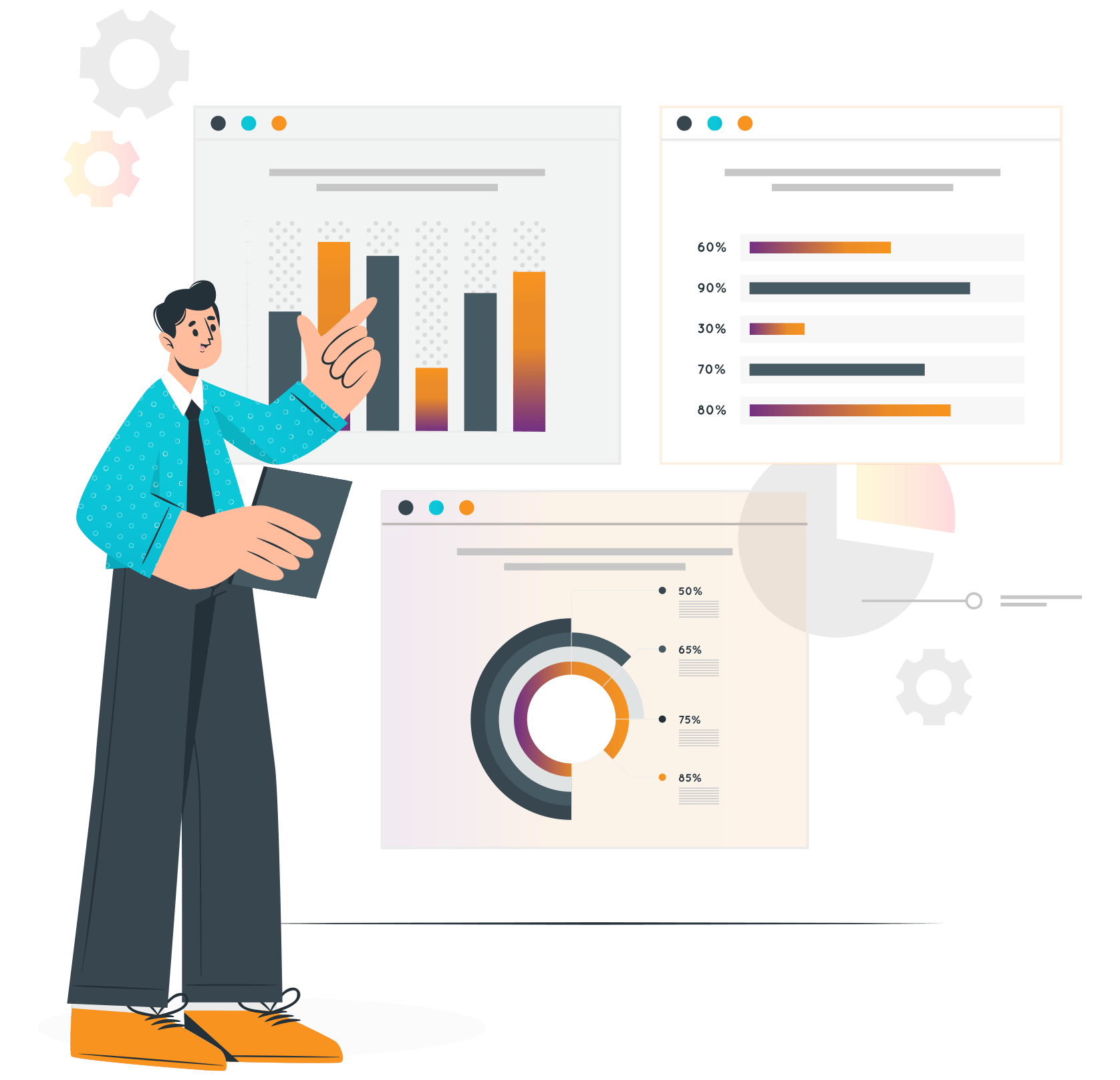 6.
Over-Reliance On Testimonies

Don't worry; this isn't referring to the social proof you included on your landing pages. Instead, this refers to your message mining and consumer research to identify buzzwords people use, which you can subsequently add to your copy.

"But wait, isn't it important to have customer feedback?" Yes, it most surely is. While essential, not all of them warrant action. For example, a tutorial video on how to use your products could be a wishlist feature for one of your audiences. However, if this consumer is the only one who wishes for it, and if implementing it would just slow down your site, is it worth the hassle of satisfying?

Yes, testimonials provide a wealth of information to absorb about your products. However, consumer feedback frequently needs to be confirmed before you can use it to improve your optimizations, which is only one reason why verifying consumer feedback is essential.
7.
Failing To Define Your Value Proposition

We said a while back that lengthy landing pages drive off customers, and this last point is one of the reasons. While beneficial to your search engine optimization efforts, long copies may be detrimental to your conversion rate optimization attempts. It is because extended, often roundabout explanations of your products and/or services bury the actual value you intended to communicate. Writing clean and succinct copy is recommended to ensure your target audience understands your value propositions. Creating this resonance is crucial for guiding them to the conversions you seek.



Takeaways
Numerous conversion rate optimization approaches can use to achieve your goals, whether in lead generation, sales, or website visits.
However, as many paths as there are to go, there are just as many potholes in the road. You'll need to be cautious about your actions so that you don't fumble and make blunders you'll regret later. Aside from the main problems mentioned above, here are some final reminders:
Testing is an ongoing process

. Conversion rate optimization is more than just one successful iteration. It will continue as long as your audiences and the web world evolve. In this current atmosphere, a development mentality actively seeks to challenge your best practices rather than settling for what works now.

Test the best practices

. The idea that best practices sets in stone are a frequent misunderstanding. However, this thinking keeps you locked using outmoded conversion-boosting strategies and approaches. Instead, approach these habits to learn how to improve on them.

Allow your blunders to guide your future strategies

. It isn't simply about the errors we stated earlier. More significantly, this is how you should perceive your mistakes in testing. Yes, these were losses at the time, but the lessons you learned from them will be helpful in future optimizations.
NetMaticO is Toronto, Canada's most effective digital marketing agency. We help our clients promote their businesses all around the world. With our digital marketing services, we achieve incredible results for our clients. We offer all-important digital marketing services to our customers, including Google AdWords, Search Engine Optimization, Social Media Marketing, PPC, Content Writing, Website Development, eCommerce, and Graphic Designing. May find all of the best digital marketing services under one roof. So, what are you waiting for? Contact us now and get a free assessment.