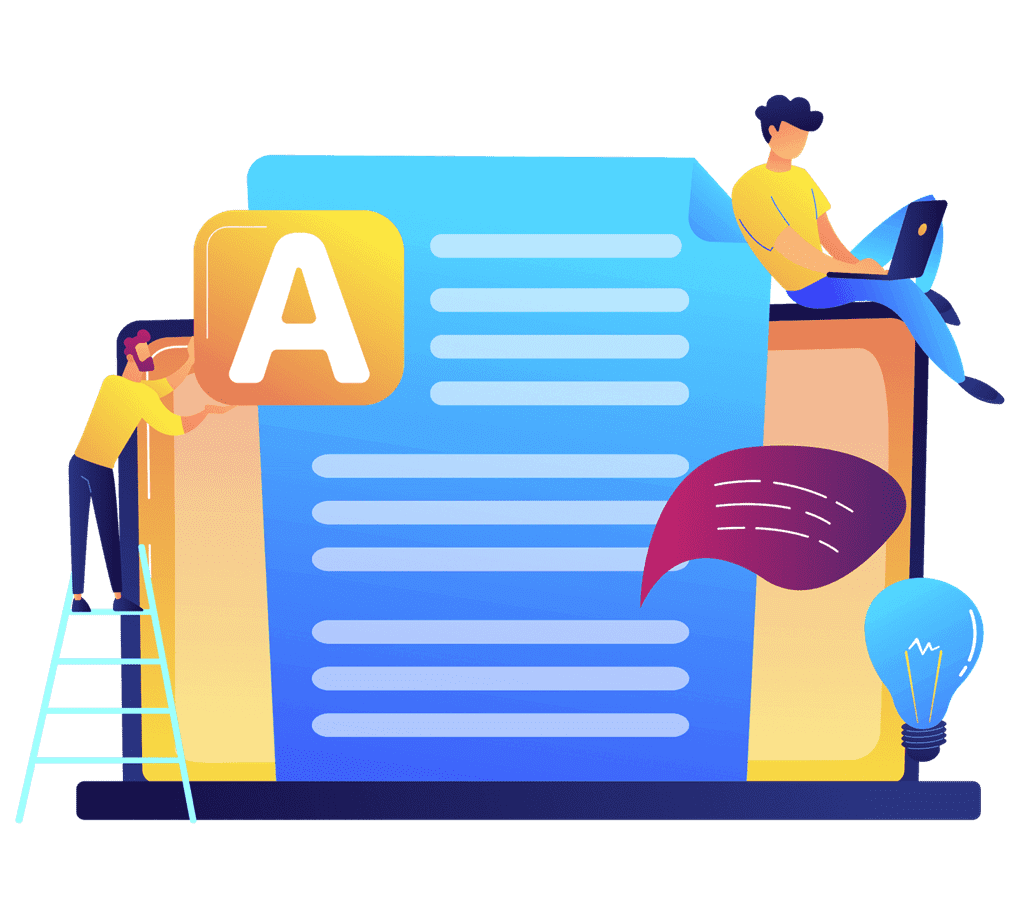 Content Marketing Made Easy: A Complete Guide
What Exactly Is Content Writing?
Content marketing strategies have evolved, and traditional marketing has become less effective day by day. As a compassionate marketer, you know there are better ways to accomplish your goals.
What is Content marketing?
It is a strategic marketing approach that mainly focused on creating and distributing relevant, valuable, and consistent content. The purpose is to pull and retain a clearly-defined audience — and, ultimately, to drive profitable customer action.
Instead of pitching In your products and services, you are providing useful and relevant content to your better prospects. Content that can help customers to solve their problems.
Why Content Marketing?
Moreover, these days outbound marketing strategies are not as useful for reaching the target audience and transforming them into leads as they once were. Content marketing now seems to be a popular way for businesses to combat this problem. Besides expanding your reach, content marketing also helps your business:
Educate your and your prospects and leads to the products and services you are offering.
Create a sense of community around the brand.
Build relationships between your customers and business.
Boost conversions.
Connect with the target audience to show them how your products or services solve their challenges.
History of Content Marketing
Marketing industry competition allows us always to be looking for the next fresh way to do things. There are a bunch of new tactics out there waiting to get discovered, but we can also learn from the universal lessons already taught. Time is indeed a great sifter, removing from memory what did not work while preserving what succeeded. We call the record of these successes and failures history.
You might know a little about world history, but how much do you know about the history of content marketing? Same like we can learn from the lessons of the recorded history, we can also learn from the successes and failures of marketing. After all, those strategies evolved some brands into modern household essentials. So strap up and prepare for a rollercoaster ride through the history of content marketing.
In the Beginning, Was John Deere
Of course, advertising and writing have been around since mankind started drawing pictures on cave walls. Until the late 19th Century, nothing existed what we would now call "content." In 1895, John Deere began printing The Furrow, its quarterly magazine. It was the birth of brand publishing. The creation of The Furrow is mostly a result of technological advancement in both transportation and communication. It began to minimize the gap between business and customer.
The Furrow was not a catalog. It did not overtly seek to sell products on each page. Instead, it strove to create a connection between the brand and customer by writing articles and agricultural tips in addition to ads for John Deere products. This genesis of content marketing became so famous that it had more than four million readers by 1912. The Furrow started teaching businesses that selling products was not always about selling products. It was about creating brand loyalty and becoming a part of the customer's home.
The Michelin Guide
Soon after The Furrow set foot in new content marketing, a little French tire company called Michelin published a 400-pagebook known as The Michelin Guide. The Guide was for motor enthusiasts to use while on the road. It contained valuable information on places to find hotels, auto maintenance, and restaurants, and it also gave some general travel tips.
But is not Michelin a tire company? Why would they not use at least a few pages out of 400 to sell their merchandise? Well, they did, albeit indirectly. The idea behind the Guide was to motivate people to travel more, which would end up wearing out their tires, and they would come to Michelin to replace them. The Michelin Guide had so much success after its release in 1900. It enhanced business for those listed in the Guide. Even today, restaurants around the world look for the coveted Michelin stars to increase their followers.
The Michelin Guide not only advantaged the businesses, but it also set the stage for the consumer publications, ads directed toward a specific target audience, and ads posted in niche magazines. It brings us to the next significant point on our timeline.
Jell-O Recipe Book
You will be shocked to find someone in America today who has not heard of or eaten some type of Jell-O product. From the actual Jell-O to pudding, cheesecakes, and more, Jell-O is an integral part of American culture. But it was not always that way. In the early 20thCentury, Jell-O was stumbling and in danger of failing altogether. In what could have been its final great push, Jell-O started putting ads in The Ladies Home Journal, since its ideal target audience was the American housewife. If you believe it or not, this was one of the first instances of purposeful audience targeting.
Those ads started to boost sales, but the success came with the Jell-O Recipe Book – a publication once again tailored for Jell-O's target audience. The book did not sell Jell-O, but instead gave people things to do with Jell-O. It inevitably ended up boosting their sales. Thanks to the risk taken in 1904, Jell-O is currently a household brand name.
The Radio Revolution
Just as the out-dated technology moved marketing forward, the introduction of radio to many homes around the world created even more content marketing opportunities. Radio brought content right into the house, straight into consumers' ears. Just as The Furrow started to do, the radio further made it possible for brands to be part of this integral household.
For example, Sears began a radio broadcast known as the "World's Largest Store" Radio Show. Using the audience targeting that Jell-O and Michelin had established, Sears targeted the booming farming industry. Besides, to advertising Sears' products and services, the show discussed farming and also had comedic and musical performances. The show became so popular that it pushed more people to go and buy radios so that they could listen to this show. And guess where they purchased them? From Sears.
The Great Stand-Still
Unfortunately, the fast pace of content marketing came to something of a stand-still in the early 1940s and 50s. Advertising took over the media and left a little room for content to make any further movements. Little more happened in content marketing until the late 1960s and70s.
Exxon and Multi-Channel Campaigns
Once again, the introduction of television into homes opened the door for new and more creative content marketing opportunities. Esso, known as Exxon, was one of the first businesses to take advantage of this new kind of media.
Learn more with Our eBook
Esso launched this campaign across different channels, such as TV, radio, newspapers, and magazines. It was the first time that a large scale, the consistent campaign was applied to various channels. It established brand consistency and gave Esso more exposure and set a high precedent for the future of content marketing.
The Digital Age
When computers and Internet usage started to spread across the world, a new channel for content marketing took birth. Marketers started exploring for ways they could use this modern, digital media, from emails to websites, and a lot more. In 1993, O'Reilly and Associates were the first business to initiate commercial websites. It was the moment when content broke the monopoly that advertising had on social media. Anyone with an internet connection could now make and forward their content.
The phrase "content marketing" was created in 1996 at a discussion for the journalists at the American Society for Newspaper Editors. John F. Oppedahl knew a little when he spoke out the phrase that it would rapidly become one of the essential terms in marketing.
In 1994, the first blog got written by Justin Hall of Swarthmore College. While some blogs always get utilized as a type of digital diary, blogs introduced the opportunity for brands to connect with the target audiences, share more content, and strive to build their brand and tone. "Blog" became a new term in 1999 when it derived from the word "weblog."
The Rise of Social Networks
The Internet turned out to be a dynamic channel –a laboratory where content marketers could continually search for enhanced ways to connect with audiences. So much content filled the web that in the mid 21stCentury, ranking algorithms got developed to manage the enormous amounts of content somehow.
As the Internet use expanded, social networks became widespread, becoming yet another channel through which brands could find potential customers. Facebook started in 2003 and remains the Medium of choice for consumer marketers. In 2006, Twitter joined the social media marathon, and brands quickly began using it to engage in real-time conversations with customers about products and other problems. YouTube rose to great heights in2005 and build a groundbreaking precedent for videos in content marketing.
Not only did social media networks introduce anew medium to present campaigns, but they also let immediate interactions between brands and their consumers.
What Now?
What could the future hold for content marketing? Another channel? Could virtual reality somehow be a new marketing medium, letting brands to immerse customers in an experience? Who knows. But with the growth of new channels and marketing influence only accelerating, the possibilities are endless now.
So, what type of lessons can we take away from the history of the content marketing? You can write a book on this stuff, but we will try to put down just a few. First, adapt. Many of the leaps in content marketing took place because brands changed to advancing technology. Brands that did not adapt do not exist today. Second, always remember your audience. We would not have been more here if brands like Michelin and Jell-O had not started targeting specific groups. And finally, take risks. All of the businesses we have discussed were trying something fresh, and any time a business works something outside the box, it is risky. But these risks paid off.
Types of Content Marketing
There are many kinds of content marketing your business might decide to leverage. Below are some of the most prominent options.
Social Media

Content

Marketing
With over 3.7 billion global users, it is easy to understand why so many businesses invest in social media content marketing. There are several platforms (such as Pinterest, Facebook, LinkedIn, Instagram, and Snapchat) to work with and various ways you can create and share social media content on each of them (such as live, photos, stories, and pre-recorded videos).
All of these social media platforms and different ways to share your content provide you with abundant opportunities to connect with your audience.
Lush Cosmetics' Instagram account complements the rest of their marketing content and is on-brand— if the page did not say "Lush Cosmetics" anywhere on the profile, customers will likely still know that the profile belongs to Lush cosmetics.
The Instagram page portrays the Lush product line and displays different scent options and colors for the products and shows the different ways you can use every product.
Their profile feels and appears bright, colorful, happy, and uniquely Lush. The page also depicts people of all ethnicities, backgrounds, and genders using their products in ways that fit their specific requirements.
Infographic Content Marketing
Infographics display information, content, and data in an easy-to-understand graphic format. With a blend of simple wording, short statements, and transparent images, infographics are a great way to communicate your content effectively.
They work well if you are trying to distill an educational and complex topic down so all audience members can understand it.
IBM created an infographic when it launched its Cloud marketplace. Their infographic is well-organized, on-brand, and easy to read. It clearly explains what they are doing with their Cloud marketplace and how customers can advantage from it. It also tells the audience members how they can access the market and get started using it.
Blog Content Marketing
Blogs are a dominant kind of content for inbound marketing and sharing information with your customers and target audience(whether customer-related, educational, or product-related). You can also use blogs to convert readers into consumers, boost brand awareness, and create relationships with your target audience.
Depending on the goals of your specific blog, you might choose to promote other blog content. You can do this by linking to various posts, linking to your partners' websites and products, sharing links on your social media pages, or writing about your product line.
Example of Blog Content Marketing
Expedia has a blog known as "Out There Starts Here" that shares travel-related info. Whether about unique places to visit, hotel recommendations, or various activities you can do around the world, their blog has all the details.
Expedia publishes their blog content to keep readers interested and engaged regularly. It includes a variety of topics related to any trip you can imagine. The blog is on-brand and informative, and all articles relate to the travel company's goal of gaining customers and enhancing brand awareness.
They do this by linking with their services and writing about potential customers who have already had positive experiences with their company.
Podcast Content Marketing
Are you aware that more than 6 million people currently listen to podcasts in Canada? Podcasts have become an accessible content channel because of their convenience — you can enjoy them while on-the-go or while relaxing.
That is why so many businesses have begun creating podcasts. They help build relationships with audience members, improve brand awareness, and promote their products, services, and partners.
Example of Podcast Content Marketing
Harvard Business Review has a weekly podcast known as HBR Idea Cast, which features industry leaders in both business and its management. You can either subscribe to regularly receive their hundreds of podcasts or pick and opt the ones you want to listen to.
The podcast complements the rest of HBRs published content and is on-brand. It also serves as an exuberant way for HBR to connect with its target audience, enhance brand awareness, and gain a following of a target audience through a different medium.
Video Content Marketing
According to a recent NetMaticO research, over50% of consumers say that they want to see videos from the brands they love to interact with.
Additionally, video marketing can improve ROI, boost conversions, and help you create relationships with audience members. You might choose to share your video marketing content on site pages, social media platforms, or on your partners' sites — expanding your reach across different media.
Example of Video Content Marketing
Much of Dollar Shave Club's video content went viral. Their marketing efforts are humorous, on-brand, and entertaining. One of their videos has more than 26 million views solely on YouTube. By creating a name for themselves through their video content, Dollar Shave Club has experienced massive brand recognition and growth.
Paid Ad Content Marketing
As I said before, organic traffic created by inbound marketing and content is becoming increasingly popular among all kinds of businesses.
However, that is not to say paid content and ads are ineffective or useless for reaching your target audience. Paid content ads can help you achieve a broad audience and lets you position yourself in all of the platforms you want to get seen.
There is a lot of ways you can create and publish your paid content ads. You may share paid ads on social media or post-digital ads on websites in the form of banners or sponsor
A clothing and accessories company — utilizes paid and sponsored ads on social media to reach their target audience while they are browsing their news feeds.
The content ads headline some of their products or services and details about their free shipping and return policies to attract their audience to their site and, hopefully, convert their audience into customers.
We have now reviewed different types of content marketing you can add to your strategy. Now, let talk about your content marketing strategy. By implementing a strategy, you can make sure your content marketing efforts are effective and impactful in converting leads and reaching your target audience.
How Do I Get Started?
Many firms offer content marketing services, often paired with PR or SEO. Suppose you are simply too busy to do it yourself and are not ready to manage it in-house, then hiring a firm maybe your best option. But if you want to hope in and do your content marketing, the simplest way is to start blogging. It will most probably be difficult at first, but the more you do it, the better you will get at it. Following tips from websites like Copy blogger, you will soon learn how to craft content for your site or blog that will engage readers and turn them into potential customers or clients. But while technically excellent writing and the right headlines can help, it is not the key to creating sleek content that is the best kind of content marketing.
Great Content
Suppose you have ever slogged your way through reading a piece of marketing and only finished reading because you had to. But then you have experienced poor content marketing. When I speak to companies about content marketing, I tell them that the content is excellent if they genuinely want to read it. Content is unique if they are ready to pay to read it. If you are going to see some examples of great content, just look at what you have paid to watch, read, or listen to lately.
If you watched The Lego Movie, you saw one of the most amazing examples of content marketing to date. Oh, you thought they made that movie to sell movie tickets? Think again. That was a 100-minute toy commercial, and rather than utilizing a DVR to skip it. You paid good money to watch it. Is it any coincidence that Lego recently crossed Mattel, the creators of Barbie, to be the largest toy company in the world? You might not have the budget to make a feature film to promote your company, but you can still give potential clients valuable information.
Content Marketing Tactics
There are various content marketing tactics proven to help businesses market more effectively to their target audience. Here, we will have a good look at some of them, including:
Geo marketing
Guest blogging
Gated content Urgency
Content repurposing
Content curation FOMO
Guest Blogging
Guest blogging is an essential way to improve SEO and get more from content marketing. Says the Content Marketing Institute, it is an integral part of the content marketing funnel.
Guest blogging can help you:
Raise awareness of your brand
Get new visitors and subscribers
Gain inbound links
Build trust
To make a success of guest blogging, you will need to:
Identify the right websites to contribute to
Respond to comments and shares
Pitch and write a great article
Use the bio effectively Promote content and measure results
Gated Content

Do you know what is better than posting your blog content out there for free? Hiding some of it away to provoke visitors to subscribe.
That is what gated content is all about, and it is a content marketing tactic that is proven to work.
Apart from the blog posts, you can also gate:
Any lead magnet
White papers and research
Checklists and cheat sheets
Webinar and video replays
News articles
Downloadable resources and tools
Content gating can be a fast way to help you understand who your audience is and what matters to them. It can also help you create a relationship with them and create more targeted marketing.
Of course, there are a few disadvantages, too. For example, gated content can annoy your visitors, and minimize the number of people you can connect to. But for a lot of businesses with a broad audience, the advantages outweigh the disadvantages.
To gate content effectively, you require:
The content
A compelling call to action (CTA)
A landing page
Content Upgrades

You can produce additional content related to a specific blog post and use it as a content upgrade to get people to entice to subscribe.
Content Repurposing

One popular technique many marketers use is content repurposing. That is about taking the current content and reusing it in another format.
It can help solve the problem of creating new content. It can also help you in extending the reach of your content, allows you to generate more leads and make more sales.
Techniques you can utilize for content repurposing include:
Sharing content on sites like Reddit
Content syndication is where your posts appear as related content on other people's posts, using tools like Zemanta, Outbrain, and Taboola
Creating social media posts with content snippets
Republishing your posts on sites like Medium
Making something new, like an infographic, presentation, video or podcast
Updating an old piece of content
Content Curation Tools
Another great way to solve your content marketing woes is to use content curation. With content curation, you can advantage from great content without having to make it. That saves you effort, time, and money.
With content curation tools, you can:
Create and share personal content digests
Automate social media content sharing
Keep up with the latest on different topics
Some of the most excellent content curation tools are free of cost, such as:
Pinterest: allows you yo curate content via pins and boards
Flipboard: will enable you to create your digital magazine
Nuzzel: a newsletter content curation tool
Klout: recommends shareable content to enhance the social influence
Listly: a list creation and sharing tool
FOMO
Using FOMO is one of the most significant ways to entice you, visitors, to download your lead magnet and buy your stuff. In marketing, FOMO's about triggering the feeling to make your audience more responsive.
While FOMO affects 70% of millennials, it also impacts almost half of the social media users.
So it is pretty powerful.
Some fantastic ways to use FOMO in your content include:
Let the readers know there is the potential to miss an opportunity in your messaging
Offering a content upgrade, as described earlier
Using expiring content
You are rewarding your visitors to make an early decision to buy or subscribe.
Urgency
Urgency is another useful and effective marketing tactic that plays a role in human psychology. Urgent situations make us want to act. Urgency's also related to FOMO, described earlier.
Urgency only works if you are marketing something valuable, useful, or essential. Otherwise, people would not want it.
Tips for using urgency in marketing include:
Do not overuse it, or it loses impact
Use urgent and active language in your CTA, such as "book now."
Also FOMO, you can use language to evoke time, scarcity, speed, and a sale
Repeat urgent preheader text language in email subject lines
A few of the techniques mentioned for FOMO above also work fine for evoking urgency.
Geomarketing
We said earlier that it is essential to make content relevant to your customers. Geo marketing is a fantastic way to do that. Geomarketing allows you to deliver messages and content tailored to your audience's location.
It can also help you:
Boost your content's position in local search results
Create hyper-targeted content
Be more visible to the mobile device users (and social media users, a lot of whom use mobile devices)
Another essential part of geotargeted content marketing is local SEO content optimization. It includes the use of schema markup and the making of local landing pages.
Are you tired of looking for content marketing companies in Toronto? NetMaticO with their decades of experience, are here to evolve your website to a never-ending experience for your clients.
The Best Types of Content for Your Audience
If you want to gain more from your content marketing strategy, achieving real results that enhance leads and sales, then you will require to use the right type of content.
Not all content types are attractive to all visitors, so you need to mix it up a bit.
Here we will look at some acceptable content formats. Blog posts are the key, as mentioned earlier, but here are a few more types of content you can utilize.
Case Studies
If you desire to get new business, then consider making customer case studies. They are pretty useful, and we should know that.
Case studies let you:
Highlight the advantage of your product and service
Build trust with potential customers
Create the content specific to a niche you want to target
Show your advantage over your competitors
Plus, you can create an even better relationship with the customers you feature.
Ebooks
Were you searching for a quick lead magnet? Anebook could be just the ticket. Netmatico's most popular lead magnet got 12,000shares in a year.
If you are going to succeed with ebooks, you will need:
An outline that puts your content in a logical order
Content that meets readers' requirements and has a defined purpose
Delivery in a format that your audience needs, such as Kindle or PDF
Rich, well-researched and well-written content
Videos

You can not get away from it. Video is known as one of the most popular content formats around. It is not just that most people(including millennials) watch videos; it is also that video's proven to generate more leads and help them make sales.
That is what the latest video content marketing stats have to say. Those who use video marketing get 68% more leads a year, says Aberdeen Group. And according to Wyzowl, 82% of those using video saw an increase in their sales.
You can create many different kinds of videos, including product or service showcases, explainer videos, and even tutorials. And you can also create a video effortlessly with just your mobile device and a YouTube account, so it is not difficult to get started.
Webinars
Webinars are another proven lead generation tool. According to ReadyTalk, up to 41% of those who attend webinars can become qualified leads.
Up to 6% could make a purchase, according to the Branded Solopreneur. And some people have earned millions just by hosting webinars.
Those numbers make a case for using webinars as a kind of content marketing. To get started, make a presentation you can show and get ready to have a brief Q&A afterward. You will require a webinar signup landing page, and a pro tool like Zoom to let you host the webinar.
How to Measure Content Marketing ROI
Believe it or not, a bunch of marketers don not know what an efficient content marketing program looks like, says the CMI.
So, now, we will have a look at content marketing ROI. Content marketing ROI is all about how much you earn from content marketing as compared to the amount you spend.
To work this out figure, track:
The amount you spend on content creation
What you earn
What you spend on content distribution
Then you can use this formula from Convince and Convert to work out your ROI.
Return minus total investment, divided by investment, expressed in a percentage
For example, if you spend $5000on creating a great piece of content, and generates leads worth $20000, then the ROI is 300%:
$20000 - $5000 =$15000
$15000/$5000 = 3
3 x 100% = 300%
If you are earning more in your sales than you spend on your content's production and distribution, then it is indeed worth it.
But as we know, measuring your content marketing success is not just about money. Some of the other areas to pay special attention to include:
Whether your content is generating sufficient leads, if people are responding to you, and contacting you, then you have the potential of making sales eventually.
Traffic and onsite engagement
SEO, and achieving better content positions in SERPs
If the content you post is generating sales, which you can measure using Google Analytics and your eCommerce platform
Social media success
Prominence and authority, both online and offline
Content Marketing Tools

According to CMI, 91% of marketers need help with content marketing, as just 8% of marketers feel that the yare indeed doing a great job. But using the right tools, and everyone can get better results. Here, we will have a look at tools to help you market more efficiently successfully with content.
OptinMonster
OptinMonster's marketing software can help you attract more subscribers by showing campaigns at the right time, so more of your visitors can take action. It includes various integrations with your favorite CRM, email marketing, and web and eCommerce platforms.
Audacity

With 15% of people listening to the podcasts, this is a content format you can ignore. An audacity is a free tool that can help you to make your podcast by recording your blog post so that you can make it available for download and share it on the podcasting websites.
BuzzSumo

BuzzSumo is one of the favorite tools for trending content online and tracking social shares. It is useful for influencer marketing and headline inspiration.
Feedly

Feedly is an excellent tool for tracking websites and topics that you want to follow. It allows you to stay up to date so that you can always add new stuff to your content calendar.
Headline Analyzer

Want to write great headlines? Use CoSchedule's Headline Analyzer. It is another favorite for the OptinMonster team. It helps you to determine whether your headline is hot or not.
Constant Contact
With auto responders, email automation, and other killer features, Constant Contact is a great place to begin with, email marketing. Plus, world-class customers support.
Monster Insights
Monster Insights gives you a more natural way to keep track of your blog posts and web traffic from the WordPress dashboard. When you know your metrics, it is easy to see if your strategy is working, so you can change it if you require it.
OpenSite Explorer
OpenSite Explorer, by Moz, tracks domain authority and page authority for websites. It can be useful and practical for guest blogging and other content marketing outreaches.
SEMrush

SEMrush's content audit tools help you to conduct an audit of your website content so you can see what should be optimized, which pieces perform better, and what requires to get removed.
WP Forms

WP Forms allows you to design your polls, forms, and surveys to get to know your customers. And it integrates with OptinMonster, too.
Visual Content Creation Tools
If you want to boost up content visibility, you have to go visual.
Content with images often gets more views, and more shares say the research. And, as we have seen, all ages love video, which will represent 83% of online traffic by the mid of 2021.
Here are some visual content creation tools that are recommended by top content creation companies in Oakville that will help you make the most of this trend.
Animaker
Animaker allows you to create an animated video without having to pay through the nose. It includes a wide range of video types, and you can even create infographic videos as well.
Boomerang

Animation does not get much more comfortable than only the Boomerang app from Instagram. It has just been added to Facebook Stories so you can make quick stop-motion videos for both platforms.
Canva
One of the most excellent image creation tools is Canva. It is ridiculously easy to social media graphic, make a blog post header, or even an ebook cover.
Cloud App
If you desire to capture your screen or share a recording, then CloudApp is what you need.
Easel.ly
Infographics are another sleek content format. You can quickly make one with Easel.ly. With built-in templates and the ability to add images and charts, you can have an aesthetically appealing infographic in a few minutes.
Giphy
If you use any type of messaging platform with GIFs, chances are you have already used Giphy. But you can also utilize its online GIF creator to make your own.
Meme Generator
Want to create a quick meme? Try the Meme Generator. Or an image, add your text and share – it does not get much simpler than that.
Pixlr
If you require to edit your images, then Pixlr is a good shot. It comes in three different flavors, depending on how much you want to do, Pixlr Express is an excellent middle ground with user-friendly some filters and editing tools.
Prezi
Nowadays, presentation software goes way beyond just PowerPoint. One good example of that is Prezi, which makes it very easy for non-designers to make alluring presentations. And you can also get viewing stats.
Soapbox
If you are using Chrome, then consider Wistia's Soapbox extension. It allows you to create and share videos right from the browser quickly.
How to Achieve More Out of Your Content Marketing Efforts