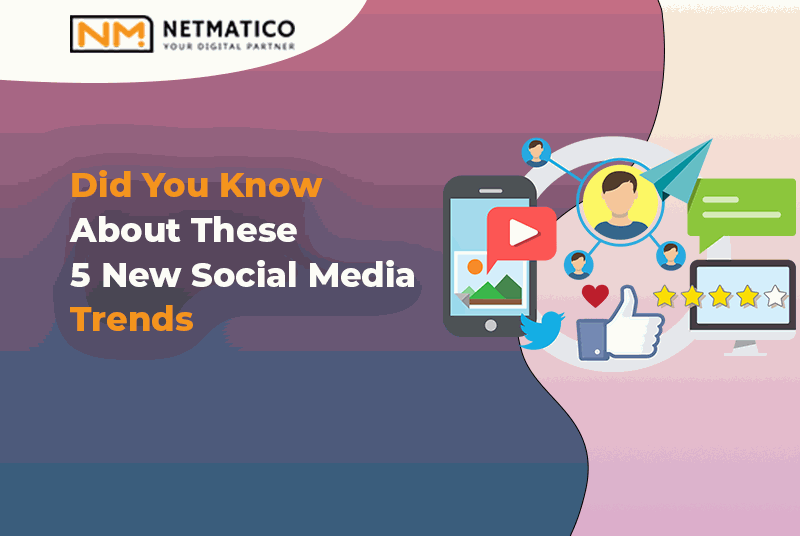 Did You Know About These 5 New Social Media Trends
Right now, a global social media boom shows no signs of abating. It's no longer only about well-known social media platforms like Facebook & Twitter; a slew of new networks are gaining traction & stirring among marketers & brands.
Consider the rise of TikTok, a relatively new player gaining traction, or YouTube, the go-to platform for video fans, or Instagram, which changed its formats in 2022 to focus on video content. Then, as platforms gain popularity and offer more social media advertising options, there is a shift in social media demographics.
Statista predicts that social media users will increase to 3.9 billion in 2022 & 4.4 billion in 2025. That's a lot of eyes to see your content & brand in front of, & it opens up many opportunities for organic and paid search advertising. So, what are the most important social media trends for B2C and B2B in 2022?


There are five crucial trends to watch and plan for this year:
Marketing on TikTok
Simple social commerce
Influencer marketing's usefulness
Increase in YouTube advertising
Instagram video creation





Marketers Can No Longer Ignore TikTok
Whether you're a B2C or B2B marketer, you've probably heard of TikTok. So, do you use it in your marketing efforts, & have you created content on the platform? If you said no, skipping TikTok in 2022 could be a huge mistake.
In Apple's App Store Awards 2021, TikTok was the most downloaded free app, followed by YouTube and Instagram. People aren't just using TikTok; they're also spending money on it, with revenue expected to reach $535 million in the 2nd quarter of 2021.
According to DMI specialist Alison Battisby, Social Media Consultant at Avocado Social media app's advertising possibilities will only grow in 2022. "TikTok has been on the stage of becoming one of the world's most popular apps for quite some time. Doing a fast dance routine or a challenge is no longer just a fad or trend; it has evolved into a unique strategy for quickly reaching a young audience on a low budget."
TikTok's algorithm and potential viral appeal to businesses and creators. "TikTok videos are treated equally in the algorithm compared to other sites like Instagram." TikTok isn't concerned with how many followers you have or how long you've had your account; it's solely concerned with the quality of your content. "If your video is captivating, it has the potential to perform extraordinarily well and go viral on the platform," says Battisby.
On TikTok, there's also freedom for experimentation. Chipotle focuses on content made by its employees, but Disney, ever-innovative, showcases Disneyland with videos of tours and exclusive behind-the-scenes information. Some specialty enterprises provide much entertaining material with little forethought.
Battisby believes it's time for brands to sit up and take note, especially with the TikTok Shopping set to launch with Shopify in 2022. "Marketers realize that TikTok lets them reach a far broader audience than Instagram or Facebook." As a result, it is also influencing brand outcomes."
2. Social Commerce Is On The Edge Of Becoming Seamless
Customers cannot purchase in-app, which has been a limitation for many marketers with such a captive social media following. Previously directed consumers to a website or landing page to purchase after clicking on a tag or photo. That is beginning to change!
Due to significant improvements made by social media companies customers will be allowed to purchase on social media platforms this year. "TikTok has partnered with Shopify, Instagram is increasing their shopping section, YouTube is improving shoppable tags in videos, and Pinterest allows you to shop."
With this capability now available on social media platforms, Battisby believes that firms who think intelligently about how they offer their storefronts will prosper. According to eMarketer, by 2025, social commerce in the United States will be worth approximately $80 billion.
So, as a marketer, what can you do to ensure a seamless consumer experience & that your products & services stand out on social media?
"It's not simply relying on one shot, for example," It all comes down to having three, four, or five different images for each product in your Instagram shop and including keyword-rich descriptions. There's also the opportunity to create Instagram collections, gift ideas, and summer & autumn collections."
Other suggestions for maximizing the power of social commerce in 2022 include:
Be 'human' when responding to inquiries by providing advice, links, and a discount code.
Consider collaborating with influencers to promote products that have shoppable tags.
Analyze your data to find customer experience strengths and deficiencies.
Experiment with different content formats & messaging to determine your target audience and how to engage them.

3. Influencer Marketing Help In The Development Of Authenticity


In the four years following 2016, the influencer marketing sector grew from $1.7 billion to $13.8 billion. According to The State of Influencer Marketing 2022 research, that value expects to climb 19 percent to $16.4 billion by 2022.
Influencer marketing will play a more significant role in the future. "It's something that brands that haven't used it before will look to do more of in the future." In particular, how influencers interact with video content and B2B and B2C business models. I believe it will become a more common part of a brand's marketing mix than in the past."
Influencer marketing may be quite effective for a company. The idea is to find an influencer that is not only willing to help you raise brand recognition but also has a connection to your product or service. Micro-influencers (those with 1,000 to 10,000 followers) can also cause a stir without spending much money or using well-known names.
Aligning with a 2022 social media calendar is a beautiful method to tap into social media influencers. It will show you popular and relevant events to advertise with an influencer, such as Earth Day, International Cat Day, and Halloween.
Finally, influencer marketing will only work if you do your research and find influencers who add authenticity and reality to your business.



4.
YouTube Advertising Provides A New Source Of Income
Compared to the previous quarter, YouTube's ad revenue climbed by 26% to $8.6 billion in the fourth quarter of 2021. Traditional TV advertising, brand advertising, and direct response commercials contributed to the spectacular development.
YouTube, as a platform, provides an enormous opportunity for marketers seeking to raise brand exposure. According to Susan Wojcicki, CEO of YouTube, the new YouTube Shorts format has had 5 trillion views and will test new ways for creators to make money in 2022 through branded content arrangements and NFTs (Non-Fungible Tokens).
In the past, many marketers were hesitant to post content on YouTube because they felt it would be of poor quality. However, according to DMI expert Brendan Almack, Managing Director of Wolfgang Digital, this is not the case.
"Creating good video content may be challenging for SMEs without a huge creative budget. However, YouTube has made significant investments in automating some of this, & Google provides several tools that allow you to quickly create a video for use as in-stream advertisements."
A broader range of firms will be able to advertise this year. "YouTube has moved down the funnel more." It used to be about brand recognition & branding, but because of Google's substantial assistance in using YouTube to produce action, it now has traction. Several merchants have successfully used YouTube to drive sales in the last few months."
The critical line Is that you should not let your lack of skill in making video content deter you from using YouTube. There is a lot of potential in 2022, and advertising on YouTube is still relatively cheap compared to other social media platforms. Create a YouTube marketing strategy, grow your channel, and begin selling advertising!
5.
Instagram Video Production Will Skyrocket
"In 2021, Instagram CEO Kevin Systrom stated that the company's strategy would focus more on video-based content." "As a result, we've seen software advancements such as Reels and the combination of IGTV and feed into one product called Instagram Video.
Instagram made this modification after noting that its audience responds well to video content and aims to transition from being recognized as a photo-sharing app to a major entertainment platform. Instagram is also well aware of TikTok's growing popularity and is adapting to compete with the video-sharing app.
Instagram's evolution has resulted in new video formats, such as making stories longer and adding more effects to Reels. In Facebook Ads Manager, you can now convert an Instagram Stories highlight into a Reels clip, and other video ad formats are available for purchase.
"If you're creating an Instagram strategy for 2022, start with video content." "Think about how you can add more video, Reels, stories, and gifts into your Instagram feed."
In 2022, Boost Your Social Media Marketing
As you can see, social media marketing is a hot topic this year. Exciting new advancements on YouTube and Instagram and TikTok's pervasiveness create new prospects for video content and advertising. It's time to implement some of these B2C and B2B social media marketing ideas to make the most of your social activity in 2022. We at NetMaticO know hoe you can boost your business and get more sales. Our digital marketing experts have boost a lot of business of different natures.