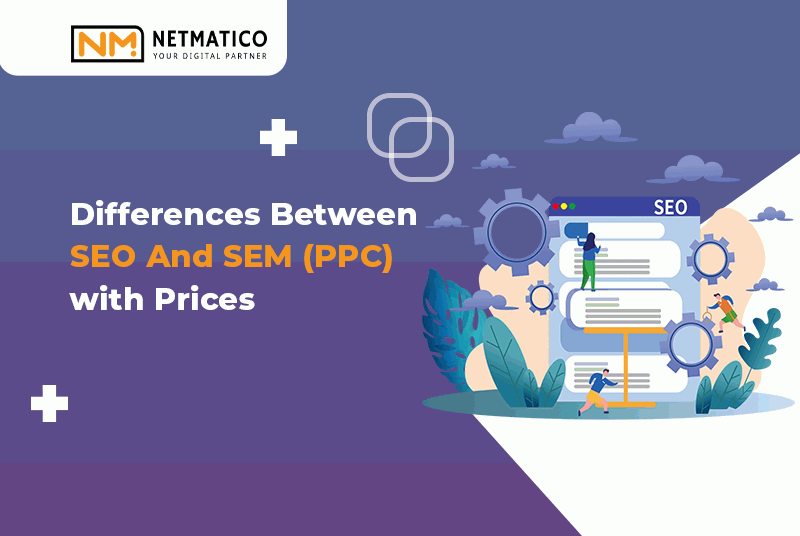 Differences Between SEO And SEM PPC with Prices
Which Is More Effective, SEO Or PPC?
Search engine optimization (SEO) and Pay Per Click (PPC) are the two most essential subsets of search engine marketing (SEM). SEO focuses on optimizing your website and producing high-quality content to drive organic growth. If we talk about how to optimize the SEO of your website. There are different ways to optimize your website. Some people learn SEO through google and Youtube, and many buy SEO services from reputed companies for this task. (receiving visits from search engines when someone makes a query related to your industry).
PPC is paying for clicks on ads that appear on the Google results page and banners, using services like Google Ads and Google Display. PPC has the advantage of providing immediate, consistent, and guaranteed results, but once the campaign budget depletes, you will vanish.
Conversely, SEO is more expensive and takes longer to bear fruit, but if properly managed, it provides exponential growth and a higher return on investment over time.
SEO Costs, Benefits, And Drawbacks
As previously stated, SEO is about creating content and making your website appealing to search engines and Internet users - particularly the latter. The goal is to rank first in Google when someone searches for something related to your offer. The key is to appear in front of a potential customer just when he is interested in what you are selling.
For this, we must position ourselves on the first page of Google using keywords related to our industry. It is not an easy task; it is a lengthy and costly process that requires constant monitoring.
An SEO project can cost between $1,000 and USD 10,000, but after positioning yourself, you can achieve massive traffic, with a high chance of converting prospects into sales.
NetMaticO blog can find more information on the costs of an SEO project: How much does it cost to rank your website on Google?
Why Should You Invest In SEO? The Benefits Of Organic Growth
Paying for advertising is analogous to renting an apartment, whereas creating content is analogous to building a machine that will not stop building structures over time. The content never sleeps, never gets sick, & never stops working.
Your company's best employees will be the articles you write, the videos you edit, and the audio you record.
Why?
Because they will be your brand's advertisers, public relations, and sellers, you no longer need to explain why your products are the best or why your services meet your customers' needs. There will be content that will do that work for you.
Even if the road is a little longer (you won't get to Google's first page overnight), the return on investment is much higher.
What Is PPC? Costs, Benefits, And Drawbacks
How does PPC work?
The PPC process entails paying a search engine to place your products or services in a specific location, which could be at the top of the results pages or in banners on websites similar to yours.
The benefits of PPC are primarily its speed, the security it provides, and the lower initial costs compared to an SEO project.
Of course, once the budget depletes, you will revert to anonymity, creating a dependency relationship. The cost of each click varies depending on the industry. The average prices for each are shown in the table below:
PPC Prices
What Is Pay Per Click (PPC) Advertising? A Significant Drawback
Although internet advertising is quick and allows you to reach many people, it has a low conversion rate. It means that, while it can generate traffic, few people purchase.
Furthermore, less than 4% of users who conduct a search click on an ad.
NetMaticO also mentioned that you need 10,000 people to see your ad to get 100 clicks and close a single sale. NetMaticO has declared that advertising is dead for this and other reasons. Furthermore, millions of users worldwide have extensions (tools) that allow them to block any intrusive advertising or banner.
Outbound marketing has suffered greatly as a result of the preceding.
Statistics On SEO And PPC
Businesses that regularly publish articles have 97% more inbound links than businesses that do not blog.
What exactly does this mean?
Companies that try to write texts about their industry, products, and services (as part of a good SEO service) have a much greater potential for reach than those that do not. The HubSpot company, one of the most recognized brands in the global marketing industry, reached the following conclusions in a study involving 6,200 respondents from 99 countries:
The number one priority for 61% of inbound professionals is to improve the SEO of the companies they work to increase their organic presence in search engines (2018).

Only 18% of marketers said that outbound marketing (including PPC) produced the highest quality leads for a possible sale.
The same company collects the following statistics on its website:
Google Adwords Vs. SEO: What's The Difference?
70% to 80% of users only look at organic search engine results. That is, they disregard advertising (MarTech, 2018).

SEO produces nearly six times the results of search engine advertisements (New Media Campaigns, 2018).

Content marketing generates three times the number of leads as search engine advertising (Content Marketing Institute, 2017).

70% of mobile users reject banner ads, and ad blockers on those devices have increased by 90% yearly (HubSpot, 2016).
PPC Advertising In An Inbound Marketing Strategy
Yes, you can incorporate google PPC advertising into your inbound marketing strategy. You'd combine outbound and inbound traffic to get the best of both worlds.
In the short term, outbound can be more powerful and atomic: if you have the money, it allows you to stand in front of many people. Its application is instant: all required is to activate an online advertisement to see results.
Using this type of marketing, your company will reach the number of people you desire based on the amount of money available.
With inbound, your brand and campaign grow stronger over time.
The greater your profit from content marketing efforts, the less time and money you will need to invest. The content you create today will help you sell tomorrow, the next day, and the next.
To use an analogy from the world of finance, each piece you publish is an asset that will increase in value over time.
Does Paying For Ads Improve Google SEO?
No, it does not.
The advertising work you do is entirely independent of any growth you may have in organic search engine results.
SEO Or PPC: The Verdict On SEM Investing
The same distinction between SEO and Pay Per Click is the fundamental dividing line that established two mother currents in marketing a few years ago: inbound marketing and outbound marketing. Each has advantages and disadvantages.
In our opinion, and based on the numbers, SEO far outweighs PPC.
However, this does not mean that PPC is no longer useful in certain cases and circumstances, such as a limited budget or the need for immediate traffic. For example, if you have a limited-time promotion that you want to publicize, it can be very useful.
Everything will determine by your requirements, projections, and budget.