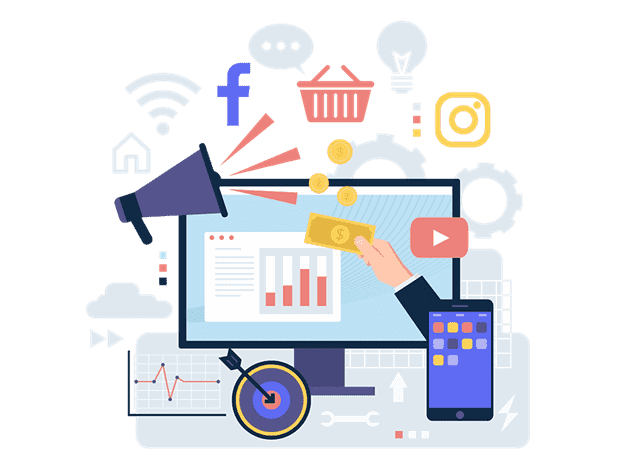 Digital Marketing and Latest Trends of 2022
Are you tired of scrolling through your browser and finding nothing? Feel frustrated? Don't worry. You've landed just in the right place.
Haha, I love how things are going to evolve on a whole new level. Digital marketers are pushing marketing to new heights, with mind-boggling technological advancements taking place, daily marketing trends tend to change rapidly, creating ease. From social media influencers to voice searches, digital marketing companies in Toronto have it all. So it gives them an edge to thrive in the competitive digital marketing world.
Ready to hop in on a roller coaster ride that will diversify your perspective about digital marketing?
SEO and Digital Marketing:
SEO (Search engine optimization) is about making a web page easy to find, crawl and categorize, and about to make it very easy for your customers to find out your business from among thousands of other companies. SEO is a most important feature of any digital marketing strategy.
Imagine having a business with no branding people might walk into your shop and return unsatisfied. Whereas, having proper branding will attract customers off the street into your shop. These customers will be telling more potential customers about their experiences hence, generating more traffic at your shop.
The current trend includes some more services, along with optimizing a website and search engine marketing. For example, some factors take the help of SEO in the sense of selecting valid keywords, such as blogging with SEO content, behavioral marketing, mobile advertising, social media marketing, viral marketing, contextual marketing, and video advertising. And for that, concrete digital marketing and SEO strategy should be in effect.
Some companies are offering a wide range of SEO services in Toronto. Some of the most notable companies include NetMaticO, Let's get optimized, Seoplus+, etc. NetMaticO tops our list because of its top-notch services.
Social Media Influencers:
You might be scratching your head and wondering what a social media influencer is? Well, social media influencers are people who belong to a particular industry. So they have access to large audiences, and have the credibility to persuade people to act on their recommendations. Companies and brands use these social media influencers to target a particular market or audience. Amanda Cerny, Zack King,and James Charles are amongst prominent social media influencers of previous year.
There are three different types of Social media influencers:
Celebrities, Artists, Actors: Having 1 million or more followers and each of their posts gaining 10% engagement. Their status and personal brand are what generate the impact
.Macro-influencers: They have less than a million followers and almost each of their posts reaching 10% engagement. Hence, their expertise varies from category to category. It can fluctuate between anything from traveling to business development.
Micro-influencers: Keeping at least 500 followers and each of their posts gains a minimum of 25% engagement. They aim to develop a strong bond between the brand and its audiences.
Mobile Advertising
Mobile advertising is boosting rapidly. In previous year, mobile's shares of the U.S. digital ad market hiked to 63 percent of total digital ad spending. In the U.S, 55% of the US population regularly watches videos on mobile. The average smart phone video viewers are estimated to have spent 44 minutes watching videos on their device in previous year. Tablet users spent almost 38 minutes. In the year of previous year, mobile is foreseen to "surpass TV as the medium attracting the most minutes."
Some pros of mobile marketing include:
·Reaches people in real-time situations: People move with their mobile devices anywhere and everywhere hence, making it easier to target audiences through mobile.
·It requires lesser content to be effective: Mobile advertising needs a catchy headline or a catchy image to grab the attention of the user instantly.
·Create instantaneous user responses: Consumers with a mobile device are likely to remember the ad even a week later. Even though in-app advertising is on a low scale, but yet it has a recall rate of 86%.
·Creates contents that can be shareable: Mobile advertising allows people to share advertisements on different social media platforms such as facebook, twitter, snap chat, and Instagram. It helps businesses to expand smoothly and target the audiences beyond their reach.
Feel free to contact NetMaticO for Solutions to your mobile advertising as they got the most reasonable packages in Toronto.
Video Marketing:
Video marketing solely relies on videos to promote and market your product or service and to boost engagement on your digital and social media channels. So it educates your customers and reaches your audience through a new channel.
Brands greatly rely on video marketing for the promotion of their products. Social media is bombarded with tons of promotional videos each day. Are you wondering why it is important? Imagine buying something without seeing it. Would you be interested? The answer is a big NO. You will never buy something until you can visually see it. That's how human psychology works.
The era where smartphones offer high–end cameras with 4K video quality, video marketing has become more cost-effective. Different types of video marketing include:
Demo Videos

: Showcasing how to use a product. It can be anything even a tour guide on how to use the software.
Brand Videos

: Videos for large scale advertising showing the company's Aim, mission or products, and services.
Event Videos:

If your business is holding meetings or conferences, make sure to capture a few highlights for your audiences. It helps develop a positive impression on the customers about the business.

Live Videos:

Live videos give viewers a backstage look at your company. I can grab longer streams and higher engagement rates. Viewers spend up to 8.1x longer with live video than with video-on-demand. Live-stream interviews, presentations, and events, Give customers a chance to put their queries on the table.
Augmented Reality (AR) Videos
In this style video, a digital layer applied to what you are currently viewing in the world. For example, you can point your phone's camera in your living room, and AR would allow you to see how a couch would look in the space. The IKEA Place app is a great example of this.
74 % of U.S. consumers aged between 13 years and older, watch streaming or online video at least weekly and 41% watch daily.
78% of digital video viewers will watch advertising in exchange for free content.
Online video viewers pay closer attention to both content and ads when watching educational videos.
Conclusion:
Digital marketing allows you to reach your targeted audience cost-effectively. Choosing the right ways to advertise may get a little frustrating, but remember, patience is the key to success. Researching can make you do wonders. So you should always be aware of the targeted audience and the market. Always keep an eye at your competitors marketing strategies to stay ahead.
Social media marketing companies in Montreal are well renowned for their extraordinary marketing strategies and excellent services. From SEO to mobile advertising, they got it all. So what are you waiting for? Hurry up and contact your nearest Social media advertising for first-class services.