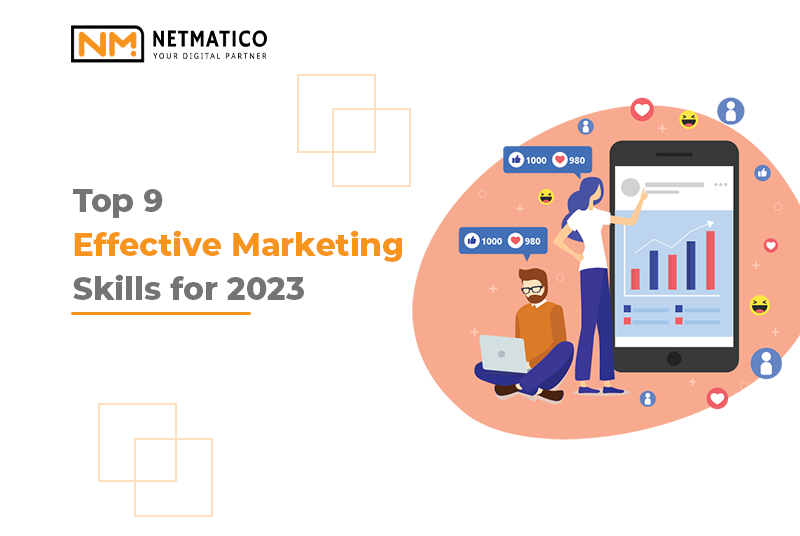 Top 9 Effective Marketing Skills for 2023
If you're looking for a career in digital marketing, you've come to the right place!. Grab jobs states that digital marketing specialists are the most in-demand in the USA at the moment. The question remains: What skills are required to become a digital marketing specialist? The field of digital marketing is so broad that there isn't a specific set of skills required. A diverse list of skills makes a person a digital marketing specialist. Too marketing skills that will be trendy in 2023:
Project Management
Digital marketing strategies are divided into parts. Some parts are easier and quicker to fulfill, while others might take weeks to complete. Most are continuously ongoing. Getting the job done is a key skill required in digital marketing. Project managers of good caliber will be able to summarize the most complex information in a simple email, phone call, or one-to-one and still be able to convey the complexity of the task explained. They know how to manipulate their customers and what type of communication will have an impact on them. Knowing when to observe and intervene during conversation is a commendable skill not found in every project manager.
They are able to figure out the client's expectations and how to live up to them. Of course, with the help of their teams. There are several pros to using the team to manage projects, and getting to start practicing in them will surely act as a stepping stone to mastering this skill.
Search Engine Optimization (SEO)
To be visible organically online is the most desired marketing Chanel out there as of right now. In fact, searching for digital marketing jobs on Linkedin online will result in showing a page full of SEO job openings. To be completely honest, it is quite understandable, as all brands look for traffic solely from organic searches. There are two main factors behind it .It keeps search results relevant and seeks the intent behind the search. Searchers look for answers and get highly demotivated when presented with irrelevant results. Many brands hire SEO services from reputed digital marketing agencies.
The searchers face the last interruptions when you use SEO, unlike other channels. As the searchers are there to explore, you do not browse feeds or check emails. Moreover, organic traffic rarely stops coming in, even if your campaigns aren't regular. An abled team with an adequate leader is all it takes to maintain the site and keep generating traffic without active investment.
All these reasons are why experience in SEO adds a lot of weightage to one's resume. Any digital marketing agency can offer you a good job offer if you have polished your SEO skills. You can also start developing SEO skills now. All you need is to do so e solid research on it and take up some courses.
Planning your Content
Content is the core of the majority campaigns of digital marketing, and good writing can determine how much profit the campaign can generate. All email marketing, PPC or organic landing pages, and Social media marketing require an excellent write-up to make it presentable.
Writing is also a skill that can be developed as well as polished. An already-written blog or your involvement with a well-known publication will greatly help you. One can start by getting involved in paid blogging gigs; this way, you'll generate an income and set up your career.
How to get certified in content marketing?
Enhance your tools and channels for profitable leads, sales, referrals, etc.
No Code Development
Independent use of management platforms by digital marketers is in high demand. WordPress is a common CMS, but there are others as well. WordPress can be fully utilized when one is also familiar with plugins like Yoast and Akismet.
Not much technical knowledge is needed to use these platforms, and these are designed for the users to have a no-coding experience. Otherwise, it takes a person a week or so to understand or work through a new CMS.
Start by exploring the platforms mentioned above. They will provide extensive knowledge bases and almost all of their free trials. They'll provide you with the basic know-how and work off those CMS, which will boost your resume.
Graphic design is the future and will be really helpful for a professional digital marketer. Visual marketing is in trend and will be on the rise for a while. Thus this skill will be nothing but helpful. There won't need to learn anything. The number of online tools to help you create videos you can use across multiple platforms is high, and Canva is the most well-known of all of them.

Building a Trustable Community
Brands have realized, as of now, the value of having a group of loyal customers that can drive to you more customers by recommending you and trust signals.
There are different types of community building:
. Relationship building and influencer outreach
. Blogger and journalistic outreach
. Customer relationship management (CRM)


Community building is a skill that isn't easy to handle without first-hand experience. There are several online relationship-building opportunities that will help you learn with first-hand experience. To become a certified community specialist, you need to master the art of creating meaningful relationships between customers and companies and create the customer acquisition process.
Automation of Marketing
A newly in-trend tactic allows any marketing strategy to be more successful. It can work wonders on any strategy. Marketing automation has the following benefits:
. Better results can be generated if automated alerts and reports are set up
. Timely updates, as well as responses, are made in social media marketing automation.
. Personalization is made possible in email marketing by setting up an AI to contact your customer at suitable times. A successful example is cart abandonment.
. Automation derives follow-ups in sales.
Renowned digital marketing positions require experience in using marketing automation software. This can be easily achieved by using email marketing services as it includes automation features.


Data Literacy
Digital marketing doesn't need you to be a full-fledged data analyst. In fact, that is a whole different field of work in itself. These days the demand for data analysts is also increasing. Although the knowledge and working of a web analytics platform are necessary, you can effectively adjust your strategy and measure results. There are different web analytics platforms, but the most common one is Google analytics which can result in a good start for you to use it for your own site.
Something that can be really helpful for you is if you start working on cross-platform digital marketing platforms that are all-rounder, like Google Analytics, Facebook insights, search console, etc. This will make it much more convenient for you to keep track of your work. Help you monitor your channels, analyze your marketing data and make professional reports.
Working Remotely
One major way that COVID changed the typical working system was by making working remotely more popular and efficient. Before the lockdown during covid, working from home was considered unfruitful and unethical. But due to the worldwide lockdown, many companies have realized that employees can be just as productive online as they were in person, and companies can save up on office costs. But, dedication is required from employees to work online the same way they did in person.


Benefits of Communication and Collaboration
Usually, digital marketing is well-acquainted with companies, and it connects with the development department, IT, customer support teams, and sales. You should be able to speak well enough to communicate your goals to these teams, and your expression should be good enough for them to consider the changes you suggest. Digital marketing is very difficult to tackle, and it's difficult to report, so one should have outstanding communication skills to make your content seem worth it.
It is good to note down the type of teams you've worked with and the type of collaborations you've done. Even if your experience is limited to only working with freelancers. Adding this information will highlight your resume.
Conclusion
When you start working on developing multiple skills, it is important that you don't wait for yourself to excel in all of them. What's more important is to have basic knowledge and understanding of it. Your biggest weapon is your uniqueness, which will come more in handy. Simultaneously, you should start working on a personal brand. Don't stop looking for relevant jobs, like digital marketer or web developer, as jobs will polish your learning and help you manage your own business more efficiently. And always keep learning!