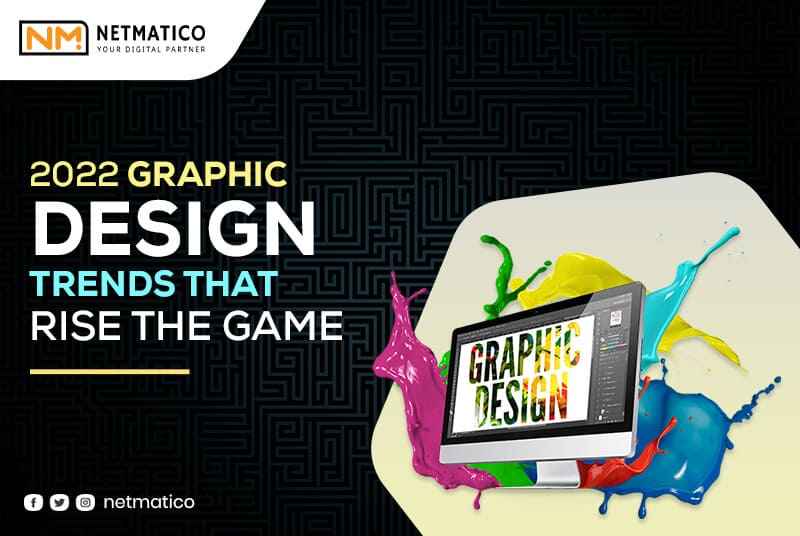 Top Graphic Design Trends that Rise The Game
The year 2022 Is rapidly approaching, and it is already defying all graphic design conventions. Everything is legal, and it will be spectacular. If we were to sum up Graphic Design Trends 2022 in a single sentence, it's time to step up your game because the floodgates have opened, bringing a mix of the unmixable, nostalgia, movement, and open-mindedness.
We love that we can transform our enjoyment of seeing an excellent professional graphic designer worldwide work for an entire year into personal research. It allows us to identify the most influential trends that will cement their status as the year's trademark trends.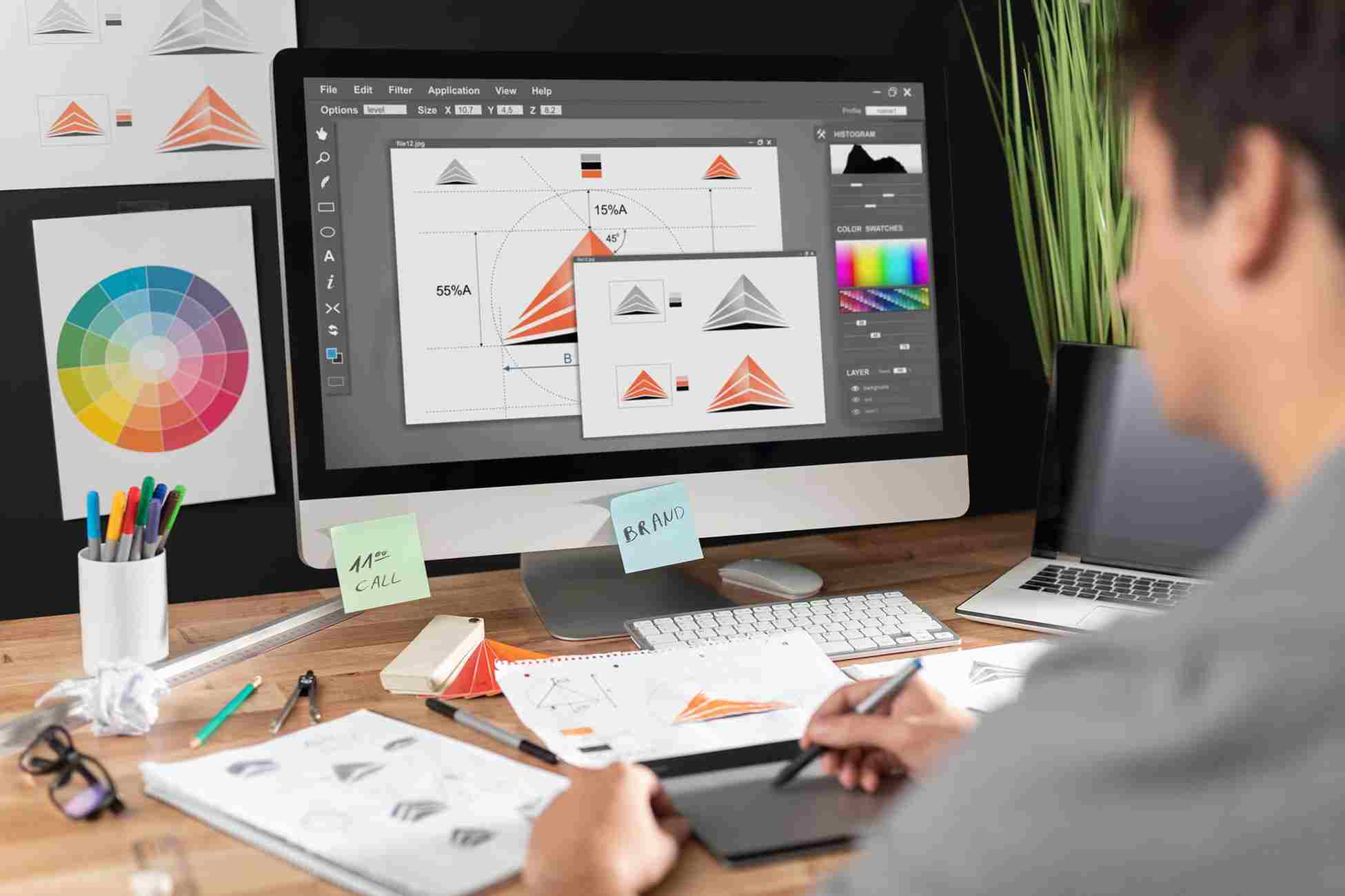 Now, without further ado, let's get straight into the craziness of what will be the most popular trends and fashions, with some incredible examples from agencies and freelance graphic designers who never stop amazing us with their innovation.
1.
Mashup Of 2D And 3D Design

The 3D design trend is still alive and well, developing and gaining acceptance. It allows all designers to create anything they can dream of because it provides endless possibilities, from very creative mashups using 2D and paper cutout elements to hyper-realistic 3D graphics that blur the boundaries between digital and physical. In terms of the latter, 2022 will see a fantastic collaboration between 2D and 3D that brings the best of worlds together.

This movement is versatile, from graphics and animation to web design and typography. It's trendy for app design.
2.
Fonts With A Twist Design Trend

This tendency comes from typography that deviates from the norm. It follows the same principle as the Riso print: something is charmingly off and flawed. What is that twist, exactly? Anything that throws the order off a single letter could be upside down, bigger or smaller, in a different typeface, or missing entirely. It could be a few letters in a bit of text that follow a different pattern than the rest, revealing a separate message. It's an excellent approach to stress and draws attention to a specific point.

Also, you're not alone if the Squid Game introduction comes to mind. This twist is especially striking in kinetic typography when the messages reveal through movement, and logos and signature designs frequently serve as "twisted" letters in static digital visuals.
3.

Glass And Crystal
Last year, the gold design was a significant trend, simulating actual physical gold and giving everyday products that extra unique sense. Graphic designing is reaching the next level, and the trend has changed to glass and crystal with astonishing realism in 3D. We'll see more of these translucent materials that match holographic and 3D trends, realistic frost glass backgrounds, etc. Not to mention that the new Windows 11 fluent design system follows the trend of transparent glass.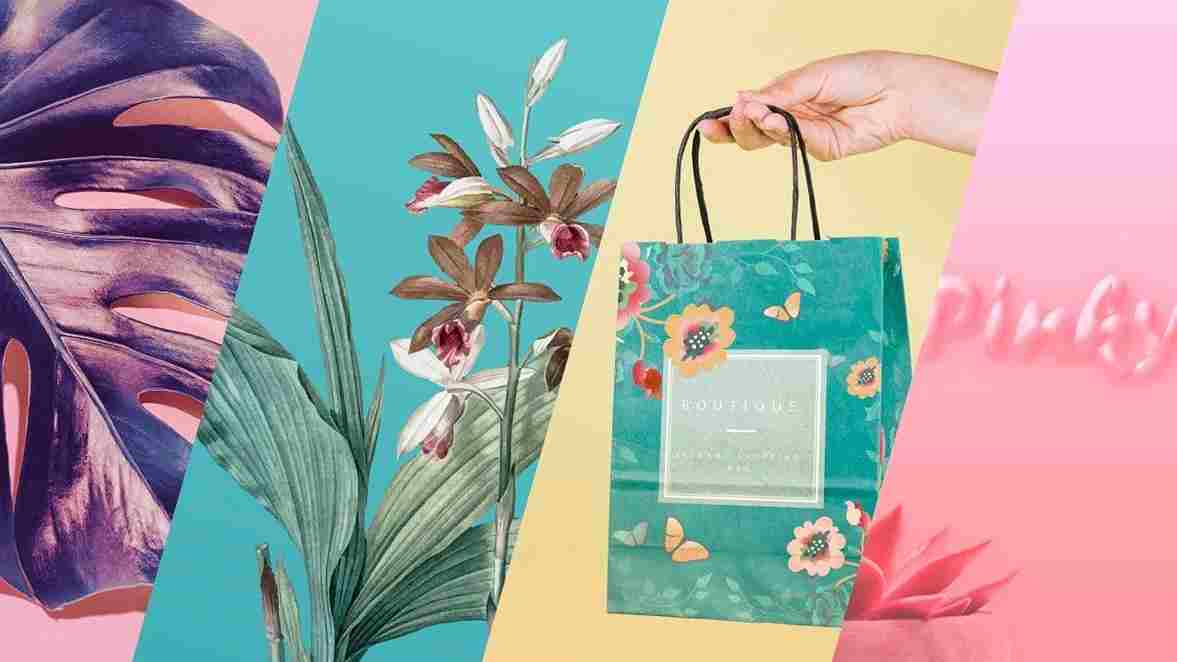 4.
Candy Color Design Trend

As we continuously assault digital content from all sides, designers find it more challenging to produce artwork, websites, and apps that stand out. Visual attractiveness is just as crucial as content quality in grabbing the viewer's attention while scrolling.

What are the best strategies to make your design stand out? Color palettes that stand out. Skilled website designers and digital artists familiar with color theory are already rolling up their sleeves to create bold and dramatic graphic design projects using chevalier hues.

Please understand us. Pastel colors are still our favorites, but candy color schemes are a terrific choice if you truly want to make a dramatic statement and spread even more optimism.
5.
Riso Print Style Is A Trendy Design

It's no surprise that risograph art comes back as an aesthetic, both physically and online. The risograph, which has been around for decades, was primarily designed for office copying and administrative purposes. However, the model quickly evolved into a tool for artists and designers to create stunning abstract artwork, posters, and advertisements. It is due to two factors. First, we have these distinct, vibrant colors that other printers cannot replicate. Second, the prints frequently have minor flaws like ink bleed, distinctive colors, unpredictability in alignment, or rough textures.

If you missed it, the method is comparable to digital screen printing. You scan an image & then create a paper stencil that wraps around the ink drum, allowing the printer to generate a stamp of each color and then piece the puzzle together to create a little imperfect bright image. Riso artwork is challenging and adventurous because even if you organize your layers perfectly, you will still get something unique and unexpected.

Graphic designers develop ingenious ways to digitally duplicate the risograph print effects, giving the style a significant reappearance as a 2022 trend.
6.
Paper Cutout Is A Design

Paper cutting is another traditional creative form that has transitioned to the digital realm. The craft dates back to the Han dynasty in the 4th century AD, following Cai Lun's paper discovery. The very earliest surviving paper cutout appears to be a simple symmetrical circle, marking the origin of this type of art. Papercutting can be seen across various cultures throughout history, with one feature in common: each design cuts from a single sheet of paper instead of collages. Of course, in the digital realm, graphic designers use both techniques to create magnificent works of art in all types of graphic design.

Paper cutouts are trendy for branding on business cards, booklets, and product designs. We see them in greeting cards, literature, and, more lately, animation and web design.
7.
Holographic Design Is A Design

"Help me, Obi-Wan Kenobi, you're my only hope" is a three-dimensional image of Princess Leia projected by light beams. In a nutshell, it's a hologram. This light diffraction is incredibly appealing and has risen to match the top trends in graphic design.

The holographic trend has recently been in stationery, product design, fashion design (particularly bags and shoes), and other areas. However, because this trend is so appealing, it's no surprise that it's made its way into web and animation design, not to mention applications and logos.

We can all agree that holographic design seems highly high-tech and futuristic with its mixture of high-gloss multidimensional pastel hues. The coolest thing is that these highlights move even in static photographs.
8.
Art Deco Design Trend

Among the vibrant colors, broken aesthetics, psychedelic design, and chaotic movement, one emerging trend stands out with clean, strong lines as an organizing design element.

Of course, we're talking about Art Deco, which combines elegance with machine-age streamlining and sleek geometry.

As a direct opposition to Art Nouveau and the old practices, the art style emerged in the early twentieth century. Its philosophy revolves around creativity, modernism, and looking forward with tenacity, quiet dignity, and resilience. With everything that has happened in the last several years, it's no surprise that such concepts have found their way back to art and graphic design.

So, what is Art Deco? To detect the comeback of this beautiful style, look for symmetry, geometry, and simple but visually appealing works. Art Deco transforms the defiant and anti-traditional into geometric shapes and bold outlines.

Graphic designers, as usual, discovered a unique method to incorporate this trend in decorative arts & architecture into the digital realm.
9.
3D Characters Design Trend

3D characters have penetrated the graphic design arena in applications, websites, and animation to complement GraphicMama's trends. These characters are adaptable to 2D design, holographic, candy color, and everything discussed in Graphic Design Trends for 2022. Because a picture is worth a thousand words, here are some incredible instances of 3D character trends that we can all enjoy.




10. Psychedelic Design Trend
The psychedelic 1960s' bending, melting, and twisted aesthetics dramatically influenced design. Like an endless pattern, these designs always make a comeback with the arrival of each new counterculture. The psychedelic style, which began as an art form with Wes Wilson and his famous rock posters, is again back to reflect the confusion of the times by mimicking acid experiences with mind-bending colors.
Like music and fashion, the psychedelic graphic design reflects the free spirit yearning to break free by drawing strength from the inside. The animation, web design, typography, and motion graphics are stunning and captivating. In 2022, we'll see a lot of these wacky designs.
Final Thoughts
Graphic design trends reflect our need to find significance and enjoyment under challenging times and break free from what holds us back. Creators worldwide acquire power by keeping an open mind to create compelling designs with vibrant colors, movement, perfect imperfection, & futurism. The 2022 year is something to look forward to. What are your views and forecasts for 2022 graphic design trends? Do you have any favorite design trends? If you want your product designing by using these trend contact us now, we have a professional graphics designing team because we know how graphics are import for your business.