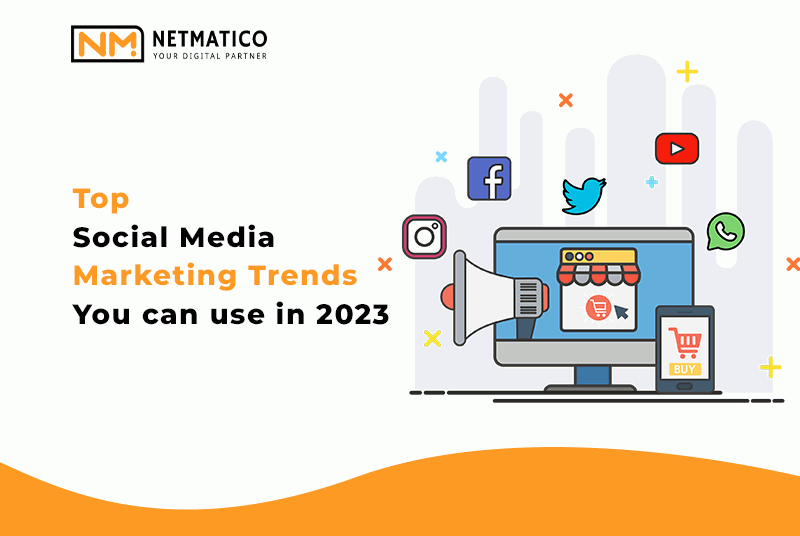 Top Social Media Marketing Trends You can use in 2023
In marketing and advertising, social media has been a game-changer. While it gives businesses a variety of ways to reach customers, the most intelligent marketers keep a close eye on new trends that arise on various social media platforms in order to find out how to incorporate them into their digital marketing plans ahead of the competition.
We've said goodbye to essential status updates (though we miss you!) and hello to selling things and creating digital communities. While new social media features & trends may appear to be limitless, they also provide you the opportunity to try new things and connect with your audience in new ways. So, what can we expect in 2023? From the longevity of short-form content to an emphasis on mental health, we've produced a list of the top social media trends to see this year.
Social Media Trends In 2023
Reels Contribute To Instagram Marketing's Overall Success
Adam Mosseri, the CEO of Instagram, recently claimed that the platform is embracing a paradigm shift in which users demand more interesting video content. To sell products effectively on each platform in 2023, businesses must accept the transformation as soon as possible. Video is now an essential part of your overall strategy—but simply pressing record and uploading a video is no longer enough. It must be distinctive, unique, and amusing to stand out in today's digital marketing environment.
When adding more video content into your strategy, keep in mind that your audience's attention span has been shorter and shorter over time. Because the demand for quick & fresh content is increasing, you should incorporate Instagram Reels and short, entertaining videos into your Instagram marketing strategy.
Our clients' best-performing organic and paid ad creatives, according to my team, are reels, particularly those that feel more organic/authentic & don't look like a traditional ad. However, all video and Reels material you make must deliver value to your audience and be carefully related to your offer. Jumping on random trends without making sure your content is aligned with your overall marketing goals won't get you very far.
For example, if you're running a webinar funnel, you might utilize a reel or unique video to grab people's attention in the feed & get them to click on your registration ad. If you provide a service, you might utilize a reel/video to send visitors to your application or call the booking page. If you have products, you can make 2-4 reels per month to show them off in a fresh and interesting way.
As we approach 2023, another useful strategy is to convert organic reels or videos that perform well and produce a lot of interaction into advertising by simply downloading the reel from your Instagram account and then uploading the film to run as an ad. It allows you to connect with new people and expand your warm audiences, which can subsequently be retargeted or utilized to generate correct target audiences.
Another benefit of this approach is that audiences built through in-app engagement, such as video views or meetings with your content or profile, are unaffected by users opting out of tracking as a result of iOS updates.
The Effectiveness Of Facebook Ads Is Increasing
Have you noticed that many of the on-platform Facebook advertising (lead generation advertising, Messenger ads, etc.) are acting strangely? They're more powerful than ever before. With the great pixel catastrophe of 2022, Facebook looks to have done some nifty dancing to make some of its more niche offerings a lot more effective. Let's hope this trend continues!
Furthermore, as do we all, I believe that 2023 will usher in a new era with even shorter attention spans. If you want to win, think short. You want videos that are easy to watch, instructive, and entertaining. While some may scorn features like Reels and platforms like TikTok, make no mistake: short-form, educational, & entertaining video is here to stay.
It isn't simply in the organic industry. Incorporate those reels and TikToks into your marketing. They're doing a fantastic job. It's a match made in heaven when you combine your short-form videos with good old-fashioned storytelling.
What Was Once Old Is Now New: Long-Form Content Reclaims Center Stage
The year 2021 has been designated as the year of short-form media. We've all grown infatuated with 15-second messages since the rise of TikTok, the widespread acceptance of Instagram Reels, & the launch of YouTube Shorts. However, there has been a small change across social media platforms. TikTok grew to three minutes and Reels to 60 seconds. These tiny changes mark the beginning of a return to longer-form content.
Clubhouse brought in the era of long-form live audio. The notion of Spaces was first introduced by Twitter. Facebook has announced Live Audio Rooms, a podcasting-friendly feature. YouTube is also embracing podcasting. Also, don't overlook real-time video. Social commerce is a growing trend, and you'll need long-form media to sell. Amazon has also embraced live video.
If you have the gift of gab, don't feel left out. Your special day will come sooner than you think. The social media behemoths are obsessed with how much time individuals spend on their platforms. In 2023, keep an eye out for longer-form music and video to take center stage.
Marketers Ignoring Marketing Fundamentals
The vast majority of businesses and marketers miss the basics. Despite knowing they should, most businesses will not implement video in 2023. Most businesses (especially B2B) do not explain the cost and pricing considerations of their products or services on their websites, despite the fact that they should.
Even if they should be, they will not align most sales and marketing, divisions. Most websites do not give self-service features, despite the fact that they should (such as pricing calculators, assessments, and continues). Even if they shouldn't, most businesses will spend far too much time thinking about what the metaverse will look like in ten years (& other things that aren't nearly as vital as the necessities right now). The fact is that the fundamentals will always be the most important. Always. Marketers can improve their performance by paying attention to the fundamentals.
Facebook Experiences For A Specific Audience Have Become Prominent Marketing Channels
With 2.9 billion monthly active members, Facebook remains the world's most popular social network, but an increasing number of people are seeking out experiences in smaller, niche communities & subcultures.
Fortunately, Facebook also excels at enabling these more personal sorts of connected relationships. Brands and businesses should focus on three main areas to build their relationships and get greater trust from their customers:
Facebook Group: Continue to invest in your Facebook group, which should ideally link to your Facebook page. At Facebook's annual Communities Conference this year, the company announced a slew of new features geared at making groups more complete and appealing to both admins and members. The ability to create subgroups (both free and paid), Shops for selling things, community fundraisers, and a bevvy of admin capabilities are among the new features.
Live Audio Rooms - is a feature that is still being rolled out to Facebook users. To communicate with members of your Facebook group more individually, use this style. It's simple, and you don't even have to get ready for the camera!
Facebook Live - Don't forget about live streaming in addition to audio. Aside from the looming metaverse, live video remains a strong contender for the next best thing to being there in person. You can communicate with your audience in real time through live video.
To obtain the maximum organic reach and interaction, go all-in on Facebook Reels if you can. This full-screen, short-form video format will be promoted and rolled out by Meta in the future. Meta Platforms, Inc. CEO Mark Zuckerberg & his team will give similar features a lot of weight as long as TikTok is a big competitor. Right now, Reels is on Instagram and Facebook. As a result, you should take advantage of this expanding trend to gain free publicity. (And no, you don't have to become a professional dancer, lip-syncer, or ambidextrous pointer.) Simply be yourself while remaining faithful to your brand.)
Twitter Increases The Number Of Spaces Available
You should undoubtedly include spaces in your 2023 marketing strategy when it comes
to Twitter. Audio content is growing in popularity, and it's the place to be right now. It's evolved into a fantastic tool for marketers to create online connections and serve their communities by sharing useful content and engaging in relevant discussions. Plus, you don't need anything to get started except for your phone. You don't even have to worry about being camera-ready!
Twitter is developing additional features such as location recording and new methods to join and participate in behind-the-scenes activities. It makes sense for those who already have a following on the site to show up and speak in other people's rooms regularly and even consider hosting your own.
Final Thought
You can reach out to your target audience with social media marketing at a reasonable cost. Choosing the best advertising techniques can be difficult, but remember that persistence is the key to success. You can accomplish a lot by conducting research. As a result, you should always be aware of your target market and audience. To stay ahead of the competition, keep an eye on their marketing strategies.
NetmaticO is the top social media marketing company in Canada, that helps businesses grow brand awareness, generate leads, and increase traffic to their websites. Our social media marketing services design a company in the best possible position to engage in a two-way conversation with its customers. Our social media management services illustrate where people are talking about you, which locations contribute the most, and, finally, increase brand awareness. NetmaticO's social media professionals develop a strategy that considers all aspects of a business. Contact now for getting a free assessment.