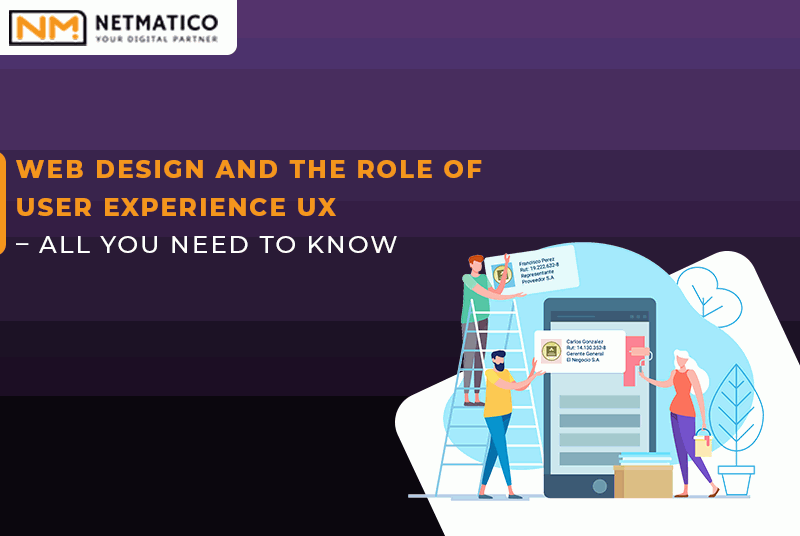 Web Design and the Role of User experience UX – All you need to know
User experience (UX) is the complete experience of a user when they visit a website or go through an app. Therefore, UX is responsible for all the links formed with the visitors. Knowledge and the power of UX design are essential in this modern era. A well-accorded UX design is a thing to make your business flourish!
Plenty of UX design can help you create products and facilities your users want. And it will only benefit your business if your users can easily find what they need—increasing its stability. To facilitate the people, several website development companies are offering these services. If you want an astonishing UX design for your website and are looking for a Top Website Development Company, then NetMaticO is the best choice!
Following is an informative account of the role and the importance of UX design in your company.
Importance of UX Design
It helps you figure out the needs of your consumers and how you can improve accordingly. The main target of user experience is to give your consumers a hassle-free encounter with your products, motivating them to trust you and return to you. A real user experience helps you track how your users experience your website development services and enables you to grow accordingly. This proves to be the most productive when it comes to economic success.
UX Design Helps the Conversions on Your Website to Grow
Given the opportunity to choose from the vast amounts of services and products available online. Users usually prefer to use the ones most engaging and trouble-free to use.
The accessibility of your website and the fruitfulness of its results is a critical aspect that needs to be considered thoroughly when planning a website. User satisfaction should be the top priority when making a website. A well-built relationship with an adequate UX design studio is the stepping stone on your ladder to success and increasing conversion rates!
To Be on Top of the Search Results on Google is the Dream of Every Company
That dream might be entirely within reach if your user experience is up to the mark. Your SEO and website ranking chances will escalate drastically if your user experience is decent.
The primary purpose of UX and SEO services activity is to provide your users with an excellent experience with relativity and user-friendliness intact. A good UX powered by a professional web design service agency can help your business thrive.
And as you have to keep people interested enough to make them regular consumers, your homepage should have images related to the viewers' interests.
If you want to know more about SEO, then here is a deep insight into 4 Types of SEO (Black, White, Gray & Detrimental)
Money and Time Saving
Updating products and the website after launch will be highly costly. It would be best if you considered making the first stage of product development your utmost priority.
User testing is another great way of developing an effective website in a budget-friendly manner.
You observe a batch of selected users to whom you give access to the site. And point out and alter the mistakes or features that can genuinely be made better.
To have good business terms with a professional UX design agency can benefit you in the future. Maintaining the website is going to be no easy task, as well as if you use the "user testing" strategy. You'll need the point of view of a professional UX designer for this to be successful and profitable for you.
Increase Revenue
Investing and putting thought into your UX design will increase your conversion rates and help your users improve. Therefore, friendly business terms with a UX design agency are smart choices.
Recent searches show that having a UX design agency backing up your website drastically increases sales. Users have to pay, and they recommend its services to others for free promotions. Therefore, UX design is an excellent choice if you want your sales to be skyrocketing.
A well-accorded and hassle-free UX design will help users feel at ease while using your products as it will increase your credibility and thoughtfulness toward your users. And they will feel less reluctant when opting for your services over competing brands. You can opt for professional Website development services from a well-reputed company.
Building Trust and Focusing on Credibility
A long time is spent researching and verifying before users can comfortably trust your services. And usually, it's hard to increase engagement rates of new websites as people tend to trust only well-reputed and established websites. Your website should offer trustworthy and reliable content to make it easier for your consumers to trust you over other competitors.
Increasing your revenue and leads is possible if your website is dependable. Targeting and acquiring a seasoned UX design firm could be a walk in the park if your services are trustworthy and will further prove your website's compatibility. Still, building trust between you and your consumers is difficult and time-consuming and can't be taken lightly.
A crucial thing to consider before launching your website is to ensure its contents and your strategy are capable enough to produce results as good as superior-ranking websites over time.
A Guide to Applying User Experience Design Principles to You're Website
Understanding the concept of UX design and its importance and modifying your website accordingly is one thing. But some techniques mentioned below will surely help you achieve your goal.
Accessibility Should be Available to All
A significant thing to consider while planning a website is to make sure that it's easily accessible, or else your website could lose potential clients. It should even be available for disabled people. And accessibility should be equally easy whether one is accessing from a mobile or desktop/laptop.
Attractive Website
Traffic on your website will increase if essential factors are kept in check. The text should be clear, and the images used for the site are high resolution. The more engaging your website is, the better results it will produce. Consumers are bound to spend some time, and your website will likely have a responsive audience if it's appealing enough.
Your Website Must be Useful
Converting your users into potential clients is entirely up to you. If your website provides and fulfills their requirements and they're satisfied with your products, you will only have an actual client. So you should ensure your website is convenient for your user to use.