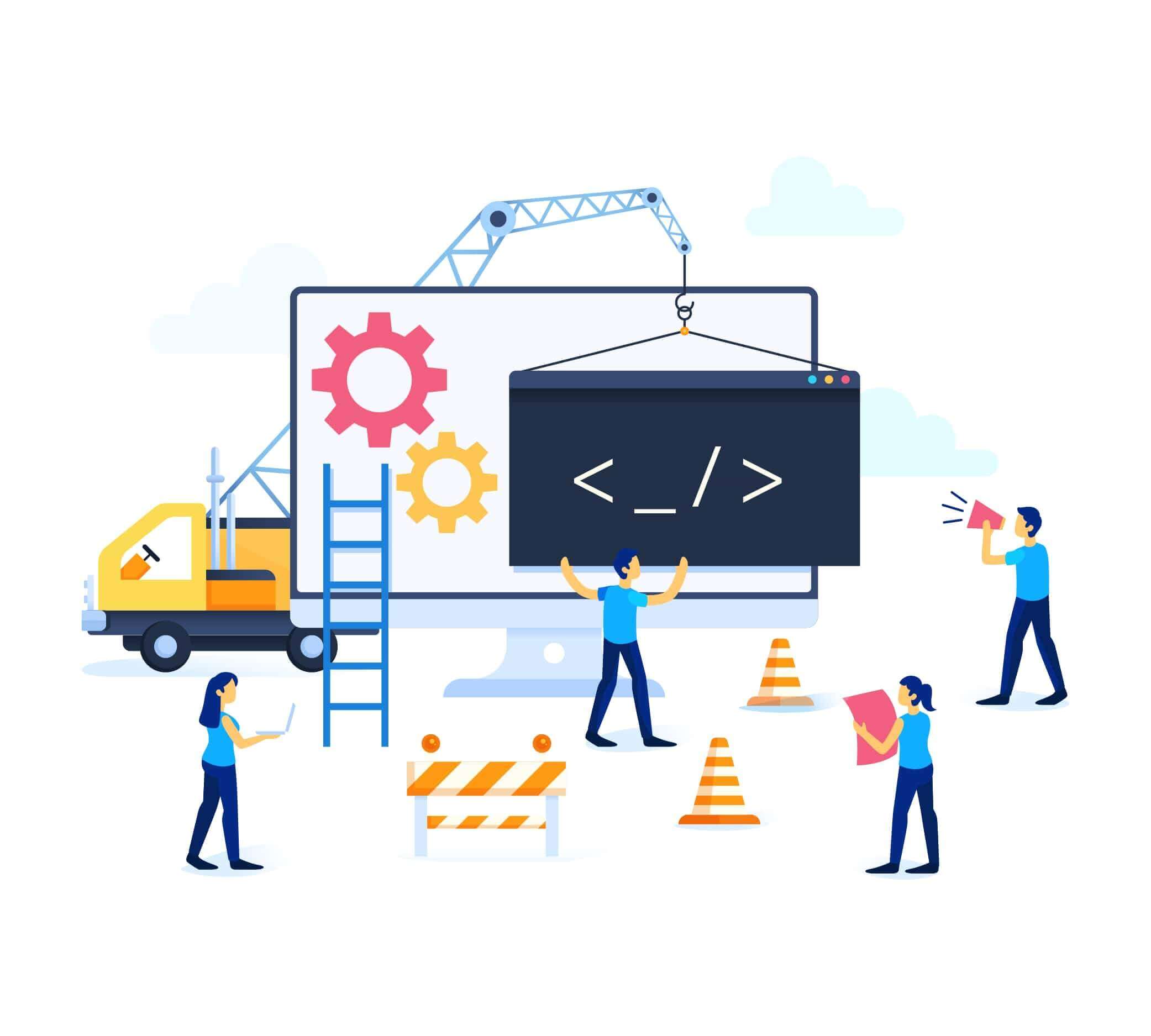 Website Maintenance Services Made Easy
What Is Website Maintenance?
Do you know how you regularly scan your car for any leaks and damages? Website maintenance is the method of checking to see whether your website is performing as it should. It is about keeping up with security updates, encouraging traffic growth, and making sure Google is happy. Website maintenance services are a major ingredient for engaging and retaining customers. We all know the difficulty when we deal with WordPress websites.
To make sure your site is in a healthy and relevant condition, you require regular check-ups. Not once or twice a year. We are talking about regular monitoring that will help you keep your business running smoothly and customers enjoying their user experience.
If you want the best website, maintenance services in Toronto hire the best service providers. We are serving you beyond imagination.
Why is Website Maintenance Important?


If eyes are known as the windows to one's soul, then websites are the windows of your business. When your customers or search engines land on your site, they are looking for something that will let them know that you are genuinely professional business. With regular site updates and maintenance, your business will attract and retain customers. It will also provide useful and compelling content and maintain good search engine rankings.
Let's analyze the essential benefits of regular servicing in more detail.
Customer Experience
Let's think for a second that you are a customer, and you land on a website. On that site, you experience slow load times, spamming messages greet you every 5 seconds, and broken links are everywhere. You will probably feel frustrated and annoyed.
Now imagine that you landed on a professionally maintained site. You see a beautiful site design, find relevant and engaging content on the blog, and move through the site with ease. You will undoubtedly feel happy and satisfied.
Today, nearly 89% of businesses compete primarily based on customer experience. If we compare, only 36% did so in 2010. So, it is as bright as day: regular website maintenance can lead to positive customer experience.
NetMaticO has long proved to be the best website development and website maintenance agency in Toronto.
And not only that you will impress your customers, but you will also generate additional revenue. Your customers will be motivated to buy your product or service because your site left a positive impression. What is more, these customers will become your promoters. They will spread the word about your site and refer your business to their family and friends. All free of cost.
SEO


Your customers are not the only visitors to your site. Other things are crawling your site, and we know them as website crawlers. These crawlers can either promote or bury your business to the ground. But what is the thing with SEO, and why is it important?
In a nutshell, Google analyzes your site with the help of its bots known as Google bots. These Google bots search for key bits of information that signal to Google the value of your site. Google will be analyzing your site's keyword optimization, your website's structure and organization, and website errors.
For example, if a Google bot crawls your site and finds poorly done redirects, duplicate pages, and error pages, your SEO ranking will decrease significantly. Meaning, your business will rank poorly on the search engines, and your customers will have a difficult time finding your site. Driving valid traffic to your website it is the lifeline for your business, so make sure everything is properly
Business Reputation
Customers are on the hunt for a business that they trust. However, a poorly maintained site with many broken links, outdated content, and dead pages is a customer's repeller. They will get the impression that your business is insecure, irrelevant, and old-fashioned.
So, if you desire to present your business in a positive light and establish yourself as an innovative and secure company, regular upkeep is essential. Fix your broken links, produce fresh content, and redirect your old pages. Only by doing so, you will succeed at making a good impression and gaining your customers' trust.
Cost Savings
Ignoring your site's health for a long time can result in an accumulation of problems. Improper website maintenance will lead to downtimes or complete loss of business. If multiple things go wrong, you will need to spend thousands of dollars to fix them.
It is always a great idea to invest in web maintenance services. Continually keep your site healthy and error-free. Your business and budget will thank you.
How Much Does a Wordpress Website Costs and its Maintenance


Website maintenance can turn out to be a headache. So, the longer you leave it, the worse it will get. Investing in your upkeep services seems like a smart move to make. You will save yourself time, effort, and stress in the long run.
Here is detailed information on prices in 2021:
Type of Website
Small personal blog / portfolio website: $5 - $30(domain name + hosting services)
Active blog and a large audience $5 - $100(domain name + hosting + updates + marketing + backups)
Small business company $35 - $300 (domain name +hosting + updates + marketing + backups + content + design)
Uncustomized e-commerce website $150 - $1500 +(content + code customization + customer data)
Custom-built e-commerce website $300 - $2000 +(staff of developers to keep a closer eye on the site's maintenance)
The most common web maintenance costs that we will consider in more depth are the following:
Domain Renewal Costs:
The cost of the domain name will depend on your hosting company. Every host has its values, packages, and fees. The average price of your domain name will be almost $10-$15 per year.
Hosting Services:
The monthly hosting plans can vary from $10 to as high as $99 for the managed hosting.
Website Framework Updates:


You require to update your website regularly if you want it to perform correctly. It includes scheduling downtime for updates, testing the functionality of your site after the updates, and debugging the source code to fix errors. If you do not have an IT expert in-house, you should consider hiring an IT consultant or a web maintenance company. You have two different options. You pay-as-you-go maintenance that costs you around$120/hour, or a fixed pricing plan that costs anywhere between $50 - $110 per hour
Content Costs:
Your business may offer the best service or product on the market, but if it does not provide relevant and up-to-date content, everything else will go down the drain. You should certainly hire a copywriter to make fresh and engaging content and help your site rank better with the search engines—freelance copywriters bill on a per piece, hourly, or per word basis.
SEO costs: SEO is what makes your site rank well on Google. Without it, no one will ever know that your business exists. SEO professionals make sure that you have a fine-tuned website to appear on the first page on Google. You can hire an SEO professional or work with a company that provides SEO services. The monthly costs for SEO vary from $200 to $800and include services like keyword research, website analysis, website analytics, competitor analysis, and off-page link building.
What are my Website Maintenance Options?


Business owners have four different options when it comes to web maintenance:
Hire a useful web and marketing team in-house. It is a more expensive option. You have to pay for every person's salary, advantages, overhead costs, etc.
Hire a variety of specialized freelancers. Hiring freelancers is less pricey, but it needs good coordination and communication. The problem here can be that freelancers work independently and do not see the bigger picture of your business.
Get the services of a web maintenance company. Indeed, working with a web maintenance company is a smart move. It will have all the resources that you require for web maintenance, including marketing, strategy, and programming services.
Do it yourself. If you have decided to handle the web maintenance yourself, be well prepared to invest an ample amount of your patience and time.
Our website is the same as a car. If you do not get routine oil changes, the vehicle's performance will start to drop until the point where the engine stalls. Do not let this happen to your site after all the hard work you have invested in getting it up and running. Your business, your web developer, and your hosting agency should follow the below-mentioned maintenance checklist.
Thoroughly Review and Test the Whole Website (Annually or after any Updates)


Take out time to methodically and thoroughly review all pages of the site. You might find broken links, features that do not work, or areas that need improvement. Pay special attention to overall user experience, missing or outdated content, and load time. Also, look for any missing page titles or meta tags (content descriptions), inconsistent styles or formatting, typos, or grammatical mistakes. Make sure that your features and business logic, and compliance with specific accessibility standards (if applicable) such as ADA (Americans with Disabilities Act).
Test your Site Forms/Checkout Process (Quarterly or after any Updates)


Ensure to regularly test all the calls to action and points of contact/sale, such as "Contact Us" forms and the checkout process. It is worse discovering your contact form stopped working after the site update, and you lost some great business opportunities due to this issue.
Review your SEO, KPIs, and Analytics Reports (Monthly)
To gauge your site's performance effectively, you must set and measure the KPIs (key performance indicators), search engine ratings, and your general site analytics for at least a month. All of this process will indicate the effectiveness of the site and will help expose possible issues.
Updated Security and Bug Fixes (Monthly or as Patches are Released)
Make sure that both your web developer and hosting provider updates the software and install the required upgrades, security patches, bug fixes, or any other updates that might compromise the operating system, web server, CMS, database, etc. Usually, patches should get installed as soon as they are released. Failure to install a security patch might make your website vulnerable to an attack.
Renew your Domain Names (Annually)
Make sure that all your domain names get renewed on time. Your site's domain name is your most prized possession. Allowing it to expire can mean catastrophe.
Check Backups (Annually)


Make sure that your whole website gets backed up. Have your web developer and hosting company check the backups thoroughly to make sure they are working and that the data is retrievable.
Test Browser Compatibility (Annually)
As time passes, website layouts or technology might become incompatible with new browsers. Regularly review and test your site in various versions of mainstream browsers: Microsoft Internet Explorer, Mozilla Firefox, Google Chrome, and Apple Safari.
Update Copyright Notices and Dates (Annually)
Review and update your copyright dates or any date-specific text or references throughout your site. Your homepage especially should have no stale or outdated information (e.g., a year-old press release).
Review Contact Information (Annually or as Required)
Contact information on your site should always be up to date and precise, including team member names, phone numbers, and addresses. A change in staff responsibilities might need emails to get routed to any other team member. Any real-time changes to your company should automatically trigger you to think, "Should I update the website?"
Review and Update Legal Disclaimers (Annually)
Review and update the privacy policy, website terms, and conditions of use, terms of sale, and any disclaimers to make sure they are compliant with policies and laws.
Key Benefits of a Website Maintenance Plan
Better User Experience
Sales leads do not appear out of thin air; you get them with hard work. Enhancing user experience and sales lead conversion should get done regularly. In some sc series, your initial launch was impressive, but down the road, a browser update or installation of a plugin may hurdle the process. Or it could even be that something that did not get accounted during the initial planning phase that requires to get added in for better performance.
Security Updates
Security is incredibly essential because thousands of sites get hacked every day. In many scenarios, this is done just for the challenge of doing it versus specific targeting. It means that small businesses are always at risk. The response is ensuring your site and servers are updated and existing with the best software and security/ A lot of times, it is software updates that have loopholes in them that can get exploited. You should have someone who knows which updates to use and how to close gaps when they do appear.
Cost Savings
Small problems can get ignored, but over time, they do add up. The result can result in a steady loss of business or downtime. While you have to stop and fix the whole thing. It is similar to not changing your oil for a year because of the time and small amount of cost. You will not have a car for a week or more. While the engine gets repaired because of the lack of maintenance. Web maintenance checks on the code and reviews your tags gives browser support and upgrades. It also does proactive site bug fixes, all to help keep your website running smoothly and help you to make money consistently without going long downtimes
Components of a Good Plan


An excellent web maintenance plan you have at a minimum the following services:
Proactive Website Bug Fixing
Website Maintenance and Support including Browser Upgrades
Website Coding
Server Security Updates and Website
Creative Design
Marketing Strategy Consulting
Sales lead Conversion Improvement
There are a bunch of things that are useful and effective. These are the items any plan should have to be considered a worthwhile expense. Similar to any other business tool, your website needs regular checks and maintenance. Industries and companies are ever-changing, and your site should match to stay on the cutting edge. With these measures in place, it is sure to run like a well-oiled machine.