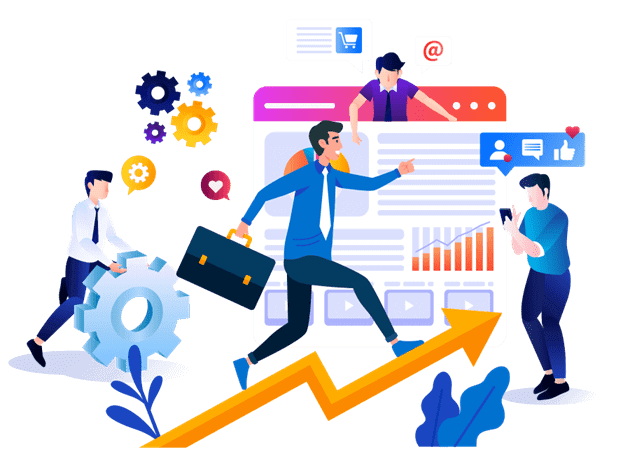 9 Ways to Benefit Business Through Social Media Channels
Social Media channels marketing is a form of internet marketing that includes creating and sharing content to attain your marketing and branding goals. Social media marketing comprises activities like posting text and image updates, videos, and other content that energies audience engagement, as well as paid social media advertising.
1. Social Networking Builds Genuine Relationships
Social media is a two-way network, where there are a lot of human interaction occurs. Its an open channel where communication and open conversations between customers and owner are essential, social media helps to build genuine relationships with your community.
2. Social Media Increases Website Traffic
Social media networks help you increase web traffic, and it also helps your website to get on the top-ranking through Search Engine Optimisation. In which we use unique keywords to get on the top, and use external linking to get more traffic on the website.
3. Audience Engagement
Social networks provide the chance to intermingle directly with customers and fans and likewise to interrelate directly with your brand. Dissimilar traditional media, which offers only one-way communication, social media is a two-way street. You can engage your audience by posting behind the scenes of the office. You can share the stories of the upcoming events so that people get up to date with your future products or arrivals.
If you want your customers and followers to be engaged, you have to be involved yourself. Stay active and answer to comments, and questions on your own social media posts in a mode that's suitable for your brand. And if you are busy and having a busy schedule, we can offer you our best social media service.
4. Affordable Campaigns
Always go for an easy drive. Marketing campaigns are getting viral and influential these days, but one should be very, very selective, and precise about it. Never waste your money on things that are not helpful in the growth of the business. Choose the right audience, and be very clear about your goal
5. Customer Support
Customer support brings a massive change in the market, in the past. People were using the helpline, but now it gets replaced with Facebook and Instagram.
6. Select the Accurate Networks
Choosing the right network is the most critical part of the business; you always have a distinct idea about your audience; it helps you to select the right tools for the company.
Facebook has crisscrossed more than 2 billion-plus active monthly users, which helps businesses to generate leads and build relationships.
LinkedIn is for anybody and everybody interested in taking their businesses more seriously, by looking for new opportunities to grow their company and to connect with other companies.
Twitter has more than 321 million monthly active users. Small businesses have been using Twitter to promote their business. Another reason that inspires small businesses to sponsor their merchandise or services on Twitter, that it charges very slight to promote a product on this platform. Therefore, small businesses should discover twitter to promote their products
Pinterest helps to decrease the number of steps from discovery to conversion, making it stress-free for people to get straight to the source. Visitors from Pinterest are more likely to alter into leads, or sales faster than from other social media sources. Pinterest is a social media network and a cell phone app company. It activates a software system designed to allow saving and discovery of info on the World Wide Web using pictures and, on a smaller scale, GIFs and videos.
It provides marketers with an overview of critical metrics and introduces innovative insights, to allow brands to experiment with advertising on Snapchat. It also takes the lead of the power of vertical video, appealing to Snapchat's highly engaged audience.
After its launch in 2010, Instagram rapidly increased fame, with one million registered customers in two months, Ten million in a year, and one billion as of May 2019
7. Goal Setting
Being lively on social media has numerous benefits for business. There are many things you can achieve with your social occurrence. Such as performing customer service, engaging customers, generating leads, expanding your audience, driving sales, growing web traffic, gaining valuable insights and feedback, and much more.
But to achieve these with any measure of accomplishment, you must have a goal in mind. So that you can work in the direction of because you'll need to generate a strategy to reach there. Your techniques for driving sales, for example, will be diverse than your style if you needed to expand your customer service offering. So it's significant to know what you want to accomplish.
8. Competitive Strategy
Having a goal for humanizing your social media presence is excellent, but it's only the beginning. Once you know what you want to triumph, you have to come up with a plan to reach there. You should also decide on your posting regularity, and generate a content calendar that will help you to plan post.it is a big part of your strategy because it should layout:
Who is your audience
Target your audience's interest.
The functioning content you have already.
What sort of content you still need to create.
When and on what platforms content will be published.
9. Brand Awareness


Conclusion
Social media marketing is very cost-effective in the long run if correctly done. Because these days, even the paid social media campaigns, such as Facebook Ads, are inexpensive than other advertising possibilities such as search engine ads. Which means there's a higher return on investment.
Skipping on the social media drive is no longer a substance of choice if you want to raise your business needs it. The fame of social media in the market is now more bulging than ever.
If you need the premium social media marketing outcomes without much disturbance, be sure to check out our social media services page. If you know you're ready to get started or want to speak with someone and learn more, then contact us or leave a comment below.
For Social media trends this year, read Social Media and Branding Trends for 2021