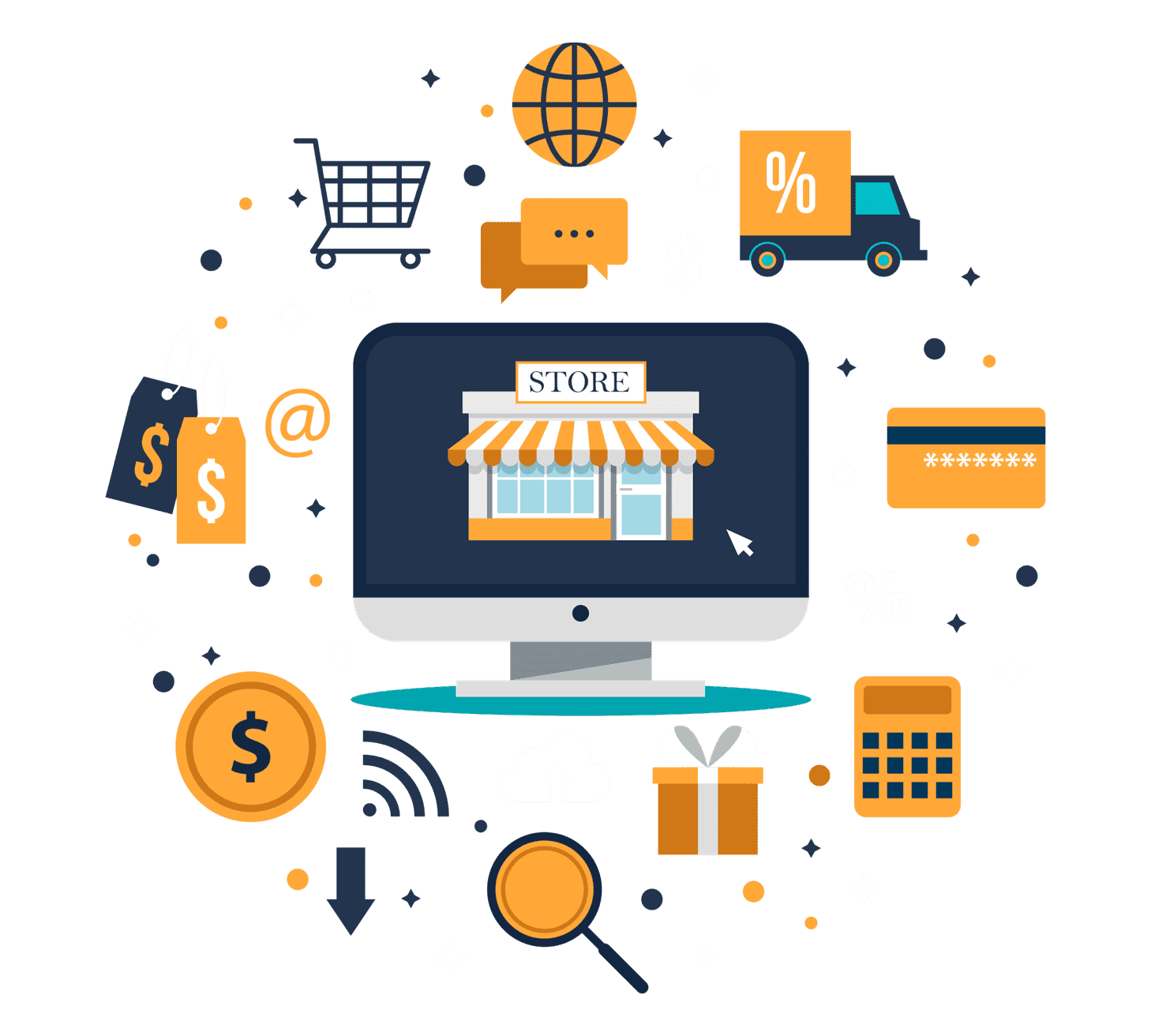 What is Ecommerce? Step by Step Guide
What is Ecommerce?
The most basic eCommerce definition is any kind of business transaction that is online. The most famous example of eCommerce is online shopping. Which is defined as buying and selling of products through the internet on any device. However, eCommerce can also lead to other types of activities, such as online auctions, online ticketing, and internet banking.
eCommerce in Canada and world wide is the fastest-growing retail market projected to hit $4.145 trillion worth sales this year.
Mobile commerce, or mCommerce, is increasingly growing new avenue of eCommerce. That is mostly driven by the boosting market and influence of smartphones and millennials' comfort with shopping online. In 2018, the mCommerce sector had a whopping 39.1% increase in sales as compared to the previous year.
History of Ecommerce


The foundation for e-commerce was created in 1979 by Michael Aldrich. He connected his T.V. to his computer using a telephone line. While it was unlike e-commerce as we know it today. His idea sparked the idea of shopping without going to a physical store. At the time, most people did not own computers. Steve Jobs and Bill Gates popularized computers for the average person. Bill Gates said that his goal was to put "a computer on every desk and in every home." Without computers, e-commerce would be different.
Amazon, the biggest e-commerce store, was founded in 1994 by Jeff Bezos as an online store selling over a million different books at its launch. Who knew Amazon would eventually go on to become the most famous online store for consumers to buy any sort of product.
By the mid-1990s and early 2000s, people were adding computers to their homes and paving the way for the growth of e-commerce. Companies were accepting checks in until the mid-1990s as there was not an online payment gateway to transfer funds from customers to the businesses. In December 1998, when PayPal was founded. It simplified the shopping experience for its customers as credit cards were readily accepted.
By 2008, e-commerce sales made up 3.4% of all transactions, which shows industry growth. It is estimated in 2014 that there were around 12-24 million online stores worldwide.
Latest Ecommerce Statistics
By 2021, it is estimated that global e-commerce sales will reach $4.135 trillion. Which makes eCommerce rapidly growing and profitable industry to be in.
Canada expects, by 2020, to have 224 million online shoppers, making Canada a large audience base to market your online store too.
Canada is estimated to have 162.9 million mobile shoppers in 2020. As a result, store owners must make sure that their ads and websites are mobile-optimized to reach their target clients. According to a Business Insider, men (22%) are considered more likely to buy a good through a mobile device than women (18%).
Women often shop online more frequently than men. For every $10 spent online, men spend $4 while women are spending $6.
Millennials, ages 18-35, tend to spend almost $2000 online every year. Making it the generation that does the most online shopping.
What are the Different eCommerce Business Models?
eCommerce is generally classified into three different models based on the kind of participants that are involved in the transaction. These business models are as below:
Business to Business (B2B)
When businesses sell to other businesses, it is called B2B. It is typical of stationery stores that sell office equipment in bulk to businesses. Regularly B2B companies provide a discounted rate per unit if customers buy in bulk. Which is an excellent motivation for offices to avail.
Business to consumer (B2C)
B2C is known as the most common business model where merchants sell to the consumers. Who buy a small number of products. An excellent example of the B2C model would be supermarkets where consumers buy their shopping weekly. But they would not usually bulk purchase.
Consumer to consumer (C2C)
C2C is a comparatively new business model in which consumers. Who previously bought something find another consumer to resell it to them. Using marketplaces like eBay and Craigslist. This can be easy and quite lucrative for selling products that you no longer require.
Consumer-to-business (C2B)
It is a type of e-commerce in which consumers make their products and services available online for companies to bid on and purchase. It is the opposite of the traditional commerce model of B2C.
A famous example of a C2B platform is a market that sells royalty-free photographs, images, media, and design elements, such as stock. Another great example would be a job board.
Business-to-administration (B2A)
It refers to the transactions that are conducted online between companies and or government and public administration bodies. Many branches of government depend on e-services or products in one way or another. Especially when it is about legal documents, registers, fiscals, social security, and employment. Businesses can provide these electronically. B2A services have grown considerably in current years as investments have been made in e-government capabilities.
Consumer-to-administration (C2A)
It refers to transactions that are conducted online between individual consumers and or government and public administration bodies. The government rarely buys any products and services from the citizens, but individuals frequently use electronic means in these areas:
Education: distance learning/online lectures, disseminating information, etc.
Social security: making payments, distributing information, etc.
Taxes: making payments, filing tax returns, etc.
Health: making appointments, making health services payments, providing information about illnesses, etc.
Advantages


Low Financial Cost
The benefit of e-commerce is that it has a low startup cost. Physical retail stores have to pay thousands of dollars if they want to rent one of their store locations. They also have various upfront costs, such as store signs, store design, sales equipment, buying inventory, and more. Physical retail stores have to pay their staff to work and run every location. They might also need to hire security staff depending on the value of the product in their store.
However, for a dropshipping store, the estimated cost for a startup is $418 in 2020, and e-commerce stores only pay $3193 a year on Shopify at most as their virtual 'rent.' Shopify also includes a user-friendly platform, free Shopify themes, hosting, great apps like Oberlo, and lots of other great perks. Depending on what kind of e-commerce business you run, you might only need to hire employees when your business grows to a specific level. As your online store is online, your employees can work from the comfort of their homes, which makes it easier to find staff that will be best suited for your company.
If you choose to dropship online, you will not need to buy bulk inventory; it saves you a lot of money. The store logo is often more affordable than a store sign. Your business expenses are usually much lower in e-commerce. It is one of the most attractive benefits for new entrepreneurs looking to keep their costs low.
24/7 Potential Income
Another great advantage of e-commerce is that online stores are always open for business. You can attract someone at 12 p.m. or 4 a.m. in any part of the world with your Facebook ads. Most physical stores are open between 9 a.m. till 9 p.m. By being available at all times, you can always attract more clients who would usually pick up the products in stores, if the store were open.
Think about your audience who do not work regular hours or who are too busy to pop into a shop to buy something. An e-commerce store lets you attract those who might have odd work schedules or who do not have time to shop in-person.
For your customer to order at night, you do not need to have employees working the night shift to make sure all orders get processed. You will never need to hire a security guard. All you require to do is automate your ordering systems so that your customers receive a confirmation email when they place an order to give them a peace of mind.
Sell Internationally
Next on the list of e-commerce advantages is that a new brand can sell to customers around the world quickly. You can discover your audience, whether they are in South America, the U.K., or neighboring countries. If you opt to dropship from AliExpress, many products have affordable ePacket shipping or free shipping. It lets you price and ship the products competitively to a worldwide audience.
Selling worldwide is fantastic as it helps you create your brand a lot faster, broadens your marketplace exponentially, and lets you see profit long before your local competitors.
Easy to Showcase Bestsellers
Ecommerce benefits like being able to display best-sellers easily make it easier to show off your products to the customers. While you can create a brick and mortar store to persuade people to buy certain products, it is easier for a client to find the best-sellers in an e-commerce store.
The reason why you want your customers to buy best-sellers is that they are proven. Other clients have already bought them and are happy with what they purchase. If you are going to showcase new products to customers, you can include them in your upsell, email marketing, or retargeting ads. With an e-commerce store, you can consist of excellent product photography and product descriptions to sway the customer's choice.
Personalized Online Experience
Website personalization, one of the online business pros, can enhance the online shopping experience. Building personalized landing pages for different audiences can tempt them to buy from you without much extra work from your side. It is not like clients coming into a physical store that you require to nurture from the first minute. You need to do all the hard work before you launch your campaign and then relax once you release the campaign to your potential consumers.
Try segmenting your email lists based on the purchases made, location, or even how much money a client spent. You can also retarget someone who visited your online store, showing them an ad for a product that they added to their cart and forgot about. If your online business has a login, you can have a welcome message appear, such as 'Welcome back (name).'
Product bundles can help the customer to buy more for a better price, increasing average order value. You can also personalize your upsells based on what your customer has looked at or what you think they may like based on their purchasing behavior.
NetMaticO offers the best e-commerce services in Toronto. We got all you need under one roof.
Affordable Employees
One of the benefits of e-commerce is that hiring employees is affordable, and, as mentioned before, you can borrow from anywhere in the world. You can also choose to outsource your work to virtual assistants in countries where the cost of living is much lower. You will require fewer employees in an online business than a retail location. A massive advantage of online businesses is you do not need to hire employees at launch. You can start and run an e-commerce business all by yourself. Only when you begin to grow or when you have the capital should you begin to hire employees.
Easier to Encourage Impulse Buy
Another great e-commerce benefit is that you can capitalize on impulse buying as online shoppers are more inclined to partake in this. If you have beautiful product photography, with vibrant color or human emotions, you can create ads that create impulse buys. You can execute a wide range of scarcity tactics, such as showcasing limited quantities or countdown timer.
Easy to Retarget or Remarket to Customer
It is easy to create retargeting ads to reach out to potential customers in your area when running an e-commerce business making it one of the most valuable benefits. You can create a Facebook pixel. You can use the Shoelace Shopify app for retargeting the browsers who visit your store but don't buy.
With e-commerce stores, you can retarget people who add products to cart but do not abandon and do not buy or who visit your blog post and never buy. You can collect the email addresses easily with an effective pop-up or lead magnet and continue marketing to your customers after you have made a sale.
Customers Get a Less Invasive Experience
Some people dread walking into a physical store as they are forced to communicate with the store's employees. Whether being asked questions throughout the shopping experience or learning about a sales promotion or some might prefer online shopping as it can be a little less invasive, making it one of the best benefits of e-commerce. If any customer wants to contact the store owner, they can just click on the email, live chat feature, or send a Facebook message.
Gain Access to Customer Data Easily
One of the most significant e-commerce advantages is that you can gain quick access to data for analysis on your customer. Most people feel uncomfortable giving away their email addresses or postal codes to physical retailers. In e-commerce, you can get your customer's name, email address, mailing address, and phone number. It means you have at least three different ways to interact and create a relationship with them. You can even have them share their birth date with you, fill out marketing surveys, and more. You can also ask them to create an account; so you can obtain even more information from them to serve them better. If your clients are based within Europe, be careful of the GDPR when you contact customers.
Able to Process a High Quantity of Orders
You can process a lot of orders with ease if you opt to drop ship your order. As your business continues to flourish, you may decide to hire employees to help with the order processing. Also, with dropshipping, you do not need to physically have the product to sell it to a potential customer. You should not worry about stock control like physical stores.
Long queues in retail stores can deter people from shopping. With e-commerce, there is no waiting time. A customer can place their orders on his or her schedule with no delays letting you accept a high number of stipulations.
Can Scale Business Quickly
One of the benefits of e-commerce is that it is easy to scale the business rapidly. You can also increase your advertising budget when ads perform well without having to worry about keeping up with the demand of customers, especially if you are a dropship.
Physical stores, it can be hard to grow their product lines or add more cashiers due to limited space.
You will need to find a bigger space, renovate, or wait for your lease to end to scale your business. If you make informational products, you run into difficulty again as it takes time to write courses, ebooks, and more.
With drop shipping, you can also add new products to your store without having to worry about shipping products or holding any inventory.
Grow Your Business Organically with Content
With e-commerce, you can grow organic traffic and sales with e-commerce blogging. From making videos to writing blog content, you will be able to optimize your store to generate traffic and sales without having to spend more money. With e-commerce, you will be able to not only get traffic organically via content creation, but you will also be able to monetize those customers through retargeting ads.
A physical retailer would require to market to their customers to encourage visits or make sure they are located in a high traffic area to attract more clients.
What Are the Disadvantages of eCommerce?


As with every advantage, there is a disadvantage. When starting an online store, it is essential to be realistic, so below are a few e-commerce cons that our merchants have experienced that do not apply to any physical store.
No One Can Buy If a Site Crashes
The worst e-commerce disadvantage is when no one can buy from your store if your site crashes. That is why it is essential to ensure that the website is hosted on the right platform. For example, if you pay the minimum hosting fee and get a sudden surge in traffic from a high converting ad or television shout-out like Shark Tank, your site will most likely crash.
Fortunately, Shopify offers free hosting in its monthly fee, letting you have one of the best servers available in the market. In recent years, there was only one time where sites were down.
However, e-commerce stores were not the only sites that got affected. Twitter, Soundcloud, Spotify, and more were affected by this crash. The problem was resolved the same day. Yet, website crashes on Shopify are so rare that it is likely not to cause any issues in your business.
Customers Can not Try Before They Buy
While this is currently an issue for many retailers, this will not be a long-term issue. With augmented reality, more stores are beginning to add A.R. elements to their store to let customers try on new products. Augmented reality e-commerce companies offer incredible solutions for businesses to build a more interactive experience with the customers. If you are an owner of a cosmetics store, you can have a look at Sephora's Virtual Artist app as an example of a beauty retailer that uses augmented reality experience.
No face-to-face Interactions
People value in-person, sensory experiences. It is nice to have someone in a store to ask questions and get some more insight into the products. Having an expert right there to assist with needs is a bonus that e-commerce stores can't offer.
E-commerce has chatbots and lives chat options, but that doesn't compare to the face-to-face interactions with sales associates. Employees have a high impact on sales. They can suggest something extra, explain the way the product works, and make someone's day by just being kind.
Flooded Markets
These days it seems like everyone is selling something online. If entering the e-commerce business for the first time, it's crucial to make sure there's not something out there that's the same. And if there is, differentiating it from the crowd will be imperative to e-commerce success.
Ecommerce Is Highly Competitive
Finding the right niche is another worst e-commerce disadvantage. The reality is that the best niches are often more competitive; that is why people get attracted to them. If your niche is more competitive, the ads will be expensive. There are a few ways around this. You can go after a completely different audience than your competitors.
If competitors are targeting all your customers through Facebook ads, you may try ranking organically with SEO optimization. If your competitors are using Pinterest, you may try Instagram marketing if you have an audience that loves visuals.
Second, if your ads are costly, you can divert traffic to blog posts and retarget your customers who visit them to make lower-cost ads. Working on CRO campaigns can help you to be much more successful than your customers.
Customers Can Be Impatient
If a customer has a question in-store, a salesperson is on the floor ready to answer them. However, an e-commerce disadvantage is that most businesses experience a delay in responding to any customer inquiries. The reality is that most customers expect a response from a business within an hour on social media. If you delay in responding to their messages, they can become angry and shop somewhere else instead. You need to be online 24/7.
You can always hire customer service representatives who are highly trained to make your customers happy through Upwork. Or you can create a chatbot to help customers find their answers at any time of the day or night. But all of this still does not equate to a person who can look after each person, in person.
You Need to Ship Your Products
Customers consider shipping time to be the worst e-commerce disadvantage. When a person shops in person, he or she can take their product home right away. But, with online shopping, most of your customers receive the products in a week or more. While Amazon offers same-day shipping, it was not a profitable model until they made Amazon Prime. It only became profitable because they have millions of Prime members. The only solution is to be transparent with your customers. Let them know when they can expect their packages when they place an order.
Physical Retail Is Still More Famous Despite Decline
Another benefit of e-commerce is that it is growing; physical retail still owns most of the market share. In 2014, the retail store industry had mass accumulated over $23 trillion. Yet, online commerce had only made $1.4 trillion worldwide. Having an e-commerce business in the early stages lets you become a leader in your niche. However, most money earned is in physical retail stores, making it an e-commerce disadvantage.
Hence, why Amazon being the most prominent online store, is now building in-person stores. But, remember that $1.3 trillion in sales is not a small number. There are still tons of potentials that online retailers can cash in on. And this number always keeps growing.
Different Types of Ecommerce Marketing


To clear your idea of what an ecommerce marketing strategy looks like, here are some common marketing channels and how you can utilize them to create an online store.
Social Media Marketing
Brands, contractors, publishers, and growing businesses all launch pages on today's most popular social networks that want to connect with their audience and post content that the audience is interested in.
As an ecommerce marketer, you can do the same thing, but the campaigns you run may look a little different, and not every social network is a good fit for your requirements.
Ecommerce websites are highly visual, so you have to show off the product, after all, so your success on social media depends on the use of imagery to drive attention and high traffic to your product pages.
Instagram is an appropriate platform for ecommerce businesses because it allows you to post sharp product photography and expand your product's reach beyond the purchase page.
You can also take your social media posts a step ahead by creating shoppable content, which is the content that allows visitors to buy right away. That can include everything from strategically placed display ads within a social feed to additional tags that take users directly to the shopping cart. These methods help you to eliminate any friction from the buying process.
An ecommerce business is no stranger to product reviews. Using a Facebook business page to share your product praise is indeed a perfect fit for the companies that already solicit customer reviews across their online store. We will dive deeper into product reviews later.
Content Marketing
When you hear "content marketing," you may think of blogging and video marketing — content that improves your website's ranking in search engines and answer questions related to the industry. But if you are selling your product online, do you need articles and videos to generate transactions? You sure do.
Here are some ways to use the content for marketing your ecommerce store.
Optimize your Product Page Copy.
Optimize your product pages for product-driven, short keywords that include the name of the product. If you are selling wedding dresses, for example, a Google search for "brown bridesmaid dress" is more likely to generate product pages like yours if you have included that term on your page.
Also, ensure that your headers, page titles, and image alt text focus on the right keywords, so search engines know to return to your ecommerce store for the correct queries.
Write Relevant Blog Posts.
If you are managing an online wedding dress store, writing blog posts about "how to plan a wedding" will attract everyone involved in wedding preparations no matter where they are in the planning process.
As visitors become more engaged on your website, you can also create posts that will push them into consideration, like "how to choose the right wedding dress," and convert them into leads, like a downloadable "wedding planning checklist."
Create Guest Posts for External Websites.
Guest posts can get you and the products you offer in front of the relevant audiences (frequently for free). Submitting guests posts will help you in getting more domain authority for your ecommerce site, thereby telling the search engines that you have a reliable website.
You will need to search for sites that rank for keywords related to your product. Sometimes you will not need to create an entire post. If a site already contains a relatable post, offer to expand it by providing the additional context, like an infographic or video with a link to your website.
Put Product-related Videos on YouTube.
YouTube has more than one billion active users, and the chances are your target audience is somewhere in there. It is also known as the second-largest search engine after Google. If you are looking for a massive, captive audience, YouTube is where you will find it. Use highly searched keywords to determine your topics, then share videos that are related to your product and are helpful for your audience.
It is also an excellent option for tutorial videos that show current customers how to use your product. These videos can tell people how to use your product, increasing customer satisfaction, and creating long-term relationships with your site visitors.
Include a Keyword-driven FAQ Section in your Website
If the audience is asking questions related to your products, then you should be the one to answer them. Build an FAQ page on your website with responses to high volume and long-tail keyword searches to get users to your site. You will be building both authority and traffic — two crucial components of a successful ecommerce store.
Search Engine Marketing
Search engine marketing (SEM) includes both paid advertising and search engine optimization (SEO). SEO relies solely on your knowledge of Google's ranking algorithm to optimize your content. At the same time, SEM can involve display campaigns, pay-per-click (PPC) campaigns, or product-specific ad campaigns (think Google Shopping). It allows you to pay for top spots on the search engine results pages.
On Google, PPC campaigns guarantee that potential customers will see a link to your page when entering search terms that match the terms of your campaign. But because you are paying Google each time a person clicks on your result, the payoff to you should be high.
It is why ecommerce marketers often register with Google AdWords and also promote their product pages through PPC campaigns. The campaign puts the searchers right in front of the business's product whenever they click on a paid result, making it more likely that the searcher will purchase before leaving the business's website.
Email Marketing
Email marketing is also known as one of the oldest types of digital marketing, and believe it or not; it holds a specific value in the world of ecommerce marketing.
The best thing about email marketing is it can be automated. Automation means that you can also set up a successful drip campaign to subscribers that are segmented by the interest or stage in the buyer's journey and let your email campaign do its magic. It is one less marketing tactic that you need to worry about on your long list of tasks.
Even so, you must be meticulous about the email list, so you maintain trust among the potential leads. In a time when data privacy is high on an internet user's priority list, not every commercial email is welcomed in the user's inbox. Ecommerce marketers require to be careful when and how they add website visitors to their mailing list.
Here are two ways an ecommerce marketer may utilize email marketing.
Post-Purchase Follow Up
If a user has already purchased any product from your website — and has shown keen interest in receive emails from your business during the checkout process — sending a follow-up email a few days after their product is delivered keeps the conversation going and enhances their future interest in your product line.
A post-purchase follow up also indicates that you care about them beyond a sale and that your company has a keen interest in their success using your product. It allows you to get feedback on your customer's purchase experience, which, in turn, helps you minimize friction for future customers.
Some best practices for this kind of email are to ask them to write a review of your product and read original content on how to use your product (those YouTube videos you created would be perfect here).
Influencer Marketing
Influencer marketing focuses on brands and people that influence the target market. The term is generally used to denote Instagram accounts with a few thousand followers, but it could also mean a community celebrity that your target audience belongs to or follows.
Influencers create communities of people that know, like, and trust them. It is, therefore, easy for them to gain attention around your online product through a recommendation or "sponsored post."
Affiliate Marketing
81% of brands employ affiliate marketing, and ecommerce sites are particularly good candidates. Affiliates are businesses or people that help sell your product online for some commission.
Unlike the majority of social media influencers, affiliates generate interest in products via old fashioned (yet practical) marketing tactics. They often use content marketing, paid to advertise, and other means to drive traffic to your pages on your product — it is like having a team market for you.
Local Marketing
It is an often-overlooked tactic for ecommerce businesses. Still, local marketing lets you double down on the places where most of your prospects are (if you have a large population of them in one area) and will enable you to offer incentives to your potential customers.
Here is how: use tracking cookies to determine where your prospects get located. Then, offer discounted (or free) shipping to the potential customers in the places where you have warehouses or shipping facilities. The incentive may be just what you need to gain a new customer base.
How to Start an eCommerce Business?


There exists a logical order in how you would go about creating an online e-commerce store. Although setting up an online store would just take less than a day, researching, designing, launching, and making it a profitable eCommerce business is a multi-layered process involving various decisions and steps.
Choosing and Sourcing a Product
The initial step to starting a successful eCommerce business is deciding what products you are going to sell. Finding a profitable idea can be hard, so be prepared to do some serious digging and thinking. You must go for products with good margins that will let you make a good profit and scale the business soon.
Once you are sure what you want to sell, you will require to decide how and where you are going to source your products. The four essential methods of sourcing products and inventory are making, manufacturing, wholesaling, and dropshipping.
Researching and Planning Ahead
The product idea will dictate which aspects of the market you might require to research. Still, some of the most critical areas to look into will be your pricing strategy, competition, and your unique value proposition. At this point, it is also a great idea to draft a business plan that will help you to visualize your growth strategy and identify any potential threats or hurdles.
Getting your Brand Right
Now that you have thought of a promising product idea and a clear insight into the market, it is time to start thinking about the critical components of your store, such as your domain name, brand name, brand guidelines, and the logo. Getting your brand right from scratch can help accelerate the growth and conquer the hearts of your potential customers. Before turning your attention to building the e-commerce store, you should spend some time studying and understanding the basics of SEO, so that your business gets a great beginning.
Remember that an e-commerce website must include the following:
Clear branding
Easy-to-use check out
Shopping cart
Payment options
Detailed product pages
Similar product options
Customer reviews
Social buttons
FAQ page/support
About us page
What Should you Sell?
Finding the right product to sell on an e-commerce business is the most crucial part of the research. It is challenging to figure out what will be most profitable or well-liked. Get inspired by seeing what is working for industry leaders, then evaluate the product and service through researching the SEO potential.
Great SEO (search engine optimization) is what makes the websites stand up on the first page (if you are lucky, the first result) of search engines, like Google.
Then, make sure that the market is not too crowded. If there are already established category kingpins, then think of differentiating the product or finding some latest product to sell.
Here are some things to remember when figuring what to sell using e-commerce:
Common pain points
Your talents/skills
Passions
Niche interests
Trends
After evaluating these factors, opt for a product will be more comfortable. But that is not all; now it is time to figure out the logistics behind manufacturing and buying the product and service.
Where to Get the Products?
Sourcing your stock for an e-commerce site is essential to master. If you invest too much in inventory, then profits will sink, and on the other hand, if you do not have enough stock, the customer experience will suffer.
The most common ways to source your products are:
Manufacture
This method is used when a product does not already exist. It is expensive to do but allows for control of the product.
To manufacture original products, you have to invest money upfront for the set-up of an assembly line or machinery that is necessary for product production. Since it is a new product, there will be more errors and trials before launching the e-commerce website.
Make
This method involves the manual production of a product. For example, people who sell on Etsy are mostly DIY products. Creating products is time-consuming but economical and low-risk.
Wholesale
This method leet the merchants to buy products in bulk at a lower price per unit. The wholesaler manufactures and stores the inventory, which drops the prices and decreases the risk.
Dropship
This method lets the merchants to partner with the manufacturers who own the production facility and provides orders for merchants. Most people getting started with e-commerce begin by using dropshipping.
When searching for a sourcing method to opt, it all depends on the amount of money an e-commerce store that has to work with and the kind of product or service that is sold.
If all the best companies in the market are sourcing their materials from the same manufacturer, then it is not a good idea to do the same because it will be much harder to stand out. The safest way to ensure no one copies a product is by having the e-commerce company manufacture the product by itself. However, this method is the riskiest and priciest when scaled at a fast-pace.
How to Grow your E-commerce Business?


The most challenging part of starting an e-commerce shop is making that first sale. But the work does not end there. Merchants require to continually promote and perfect their brand so that their e-commerce keeps on growing.
Optimize the Website
Except when your content goes viral (which is rare) or featured on a T.V. show watched by millions of people, buyers will not just come begging to buy. It is a must to find them and convince them to buy, and therefore, it is crucial to know where they spend their time online and where they are more likely to buy.
The traffic on the website can prove to be beneficial to generate online sales. There are just a few things to keep in mind when turning website visitors into buyers:
Find a blend of organic traffic through paid search and e-commerce SEO. The best way to identify what works for you is to track the prices of each kind of traffic and compare it with the final results. Remember that organic traffic is not free— you still require to pay people and buy tools to manage your website.
Ensure your e-commerce store is easy to use and find. It helps in encouraging website visitors to visit the store and to make it available from any page of the website.
Also, you should make it easy for your users to make transactions and have robust shopping cart abandonment strategies.
Take Advantage of Email
No, email is not dead; it is doing quite well in Canada. Alone, the number of people using email is expected to reach 256 million by the time 2021 ends.
When trying to reach new prospects by email, you can advantage from using different types of solutions, such as email marketing software, email tracking software, and email verification software.
Create a Social Media Presence
Social media might seem easy when you use it just for fun, but it can be quite complicated for sales. Tons of major social media platforms are used globally, but some are very famous outside of Canada.
For example, Xing is an alternative to LinkedIn that is used by almost 15.5 million people in German-speaking countries. LinkedIn only has 6.2 million users in the same region.
If you want to target B2B customers through social selling in a particular region or country. Ensure your business benefits the correct e-commerce features and social media tools.
Besides the geographical location of social media users, discover other demographic details such as level of education, age, and so on. Some data sources can provide valuable information on who uses social media. Statista is a good example, as well as the Pew Research Center for U.S. data.
Generate Product Reviews
It is not a secret that customer reviews are essential to sales for e-commerce shops. But some companies do not use this free user-generated content to the best of their ability.
People ingrain trust recommendations and reviews from people just like them more than brand marketing and advertisements. By using reviews in campaigns, the ad changes from the brand talking about their product to people just like them talking about the product. That shift matters.
If the e-commerce shop has an average of 4.6 stars, tell the world about it. Reviews are hard to generate, and if a store is having success there, it is imperative to say to others about what people are thinking.
Another great opportunity with user-generated reviews is using negative reviews to explain things about a product further. Sometimes people might misunderstand the intended use of a product, and highlighting the user-error will help other people who were probably thinking about the same thing— or even better, show potential shoppers that there is nothing wrong with the product.
E-commerce Marketing
Many working parts help the marketing of an e-commerce shop be useful. E-commerce marketing brings brand awareness to potential shoppers.
Marketers ensure the brand has a cohesive look and feel that is well-liked by consumers. Once the brand is known, marketers work to increase reach and tell the world why that business is the right solution for precise requirements.
From loyalty programs to encouraging customer reviews, there are infinite ways to get started with marketing an e-commerce business. Learn why social media, email, and product reviews are the three most common approaches for e-commerce marketers
Deciding How you will Sell


The actual set up of your online shop can be achieved in two different ways:
Build an eCommerce Store from Start
It means either developing it yourself or paying a freelancer/agency to do it for you. It can take longer expensive, but creating custom online stores will guarantee 100% customization and give you the authority to make all the decisions.
Use an off-the-shelf eCommerce Platform
Like Shopify, which makes creating an online store an easy and quick process. However, it also means less customization, as you will require to opt from an existing pool of and tools and themes provided by the platform. If you choose to run a dropshipping business, eCommerce solutions like Oberlo will let you get the store off the ground and begin selling in as less as few hours.
Before Launching
At this stage, you will be itching to get the store out into the World Wide Web. However, make sure you are well prepared to measure the success of the launch – defining your core performance indicators upfront will help you to track your progress and performance and fix any problems as they arise.
Other important things to take care of are getting your email marketing ready, setting up your social media profiles, installing Google Analytics, defining your shipping strategy, doing keyword research, and finalizing the launch promotion plan. Yes, that is a lot of work, but a good start means half the job done. When you complete your checklist, try running your store through the Shopify store grader to catch issues and bugs if there are any.
After Launching
This is where the real work begins. Having launched your online store, you should quickly move on to the promotion part. Marketing your store and optimizing conversions will turn to be your daily work from now on.
You should also experiment with regularly refreshing or expanding your inventory. It is a particularly easy an simple thing to do for drop shippers, as they can import new dropshipping products within minutes. Still, it should remain a top priority even if you are making or manufacturing the products yourself. Staying ahead of the curve will need some testing.
Future of Ecommerce


The e-commerce industry will continue to grow. According to N Channel, in Canada, Shop retailers generate $3.89 trillion in sales, while e-commerce generates $294 billion. Over time, e-commerce will continue to take away the market share from physical retailers as it is happening over the last few years. It is good news for those looking forward to starting online stores as sales will only continue to grow towards success, though competition will also increase.
Ecommerce will also likely transform over the years, creating a more augmented or virtual reality experience for shoppers. Stores might eventually include features to help customers 'virtually' try on clothing. It will ensure that clothes fit the customer's shape while allowing them to see what it would look like on before buying. Shoppers might be able to 'try' on makeup using their laptop or phone's camera.
To learn more about graphic design read Learn 8 Professional Types of Graphic Design & Find Best Job.