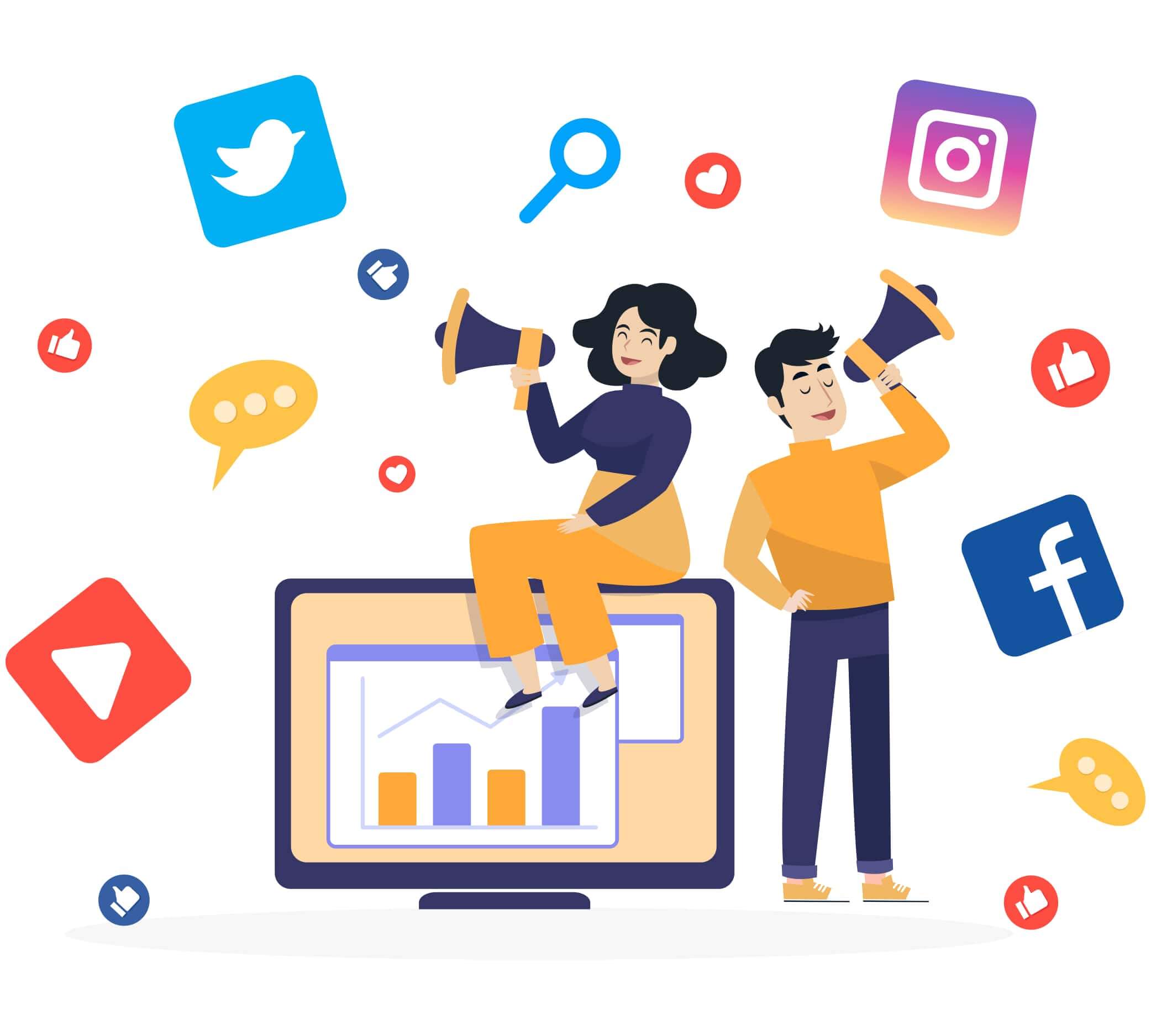 What is Digital Marketing and How it Works?
The Internet is a highly accessible tool for digital marketing these days. From searching to streaming videos, there's anything and everything you can find out. Everyone has instant access to information from anywhere in the world. According to research, internet usage among adults has rapidly increased by 6% in just the last three years. That's quite a considerable number. The way people see the products has evolved, entirely declining the need for offline marketing.
The true meaning of marketing stands in making a connection with your target audience at the right place and time. You need to target them where they mostly roam around, and that is the Internet. The Internet is has become the fastest and efficient way to promote your brand and create a brand name. The Internet allows businesses to interact with their audiences and get to know about their opinions that help the brand to evolve.
At NetMaticO, we have often informed you about the digital marketing trends and their need, but still, some of you are not clear of what it is. At the end of this blog, I assure you that you will get even the minutest of your doubts cleared.
What is Digital Marketing?
Digital marketing is selling and promoting your products and services by leveraging online marketing tactics. Some of the prominent online marketing tactics include social media marketing, email marketing, and search marketing.
When you narrow down to it, digital marketing merely marketing.
It is how modern businesses are getting their message in front of their best interests and customers.
The most important rule in marketing is to make the right offer at the right time and in the right place. Now, your customers are online: hanging out in social media, staying updated on blogs and news sites, and searching online when they feel like it.
Digital marketing puts you on the same channels, so your potential clients can see you, learn more about you, and can ask questions to learn more about you and your services.
If you are new to the digital marketing world, it might feel overwhelming to think about mastering all the online marketing tactics that are used in digital marketing.
And yes, there are different tactics you will need to learn. But they all work together to build a foundation for your business: attracting prospects, building relationships, and giving offers your audience will appreciate and would love to respond to.
How Does Digital Marketing Work?


In a lot of ways, digital marketing is not different than traditional marketing. In both, smart organizations look forward to developing mutually beneficial relationships with leads, prospects, and customers.
But digital marketing companies in Toronto have replaced the most traditional marketing tactics because it is designed to reach new potential consumers.
For example
Think about the last relevant product you bought. Perhaps you purchased a home, hired a contractor to fix the roof, or changed paper suppliers at the office.
Regardless of what it was, you probably started by searching the Internet to learn more about the potential solutions, who provide them, and what are the best options for you. Your ultimate buying decision was then be based on the reviews you read, the family and friends you consulted, and the solutions, features, and costs researched.
The base of the most purchasing decisions is the Internet.
That being said, an online presence is necessary—regardless of what you are selling.
Digital Marketing Strategy
The key is to create a digital marketing strategy that takes you in all the places your potential clients are already hanging out, then using various digital channels to connect with them in multiple ways.
Post content to keep them updated with industry news, the issues they are facing, and how you solve those issues for them.
Social media is to share that content and then interact with them as followers and friends.
Search engine optimization (SEO) is to optimize your content, so it will show up when someone is looking for the information you have written about.
Advertise to drive paid traffic to your website, where people can see your products and offers.
And email marketing to interact with your targeted audience to make sure they continue to get the solutions that they are searching for.
When you put all these pieces of the puzzle together, you will end up with an efficient, easy-to-use digital marketing machine. And while it seems intimidating to create that machine from scratch, it is as easy as learning and integrating only one digital marketing tactic at a time.
It is why we have compiled this complete guide: To help you create or polish your digital marketing plan without any false starts and issues that come with doing it alone.
What Are the Benefits of Digital Marketing?

Acquiring a robust digital media marketing presence will help you in many ways:
Digital media marketing will make it easier to build awareness and engagement both before and after the sale.
It will help you to convert new buyers into potential who buy more often.
Digital media marketing will kick start the word-of-mouth and social sharing—and all the advantages that come with them.
It will shorten the buyer's journey by giving the right offers at the right time.
Digital Marketing from a Business Perspective?
There are a bunch of tactics that are categorized under digital marketing. Email marketing, social media marketing, online brochures are some of the core categories. From a website to its online branding assets, all need a digital marketing plan so that they can portray your message to the word.
The best digital markers in the industry have a clear insight into how every digital marketing campaign supports its high aims. After looking at the goals of their marketing strategy, marketers can support a more significant campaign through paid and free mediums.
For example, a content marketer can write a bunch of blog posts that help generate leads for a new ebook business recently created. The social media marketing helps the company to promote these blog posts through organic and paid posts on the business social media platforms. The email marketer builds an email campaign to send to those who will download your ebook more info on the company.
Search Engine Optimization also called SEO and is a complicated process that has various types. All SEO types have a similar goal: To optimize the website for higher visibility in the search engines.
Types of SEO in Digital Marketing


Let us began with the definition of SEO.
It is the process of making your website simple to understand by the search engines and friendly for its users. The overall goal of SEO is to boost organic traffic from the search engines by enhancing the positions the website appears in SERPS for different search terms.
At the start of early 2000, SEO was simple, but as the years passed, the whole SEO process has become complicated.
When optimizing a website for the search engines, you have to keep in mind hundreds of rules to satisfy different search engine ranking factors and, at the same time, prevent the users happy.
The SEO industry has come with various types of SEO to make it easier to handle. Every type is responsible for a bunch of SEO rules.
The most important thing to understand is that these subsets of SEO are not a different process, it is just a way of breaking down a complicated process in various smaller methods that are easier and efficient when it comes to managing them.
So, the different SEO types are:
Technical SEO
On-Page SEO
Content SEO
Off-Page SEO
Local SEO
Mobile SEO
eCommerce SEO
The most important are Technical, of the page, and on-page SEO, as shown in the diagram below.
Most Important SEO Types
Technical SEO


Technical SEO is what the name says, i.e., technical parameters that impact the visibility of a website in the search engines.
The critical goal of technical SEO is to make sure that search engine crawlers can crawl and index a website without any issues.
The Most Critical Technical SEO Guidelines are as Followed:
Check and optimize your robots.txt to assure that search engines can access the website.
Verify and Add your website with Google Search Console and indicate your preferred domain.
Use your coverage report to find and fix the crawl errors.
Build an XML Sitemap and submit to all key search engines.
Optimize your site structure and URL structure.
Follow SEO Friendly web design
Build websites that load fast on both mobile and desktop devices.
On-Page SEO
On-Page SEO has connections with the page itself and how to make it friendly to the search engines and its user.
Note that while search engines look at a website as a whole, ranking is performed on a page-level basis.
That is why it is essential to pay attention to the optimization of every page on your website.
The most crucial on-page SEO guidelines are as followed:
Optimize your Page Titles


It is a crucial SEO factor. Page titles appear in the search results and should be interesting for the users to click. The title of the page should also give the search engine bots enough clues on what the page content is actually about.
Optimize your H1 Tag


While the page title appears in the SERPS, the H1 tag is what is shown as a top heading of the page. An optimized page consists of only one H1 tag, and generally, it has similar values as the page title.
Optimize your Heading
Besides the H1 tag, a page requires to have subheadings (H2, H3) for the various sections. In the case of longer content, subtitles make the page more comfortable and simple to read by users and scanned by crawlers.
SEO for Images


All the images used on a page should be optimized appropriately, or else search engines cannot understand what they represent. Things like optimizing the file size, filename, and alt text are crucial for image SEO.
Page Formatting


Publishing a page with images and text without spending time to beautify the content is not considered an ethical SEO practice. Although Google cannot see a page like a human, they have ways to understand how a page appears or if it is full of pop-ups and ads, and this is taken into consideration during the ranking process.
Content SEO


Content SEO is known as a subset of on-page SEO. It is about the quality of your content and how to enhance it.
Because this is a very critical SEO success factor, it is considered by experts as one of the types of SEO. In many scenarios, you can find content guidelines under on-page SEO, which is also the right approach.
Publishing great content that users are interested in and search engines can understand is the key to success.
You can Follow these Guidelines to Achieve this:
Begin your content creation process with the keyword research. Search for the SEO keywords that are crucial for your website and incorporate them in your blogs.
Go one step further and search for long-tail keywords and semantically related (or LSI) keywords, and add them to the titles, headings, and the main content.
Publish content that is detailed and long enough that the users can get what they need and search engines to have enough hints to understand the context of your content.
Link out to other high-ranked websites and to other pages of your website to help users learn more about the topic.
Us the schemes and structured data to pinpoint to search engines essential elements of the content you publish.
Off-Page SEO
Off-page SEO is known for its promotion. The previous SEO types focused more on the website content and infrastructure, off-page SEO has to do with methods you can use to promote your website over the Internet.
Accessible websites are more likely to rate higher on Google than the less popular sites.
The Most Important Off-page SEO Methods are:
Link Building


Link building is known as the process of getting SEO backlinks from other websites.
These backlinks work as 'votes of trust' and increases the authority of the target website (provided that they do not have the no-follow attribute connected to the link.
Brand Promotion
Google ranks the known brands higher in the results because people trust them. Besides promoting the website to get backlinks, you should also work on improving your brand and encourage conversations about it in different forums and social media networks. Google can pick up the signals and reward websites that people like the most.
Mobile SEO
Mobile SEO is again not a different kind on its own, but a subset of SEO specific for mobile devices.
It is a known fact that more than 60% of Google searches are performed on mobile devices.
It is a considerable number and a good indication that the Internet is moving away from the traditional desktop to the more popular mobile devices.
So it is also the reason that Google finally decided to build a mobile-first index and began indexing the mobile-friendly version of the website instead of its desktop version.
When working on the Mobile SEO, you need to assure that:
Make sure that the website is mobile-friendly. Run a mobile-friendly test as it is an excellent way to start.
The website loads fast on the mobile.
The website is simple to use on mobile.
The user experience on the mobile is not disturbed by interstitial banners, other ways of aggressive pop-ups or advertising
E-Commerce SEO


eCommerce is a massive industry. When it is about search engine optimization, optimizing an e-commerce website is more complicated than working on a blog or corporate website.
You have a lot more pages to optimize, and it is much harder to promote an eCommerce website.
The most crucial e-commerce SEO factors include:
Optimization of an online shop begins with the homepage and category pages. These two-page types have to be optimized appropriately before you start working on the product page.
Optimize your product pages concluded on the results gained by your keyword research.
Optimize the key visual components of your store (videos, images) Add the necessary schemes (product, offers, etc.)
Promote your store on all social media platforms.
Bring in creative ways to let people link to your product pages
Start a blog and publish your content related to your products and how they can help people solve an issue.
White Hat SEO vs. Black Hat SEO
Is Black Hat SEO or a Type of SEO?


Some people take 'black hat SEO' as being a type of SEO, and this builds a confusion for the starters.
Black hat SEO is a term that is used to describe any actions taken to trick the search engine algorithms.
From time to time, many people come up with ideas on how to artificially build links to enhance the rankings of a website on Google. These methods are against the Google guidelines and should be avoided under any circumstances.
The only result from following the black hat method is to lose your Google rankings and trust, get penalized by Google, and diminish the chances of attaining any rankings in Google ever again.
All the methods that we described in the blog are 'White Hat SEO' methods, and if you follow them correctly, you can rank high on search engines and get a portion of the search engine traffic.
Content Marketing


Content is king or Queen, as I presume. It is crucial if you are trying to build a long term brand online. I said long term because there are a lot of "business owners" who are running for overnight success or creating businesses that are not meant for sustainable success. Content lives FOREVER, so it is worth the time it takes to build it once and use it forever.
Content marketing is a strategy that requires time, effort, and sometimes money.
So, where do you begin when you want to add content marketing to your business? You do not have to look very far. The opportunities are everywhere.
With 85% of people expect brands to produce content that gives solutions, experiences, entertainment, and events, you can not avoid content marketing.
Blogging
There is a reason I made this number one. It is till now one of the best tools you can have in your marketing tool-belt. One, because it is free. Now, it does take a while to set up and write high-quality blog posts, but when it is done, the RIGHT way? You are opening up endless opportunities for the business.
Just think of blogging as a way of communicating with your targeted audience. BUT, here is the twist – think about what THEY want and how THEY will appreciate what you are writing.
Most blogs write about themselves, their products, their feature, but hardly do you find a blog that goes thoroughly in how that product, or functionality, or content helps your reader.
The more you can grip on this; the more dedicated the readers are going to be.
Advantages of blogging include communicating with your audience, providing value, providing content for them to share on other platforms, great SEO opportunity, an excellent place to get leads, great opportunity to build exposure, to boost your websites rank on the Internet, to provide an opportunity for others to share your brand. Like I said, endless possibilities just by writing a blog.
Social Media Posts


You need to be active on many social media platforms. Everyday. More than once.
When we started NetMaticO, we just had a blog and social media. That was it—no marketing budget. No ad spend—only some good old fashioned time, hard work, and willingness to do the task.
The beauty of social media is lying again in endless opportunities.
You can opt on which networks you want to share on, and you can build a unique audience on every site.
For example, Your Facebook fans and your Instagram fans are two different audiences. There is very little connection between the two. It means that when we provide the content – we are hitting target audiences on two separate networks, which expands our reach.
The one thing to keep in mind about social media is that you need to be consistent. If you are looking forward to this to work for you, you have to dedicate yourself to posting daily. If you do not, you will lose exposure, you will lose your audience, you will lose reach, and you will miss opportunities.
The good part is that there are a lot of tools to help you be present on social media without having to hire the services of a part-time social media manager for your own business.
Email Marketing


If blended with a blog and social media, it has been our key to success in the growth of our company.
Email marketing plays a vital role in a few things. It allows you to collect the information from your potential customers and the ability to connect to them, whenever you desire.
With blogging, you have to depend on them to find your articles.
With social media, you have to hope they are online when you post your content, and the algorithms are not getting in the way.
And with email marketing – you can always send out a broadcast whenever you feel like reaching your audience. No algorithms. Guaranteed delivery. Email marketing should be utilized as a tool to create a relationship with your targeted audience. Provide them with value, offer them the insights they can not get anywhere else, and of course – make them submit.
Webinars & Live Streaming


It is similar to video, but it is different as it is in real-time. When you are hosting a webinar, you are life and can interact with people who are watching you, versus a pre-recorded and edited video. You can use zoom for your webinars, and it not only lets you host a webinar and have live chats with the participants but also live stream it to Facebook or Youtube.
Which means you can be in two places at once.
Infographics
These are another type of content that appeals to a specific kind of audience. Creating infographics gives your audience a quick peek of the material that you want to share. And you do not need to hire a designer to do it for you.
You can use Canva, Infogram, Piktochart, or create these pieces of content yourself.
Ebooks


You can offer paid or free ebooks online. These are the same as regular books but in digital form.
The strategy most people use is to build a shorter piece of digital content like an ebook. Then they can give it away to generate leads or sell it to earn profits.
They are way easier to make than an actual book, and there is a lot less overhead involved since there is no actual manufacturing required, and the delivery is entirely digital.
Depending on the type of business, an ebook might be a great way to start giving content to your audience that can later transform into higher sales.
Reviews


If you want to have, your customers spread the word about your business? Ask them to leave you a review. They could make a massive difference in helping others find you online.
Sites like YELP have been beneficial in providing countless customers to a business by having reviews for different companies. Facebook & Google reviews are right behind them. When someone searches your business by having reviews up of your business, you are building a spider web of opportunities to be benefited by new potential customers.
Quizzes, Questionnaires, & Surveys


Bet you have not thought of these as a content marketing strategy, have you? People like these types of interactive content and just imagine all the data you can collect by creating a quiz or questionnaire for your audience.
Want to know what kind of products they love? (So you can produce them)
What about what they hate? (So you do not produce them)
You can ask anything and provide them a way to engage and communicate with you.
What is PPC?


PPC stands for Pay Per Click. It is an online advertising and the quickest way to boost traffic to your website in addition to the SEO. Promoting your company, products and services, events, and contests on websites or search engines your buyers often visit is one great way to generate digital marketing leads and sales for the business.
How it Works
Whenever a visitor clicks on your advertisement to go to your home page or website, you pay the advertiser for every time the ad gets clicked. The amount might vary based on how your competitors' bid for the same ad placement. This auction takes place in real-time.
Google AdWords

It is one of the most famous Pay-Per-Click Campaigns, whether you are a small business or a huge brand. With the number of searches on Google, you will find most of your potential buyers. To create an AdWord campaign, you need to know what type of keywords your potential buyers will use to search to look at your kind of products or services, where most of your buyers are located, who are your competitors, and ad copy that will entice them to click onto the ad.
They are displayed either at the top of your page or the side or the bottom of the page when searching for it. With Google, you will have an AD icon, so the people searching for you will know that the business had purchased the spot to display their ad. If your business is displayed on a page, and it is not an ad that is known as an organic placement compared to a paid search placement. Research has proved that although the organic search is more likely to be clicked on when someone clicks on your ad, they are more intended to buy.
You can set geo-targets, apportion a maximum bid, and a maximum daily budget when putting up the ads. How much to bid will depend on how much your competitors are willing to pay for similar ad placement. The number of estimated clicks or the target goal and the bid amount will determine your final budget.
When someone clicks on an ad its call a click-through rate (CTR), it is based on how many times the ad was viewed on the page or how many impressions it receives. An average click-thru rate CTR can vary by industry, typically 2%, above 2% is considered above average.
Google Display Network


Google's online advertising technology lets you advertise with text ads, on a different variety of blogs, news sites, and other niche sites all over the Internet The Google's display network reaches a massive 80% of Internet users. It produces more reliable impressions but lower CTR than Google AdWords. So it is essential to know what your goals are; is it mainly awareness, leads, or generating sales?
Similar to setting up a Google AdWords campaign, it begins with the keywords based on your key audience and the products and solutions that you offer. Your ads will then be displayed on the websites that agree to be part of the network and have the same content or keywords you have chosen. You also have the choice to choose specific target sites. Similar to Google AdWords, you can set-up the campaign depending on cost-per-click or cost-per-impression (CPM). The cost depends on every 1,00- impressions.
Retargeting


Knowing that only about 1- 2% of the visitors decide to purchase or contact you to know about your product, a retargeting program follows the potential buyer after leaving your site and offers them an incentive or reminder to come back and purchase your product.
Based on the cookie technology, as the potential buyer goes anywhere on the site that is part of the ad network, and they will be shown an ad that can be targeted to what interests them. Retargeting gets you in front of your potential buyer, giving them a second, third, or even a fourth chance to convert as a buyer. As with other pay-per-click campaigns, it needs bidding real-time with other businesses for ad placement.
SOCIAL MEDIA CAMPAIGNS


Facebook

Facebook is known as the largest auction on the Internet. To start a Facebook social media PPC campaigns, you require to set your budget and the bid amounts. Facebook, with its rich content, lets you target based on the following choices:
Custom Audience: